NHL Free Agency: Things You and Your Team Need to Know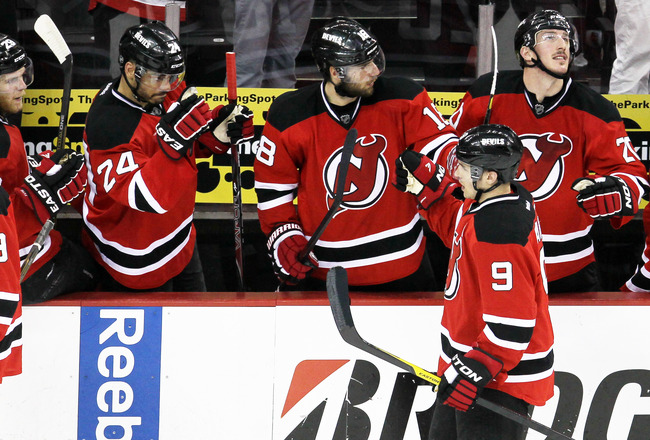 Jim McIsaac/Getty Images
With the Stanley Cup Finals beginning on Wednesday, 28 teams are already focused on next year. The first thing they think about is free agency, whether that be who their team needs or who they might be losing.
It can be an exciting time of year, and teams already have certain players in their sights. There are always several big name players that are initially available, and those names are thrown around by every team.
However, there are a few things that teams and their fans need to be thinking about before free agency starts.
Salary Cap Space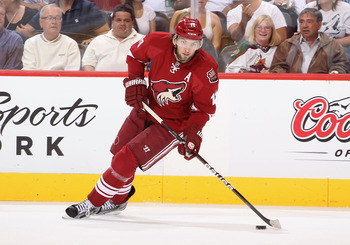 Christian Petersen/Getty Images
When you are going shopping, it is always good to know how much money you have. If you do not have a lot of cap space, then there is no point in looking at some of the big name players to fill your needs.
The cap for the 2012-2013 season has yet to be set, but the best way to figure out what your team can spend is to look at this year's cap. The 2011-2012 cap was $64.3 million, which was an increase from the year before, and that was up from the year before that.
The cap is set based on 75 percent of the league revenue from the year before, and that number is split evenly among the teams. Therefore, it is most likely going to increase yet again this year.
Some of the teams with the least cap space going forward are the Flyers, Penguins and Bruins. The teams with the most cap space are the Avalanche, Predators and Coyotes.
Positions of Need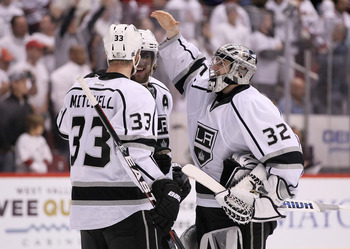 Jeff Gross/Getty Images
This one is basic common sense. If your team has plenty of defensemen and no solid wingers or some of your wingers are free agents, do not go looking for defensemen. Focus on what your team needs. Sometimes people can get caught up in some of the big names that are available and look at the market before looking at their team.
Know your team and know what they need. Focus on filling in the gaps that the team has. This will save time and heartbreak when your team decides to not even look at the big name players.
Looking at the goaltenders that are free agents is always a good idea however. Like the quarterback position in football, goalie is by far the most important position on the ice. It is also the hardest position to fill with top-notch players. If you have a good one, it will take you a long way.
Just ask Jonathan Quick and the L.A. Kings about that.
Draft Potential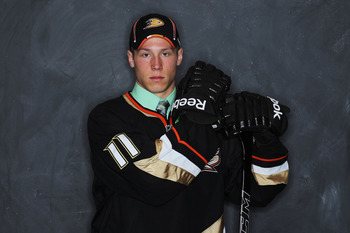 Nick Laham/Getty Images
The draft is really just another part of free agency, except you do not have to worry as much about how much a player will cost, and you know when you are going to pick. The draft provides teams with good young talent, and once you know who you are going to draft you are then free to see what other needs you have.
Teams often have different strategies as to how they like to build their team. Some like to build through the draft, finding good young pieces and then bringing in veteran free agents to fill in the gaps.
A good example of this would be the Washington Capitals. The Caps had several good draft years in a row, drafting players like Alexander Ovechkin, Alexander Semin (currently an unrestricted free agent), Nicklas Backstrom and Mike Green. These players are now the foundation of the franchise.
Some do the opposite, preferring their core to be made up of veterans, helped out by the young guns they draft.
Whatever the case may be for your team, know where they draft, how many picks they have and who their looking at picking. That will give you a good idea of what they are going to do in free agency.
Age of the Roster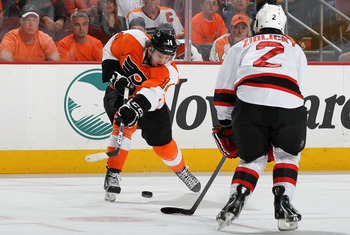 Jim McIsaac/Getty Images
To go along with knowing how your team is going to draft, it is important to look at the age of your roster. Teams that have success seem to always have a good balance of young energetic players and older more experienced veterans.
If your team is young and has a lot of enthusiasm, then look for your team to add that veteran, like a Jaromir Jagr, to the roster to help lead and show them how it is done.
At the same time if your team has been making the playoffs or been close to the playoffs for a while and has a lot of guys 30-plus years old, your team might look to add one or two younger players to add that energetic spark to the team that can get them over the top.
Of course, if you have not made the playoffs in a while and are not really close, just get the best talent you can find regardless of age.
Keep the age of your team in mind during free agency, and you should be able to figure out which direction your team is trying to go.
Personality Check
Christopher Pasatieri/Getty Images
If you need a fighter, someone who is not afraid of the penalty box, Sean Avery is available. If your team lacks some personality, there are plenty of guys who can give you that. Need a leader, someone to settle the troops? Nicklas Lidstrom is your guy.
Knowing what your team's personality is and the personality of the free agents available can help show you who your team is going to look at.
Your team might be looking for a certain personality to help change the culture of the locker room, maybe spice things up a bit. In that case, you would want to go for someone against the grain of your team.
At the same time, if your team has a set personality, you would want to make sure that the guys that you are looking to bring in are going to fit into the culture of the team.
Having good team chemistry is the first step in working your way to the playoffs and beyond. Never underestimate the power of team chemistry. Every player has some sort of reputation for the kind of player and person that he is. Look for the players that fit your team's personality.
Know Who You're Losing
Jonathan Daniel/Getty Images
As you are looking at the free agent list, it is important to see which players from your team are on the list. It is important to know which guys you are going to re-sign and which guys are going to be leaving your team for greener pastures...or in this case better ice.
Often a lot of guys that re-sign with their old team do so in the first few weeks of free agency, allowing the team to move on to look for new talent. If you see your team has not re-signed someone like Marian Hossa, chances are that he is moving on (fortunately for Chicago fans, they have Hossa locked up for this year).
Keep an eye on your team and their unrestricted free agents. Often times re-signing players can help keep your team together, but you also have to know when it is time to let go and move on.
Know Who Is Staying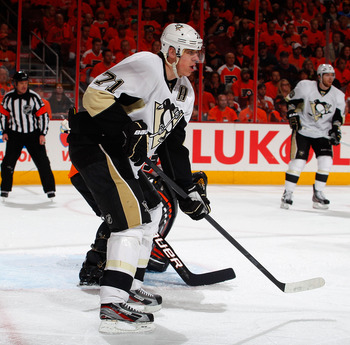 Paul Bereswill/Getty Images
Along with knowing who from your team is leaving, it is good to know which free agents are going to stay with their old team. That way you and your team do not waste their time looking at and pursuing players that are just going to stay home.
You can also look at a player's history to try and figure out if he will re-sign. Players who have played for 12 seasons with one team are more likely to re-sign with their old club than someone who has bounced around throughout their career. It is something to keep an eye on.
High profile players are often more likely to re-sign with their old team as well. This is often because of the revenue and attention that these players bring to the franchise. They are usually willing to spend more money than other teams to keep them there. Such was the case in years past with players like Alex Ovechkin, Ilya Kovalchuk and Evgeni Malkin.
Be sure to keep track of which teams are likely to sign certain players. If you can do that, you will be in the know during free agency.
Keep Reading