The English Premier League's Top 20 Free Summer Transfers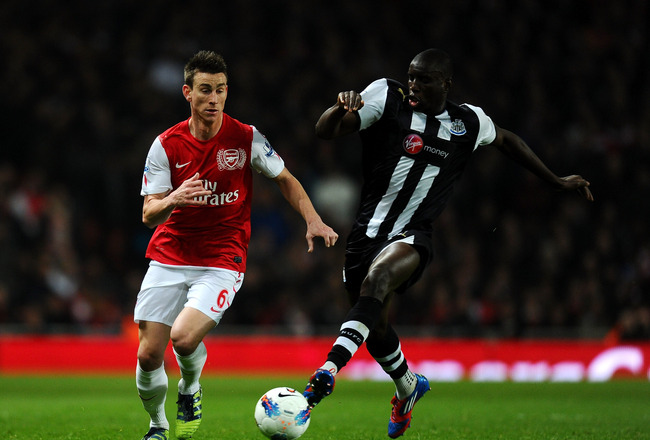 Ba: Bargain Buy
Mike Hewitt/Getty Images
The economy is far from what it used to be. Now, more than ever, spenders are clinging to those pennies found under the couch like never before.
For some time, it seemed as if the football community was immune to the terrible effects of the recession and to a large extent, it still is. However, a bargain buy is always appreciated and the 2011-12 season was an exemplary sample of how they can be taken advantage of in the Premier League.
Demba Ba, Gylfi Sigurdsson and Pavel Pogrebnyak were all instrumental in making the best of the campaign for Newcastle United, Swansea City and Fulham, respectively. The trio have two things in common, one being that they all have pasts playing in the Bundesliga.
The other? All of them cost next to nothing as far as transfer fees are concerned.
So, with our wallets firmly clutched to our sides and an exciting summer transfer period ahead of us, we'll look at some of the top candidates that are available for nothing in the coming months.
Dimitar Berbatov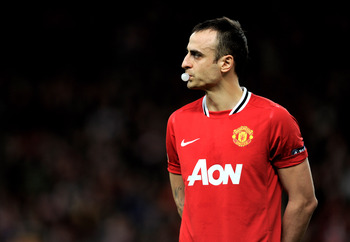 Berbatov: Biding his time
Michael Regan/Getty Images
Dimitar Berbatov may well go down in Manchester United folklore as the most expensive player ever to be so successful at the club, yet he'll leave the club in such a quiet manner that he could just as easily be forgotten.
The Bulgarian international has plummeted quite dramatically since winning the Premier League's Golden Boot award last season along with former United teammate, Carlos Tevez.
Sir Alex Ferguson appears to have lost trust in the lanky forward in a long-running battle for playing time that first started last May when Berbatov was omitted from the Red Devils lineup for the Champions League final despite being the joint top scorer in the English top flight at the time.
That being said, the £30.75m signing who arrived at Old Trafford in 2008 has been a perfect gentleman in the way he has gone about his business and could set a fine example for other such outcasts that may find themselves sitting on the bench more than they'd like.
Manchester United eventually decided to take advantage of a clause in their player's contract that extended this deal by a year. Although this means Berbatov won't be able to leave under the Bosman ruling, his sale fee will be a paltry one compared to the sum for which he arrived at the club.
Berbatov made only five Premier League starts this season and has himself stated that he has to consider an exit from the club if he is to revive his career and Paris Saint-Germain look the most likely destination as things stand.
Should the 31-year-old indeed find himself playing in the French capital next season—or anywhere else for that matter—the club will have acquired a loyal and inevitably valuable asset.
Junior Hoilett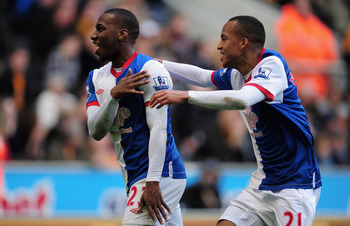 Hoilett (left): Scoring talent
Jamie McDonald/Getty Images
Following Blackburn's relegation from the top tier of English football, Junior Hoilett is one player at the club looking particularly likely to leave.
Amongst the sides linked with a move for the Canadian are Bayern Munich, Arsenal and Tottenham Hotspur, all of which undoubtedly offer a better prospect than what may be on hand at Ewood Park.
The 21-year-old was admittedly one of the brighter lights in what was an otherwise dim season for Blackburn, scoring seven goals and making seven assists in 35 starts for the Lancashire outfit.
One would have to think were Junior (real name David) surrounded by a better quality of player, those figures would go nowhere but up.
As is usually the case in these matters, the most Rovers would be entitled to in the case of Hoilett's departure would be a compensation fee that would be mere peanuts in comparison to what they would had to have paid were he still under contract.
The youngster is already experienced in a top European league and given his age, he has all the time in the world to flourish under the guidance of a bigger side.
Junior Hoilett: a steal in every sense of the word.
Paul Pogba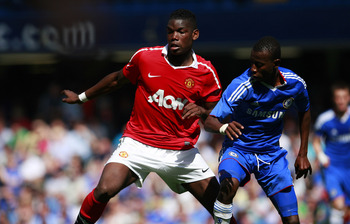 Pogba: Aiming for the Old Trafford exit
Dan Istitene/Getty Images
Admittedly, the youngster looks set for a move to Juventus this summer, but Paul Pogba could yet perform a U-turn on everyone's expectations and decide that the city in north Italy isn't for him.
It emerged at the end of 2011 that the 19-year-old was seeking a move away from Old Trafford in a departure that was allegedly fueled by excessive wage demands.
Ravel Morrison was the first of the United academy to lead the exodus, with Ezekiel Fryers and the aforementioned Pogba expected to follow.
Reports suggest that Fryers has come to his senses and toned down any demands that may or may not have been apparent at one stage, but Pogba still seems a likely candidate for a summer exit.
The defensive midfielder was the subject of heated debate when he first became a Manchester United player after the English club were accused by Le Havre, Pogba's old side, of tapping up their starlet.
Three years later and at the end of his first professional contract, Pogba will seemingly once again leave a club with the tabloids around him.
Some sources are already claiming that the transfer will go through on July 1, but others say that the deal isn't quite that official just yet.
The youngster undoubtedly has talent, but his motives are questionable.
Pavel Pogrebnyak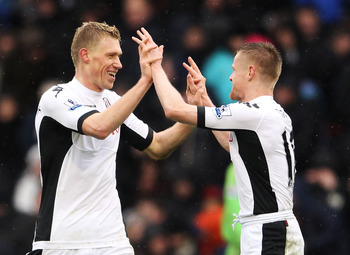 Pogrebnyak (left): Aptly nicknamed 'Death From Above'
Scott Heavey/Getty Images
After arriving at Craven Cottage in January, you will have heard a resounding chorus of Premier League fans hearing of Fulham's new signing and responding with: "Pavel who?"
However, Pavel Pogrebnyak has shown himself to be one of the most valuable signings of the season, no matter how hard his surname may be to pronounce at first.
The Russian international found himself slightly out of favour at former side Stuttgart, scoring just one goal in 14 appearances for the Bundesliga outfit in the first half of the season.
Pogrebnyak then pounced on a six-month contract offered to him in January, going on to score six goals in just 12 matches for the West London side—a decent goal-per-game ratio by any standards.
Martin Jol will undoubtedly be doing everything in his power to ensure that "Death from Above" remains a Cottager for some time, but his exploits over the last five months mean that Pogrebnyak may now well be a man very much in demand.
The 28-year-old appears to have found his stomping grounds in the Premier League and although he may remain amongst England's elite, there's no guarantee it will be with Fulham, as his contract expires at the end of June.
Salomon Kalou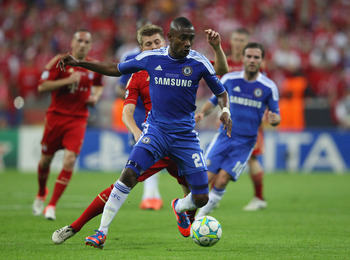 Kalou: Champions League winner
Alex Livesey/Getty Images
With Didier Drogba leading the way towards the exit of Stamford Bridge, Salomon Kalou will be another Champions League winner to leave the club this summer.
The 26-year-old has fallen massively out of favour with Chelsea and was limited to just 17 starts across all competitions this season.
It has been widely reported that the Ivorian international will leave the West London club this summer, but any side that chooses to hand him a deal could find themselves with a valuable deal.
The only snag with Kalou may be wage demands, as has become a common obstacle in the game.
First arriving at the club in 2006, Kalou has regularly racked up over 50 appearances in a season, showing that he isn't injury-prone by any means.
To add to that, the speedster has scored over 60 goals for the club, an impressive tally for a winger and pitched in with over 40 assists in that time.
Although his wage demands are reported to be excessive, Kalou's free price tag means that he could be worth the outlay and with Schalke, Tottenham and Arsenal all rumoured to be interested, the African maestro may yet play in the Premier League next campaign.
Royston Drenthe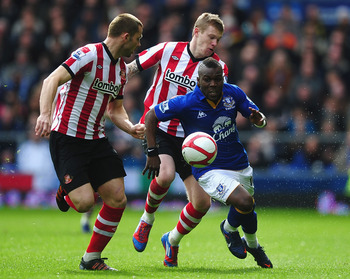 Drenthe: Fell near the last hurdle
Laurence Griffiths/Getty Images
Royston Drenthe will leave Real Madrid this summer. That much seems certain.
After a second breach of discipline in April, the 25-year-old wrecked any chance of a permanent move to Everton and was told to "stay away" by manager David Moyes.
The Dutch midfielder has been extremely vocal regarding his intentions to return to Feyenoord, but there could and should be those out there that feel Drenthe still has more to offer on the bigger stage of football.
Drenthe arrived at Goodison Park on a season-long loan last summer and quickly emerged as an explosive and penetrative talent capable of spurts of great play.
However, it seems that behavioural issues may be the ultimate factor that block him from penning a long-term deal with any other Premier League sides.
That being said, should a team have the fortitude to whip the former Real Madrid starlet into shape, they could have their hands on a creative yet enigmatic winger.
In 10 starts in the English top flight, Drenthe scored three goals and recorded five assists.
Los Merengues bought the Dutchman for a fee of €14m back in 2007. A club like Real Madrid don't get things like these completely wrong that often and as a free transfer, Drenthe could well be worth the hassle.
Mateo Kovacic
Kovacic (right): Champions League experience
Denis Doyle/Getty Images
This time last year, Mateo Kovacic was a name on the lips of many within the football community as the youngster became incessantly linked with a move to Manchester United.
The transfer never came about, as David Gill reportedly said that the £10m-rated midfielder was simply too expensive to risk given his tender age (17 at the time).
However, 12 months on, Kovacic's contract with Dinamo Zagreb is set to expire, meaning that the starlet will soon be available on a free transfer, an even better deal given the nominal expenditure on hand.
The 18-year-old was grabbing the attention of some of Europe's biggest clubs including Manchester City, Arsenal and the aforementioned United.
Although his possibly imminent departure hasn't scaled the gossip columns as it once did, Kovacic doesn't appear to have lost any of his potency and may well find himself playing amongst giants.
The youngster has already featured for the Croatian Under-21 side on four occasions, and although he isn't in the senior side to travel to Euro 2012, he is already being tipped for a bright international future.
Despite his age, Kovacic is an integral member of the Dinamo Zagreb team, making nearly 40 starts for the Blues this season.
In that time, Kovacic scored five goals and registered seven assists.
The starlet may not be at the top of everyone's radar in the same manner that he was 12 months ago, but in a way, that's why it makes the teenager's supposed departure all the more intriguing.
Jose Bosingwa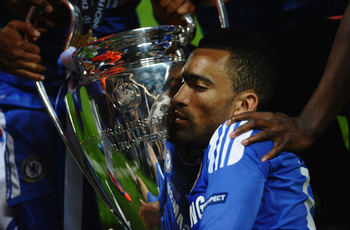 Bosingwa: Relishing his Champions League triumph
Laurence Griffiths/Getty Images
Another victim of the current player exodus occurring at Stamford Bridge, Jose Bosingwa will join both Salomon Kalou and Didier Drogba as the trio head for pastures new this summer.
Despite the club's decision to let the defender go, Bosingwa actually played a considerable role in Chelsea's trophy double this season.
While it may not have been as a result of direct influence, Bosingwa made 43 appearances for the Blues this campaign, only seven of which were from the substitutes' bench.
However, the defender has undoubtedly seen a decline in quality over the past 18 months.
Bosingwa doesn't look likely to travel to Euro 2012 with the rest of his Portuguese compatriots after failing to make it into the side's provisional roster.
Some have commented that the wing-back still deserves a place amongst the international squad, but at least it means that Bosingwa will have more time to focus on club matters.
The main criticisms regarding Bosingwa's playing style have rotated around his defensive inefficiency. While he is a danger going forward, the same can't quite be said of the full-back when he's on defensive duties.
Nevertheless, Roma have emerged as front runners in the race to sign the free agent but after settling into his West London surroundings, Bosingwa may yet remain as a Premier League player.
Robert Green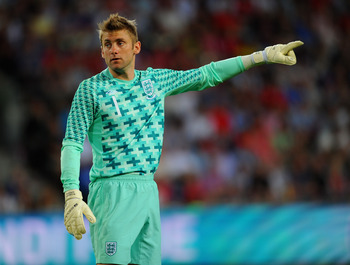 Green: Where to next?
Michael Regan/Getty Images
After keeping the first clean sheet of the Roy Hodgson era as manager of England, Robert Green may be a sought-after prospect this summer.
It's understood that the goalkeeper is currently on wages of £30,000 a week and is looking for a 50 percent raise if he is to put pen to paper on an extension.
However, promoted or not, it has been widely reported that current club West Ham are unwilling to pay such a salary and with the player out of contract in the summer, will release Green as a free transfer in the coming months.
Tottenham Hotspur are already thought to be sniffing around the possibility of signing the England international as a replacement for aging veteran stopper, Brad Friedel.
In 45 starts for the Hammers this season, Green kept an impressive 17 clean sheets and was a large figure in their promotion back to England's top flight.
The England No. 2 is accustomed to the pressures of the Premier League and would be a reliable asset for any side that picked him up for nothing.
Mohamed Diamé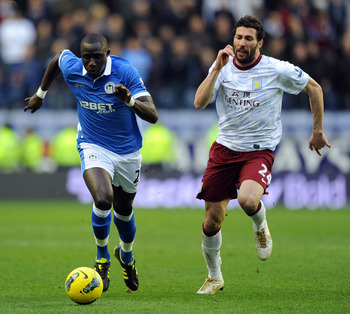 Diamé (left): On the move
Chris Brunskill/Getty Images
Regardless of how Wigan Athletic may or may not cope with the possible departure of manager Roberto Martinez, one player who won't be too concerned is Mohamed Diamé.
It's been quite obvious that the Senegalese international would be jumping the Wigan ship for some time.
Diamé contract at the DW Stadium will run out at the end of June and with the likes of Arsenal, Tottenham, Malaga and Real Betis being tipped to offer the midfielder a new contract, he is almost certainly heading for greener pastures.
As things stand, the anchorman would supposedly prefer a move back to the sunnier climates of Spain where he once had a stint with Rayo Vallecano.
However, should any of the Premier League contingent be able to tempt Diamé into staying in his current league, they will have acquired a previously underrated defensive midfielder.
Diamé received a reduced amount of playing time in the second half of the English season reportedly due to the fact that he was seeking a free transfer away from the club at the end of the season.
Despite this, the middleman stuck out in a Latics side that was poor for a large portion of the season and would undoubtedly succeed more as part of a stronger squad.
Alan Dzagoev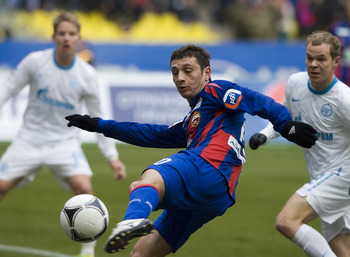 Dzagoev: Hinting at Premier League switch
Dmitry Korotayev/Getty Images
Alan Dzagoev has a very prestigious spot on this list in that he is the only player included that defies the rules of it in that he is not strictly available this summer.
However, as the Russian league still runs in a different schedule to the majority of Europe, he will be available to approach on a pre-contract as his current deal runs out in December.
The rules stipulate that when a player enters the last six months of their contract, clubs are permitted to approach said player regarding a transfer.
Dzagoev has become an integral part of the CSKA Moscow squad and has already made 18 appearances for the Russian national team that will travel to Euro 2012.
It's here that the playmaker will display his talent on a global scale; something that will undoubtedly increase the amount of clubs showing interest in his signature.
The 21-year-old has stated in the past that his preferred destination would be a move to either England or Spain and his wish could come true later this year.
Dzagoev may be an anomaly on this list but with interest coming in from Manchester United, Arsenal and AC Milan in the past, it's for good reason.
Michael Ballack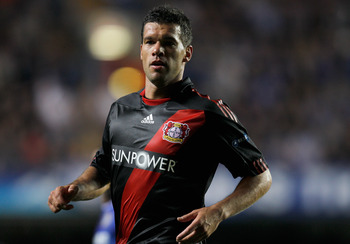 Ballack: A stern pitch presence
Paul Gilham/Getty Images
With injury said to be the key to their decision, Bayer Leverkusen haven't exactly been quiet in the matter regarding Michael Ballack's summer departure.
The former German international is set to leave the BayArena in the coming months and a return to the Premier League has emerged as a massive possibility.
The 35-year-old had a reasonably successful stint at Chelsea between 2006 and 2010 before he moved back to his native Germany.
Ballack's age means that he may not be as athletic as he once was, but the playmaker will have lost none of his wit, regardless of how weary his legs may be.
The veteran was limited to just 25 appearances this season but if the likes of Paul Scholes and Ryan Giggs have taught us anything this season, it's that age is only a number.
While his wages may still be high, Ballack could be worth the expenditure, providing as much of an influence off the pitch as he does on it.
Mathieu Flamini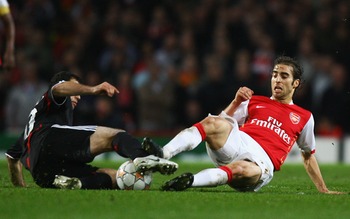 Flamini: No nonsense
Ryan Pierse/Getty Images
Arsenal fans may or may not be pleased to hear that Mathieu Flamini is available on a free transfer.
The Frenchman infamously left the Gunners in 2008 on identical terms—a scenario that enraged some of the Arsenal support who would rather have received a fee for his departure.
However, rumours have been circulating for some time now that the defensive midfielder could make a return to the Emirates Stadium this summer, but this time as one of their own.
Flamini's time has been one riddled with injury, not least of which came the 2011-12 season, in which he made only two appearances.
However, the anchorman is undoubtedly a solid talent and enjoyed a spectacular four seasons in the Premier League during his last stay.
Whether or not the news of an Arsenal reunion is true or not, just about any team that manages to recruit Flamini will have bagged a loyal midfielder willing to do the dirty work that many find it hard to do at times.
Provided he can stay fit, Flamini can challenge even the best defensive midfielders on his day; the only challenge would be fulfilling that first part.
Alessandro Nesta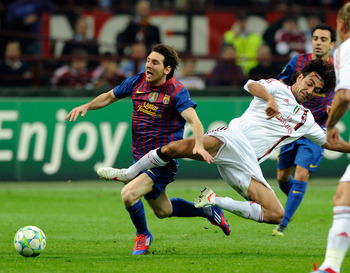 Nesta (right): Still battling the likes of Messi
Claudio Villa/Getty Images
The veteran of the list: Alessandro Nesta.
In the modern game, it has become a regular feature of the professional career to play your best football up until your mid 30s and for anything after that to become nothing more than a "pension fund."
Lucrative contracts in the United Arab Emirates, China and the MLS have arisen as the most popular destinations to get these kind of deals, but there are still those flagbearers of "the old way" that would rather play to the highest standard possible until the end of their days.
Despite rumours suggesting that a move to New York Red Bulls may be on the cards, Nesta strikes me as the kind of servant that may yet jump at the chance to ply his trade in a completely fresh league but still one of quality.
The 36-year-old has spent the last decade of his career with the Rosoneri, winning two Champions League titles, two Serie A titles, a FIFA Club World Cup and the list goes on.
The only word that can describe this kind of silverware success is "prestigious."
Admittedly, it would be Nesta's presence that would make him perhaps more valuable than his playing ability wherever he does go.
The defender did, however, manage 25 starts for AC Milan this season; not bad at all for someone of his age.
With younger and more exciting prospects coming through at the San Siro, Nesta may not still be up to the challenge of a guaranteed first-team spot in his current surrounding, but there's no reason to think that the Italian stalwart is over the hedge quite yet.
Gennaro Gattuso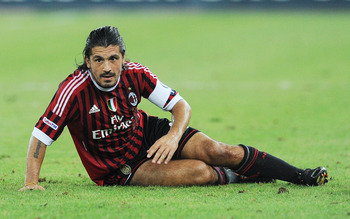 Gattuso: Another Milan departure
Giuseppe Bellini/Getty Images
Aggressive. Antagonistic. Violent.
Gennaro Gattuso has been described as many things in his career, but one of the most appropriate things you could ever call the midfielder is "loyal."
The hard-tackling Italian has made a name for himself as a hard-working and even harder-tackling defensive midfielder and is one of the most well-known players ever to occupy the role in front of the defence.
Gattuso suffered a clash of heads with teammate Alessandro Nesta at the beginning of the 2011-12 season and was eventually diagnosed with myasthenia, an autoimmune muscular disease.
In true "Gattuso style," the midfielder even offered to play for AC Milan for free in an effort to save his career that looked to heading nowhere but down due to the injury.
However, it became apparent in May that the 34-year-old—who had spent the last 13 years of his life with the Rosoner—would be leaving the club for good.
Gattuso has made a habit of courting controversy, whether it be for an overly ripe tackle or a touch-line spat with Joe Jordan.
That being said, if he can get fit, the former Rangers midfielder would be a valued commodity to any Premier League side who were perhaps looking for that extra bite—which, in this case, could turn out to be literal.
Alexander Frei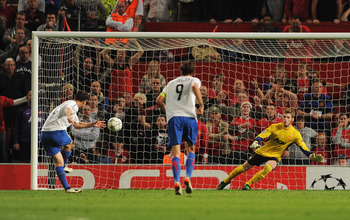 Frei (left): Prolific
Michael Regan/Getty Images
You wouldn't usually think that a player who had just scored over 30 goals in a season would be one to release for nothing, but alas, that appears to be the case with Alexander Frei.
The 32-year-old netted 33 goals and made 15 assists this season, winning the Swiss league title as well as the Swiss Cup for FC Basel, the club to which he returned in 2009 after an 11-year hiatus away from his first professional side.
To add to his resumé, Frei is the all-time top scorer for the Swiss national team, scoring 42 goals in 84 appearances for the side before retiring from the international game following a series of games in which he was criticised by his own fans.
Despite his age, Frei's quality is perhaps typified by the fact that the forward played a very direct hand in knocking European giants Manchester United out of this season's Champions League tournament.
In two fixtures against the Red Devils, Frei scored four goals, three of which came in a hat trick at Old Trafford in September 2011.
You'd have to argue that with that kind of potential in his locker, 32 years old or not, the veteran still has the ability to compete in one of Europe's top leagues and could be a very, very powerful free transfer this summer.
Fabrizio Miccoli
Miccoli: Will the show go on?
Tullio M. Puglia/Getty Images
Another aging player on this countdown, Fabrizio Miccoli is yet another testament to the phrase that "age is just a number."
After scoring 17 goals in 24 league starts this season, it's surprising that Palermo have opted not to offer the forward a contract extension that would keep him at the club for the foreseeable future.
However, it's now apparent that the 32-year-old's five-year stint at the Stadio Renzo Barbera will soon come to an end.
However, the spanner in the works here is whether Miccoli chooses to continue plying his trade elsewhere or end his career in Palermo, a place he has labelled "a second home."
It will be intriguing to see where the pint-sized attacker ends up in September and whether it's on the field hassling opposition defenders in "Miccoli fashion" or watching the game from his Italian home with his feet up and a Peroni in hand.
Craig Gordon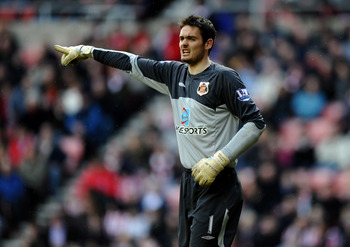 Gordon: A safe pair of hands
Laurence Griffiths/Getty Images
Sunderland supporters may have seen Craig Gordon listed next to the No. 1 in the April lineup to play against Bolton Wanderers and thought: Do we still own that guy?
The Scot missed nearly the entire season after suffering an Anterior Cruciate Ligament injury in 2011 and undergoing surgery in April of that year.
However, it wasn't the first injury that Gordon had endured while at the club, as the £9m signing had fractured the same arm on two different occasions since 2010.
This all turned out to be too much for manager Martin O'Neill and in mid-May, the 29-year-old was released by Sunderland, who will now presumably hand the primary goalkeeping duties to Simon Mignolet with Keiren Westwood as backup.
Regardless, Craig Gordon still holds the title of being the most expensive British goalkeeper transfer of all time and were it not for the amount of injuries sustained, it would be very justified.
This month, Gordon was awarded the "Premier League Save of the 20 Seasons" for a save made against Bolton Wanderers.
With this in mind, any team with a void between the sticks who fancies paying the wages of an international stopper and record-breaker may favour a punt on this particular Hearts Hall of Famer.
Ledley King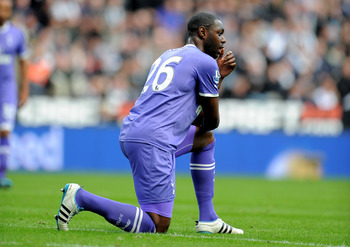 King: Suffering with injury
Michael Regan/Getty Images
There is no doubt in this world that signing Ledley King could be just about the biggest risk that club could take given his physical condition.
It has become a subject of popular discussion that has blagged the minds of managers and players alike, but somehow this Tottenham Hotspur veteran continues at an elite level.
Harry Redknapp has called his defensive general a "freak" in the past, referring to King's ability to play at such a high standard despite only being able to train properly once a week.
The rest of the time, King undergoes light training, including cycling and most aerobic training.
King recently went under the knife again in an effort to correct what has become a chronic knee injury that has blighted much of his 16-year career at White Hart Lane.
The 31-year-old is yet to be offered a contract extension and understandably so, given his state.
However, should Redknapp decide against re-signing his centre-back, King could be a very handy acquisition that, were it not for a long, long string of knee injuries, could well have become one of the best players in the world in his position.
Joey Barton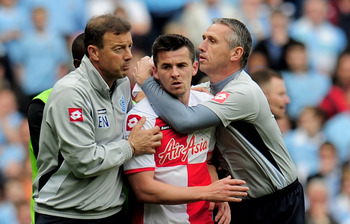 Barton: Covered in controversy
Shaun Botterill/Getty Images
The wildest of wild cards, Joey Barton may well find himself in an Owen Hargreaves-esque scenario this summer, releasing YouTube videos of himself training in an effort to find himself a club.
The former Manchester City and Newcastle United renegade was recently subject to a spotlight in the tabloids after being handed a 12-match ban by the FA for "tarnishing the image of football."
The suspension came as a result of some despicable behaviour against Manchester City, in which he was sent off for lashing out against Sergio Aguero before kneeing the same victim in the backside and then squaring up to Citizen captain, Vincent Kompany.
The proverbial "trifecta," if you will.
Barton is still contracted to QPR until 2015, but it's known that the club are attempting to find a loophole so that they might release the player on grounds of gross misconduct.
This could prove an expensive task, but given the money available at Loftus Road, bigger surprises will have happened and should any club fancy picking up one of the most dangerous men in the sport as a free transfer, look no further than Joey Barton.
All contract statistics are courtesy of Transfermarkt.com.
Scoring statistics are courtesy of WhoScored.com.
Keep Reading