NFL Rankings: Picking the League's 14 Best Wide Receivers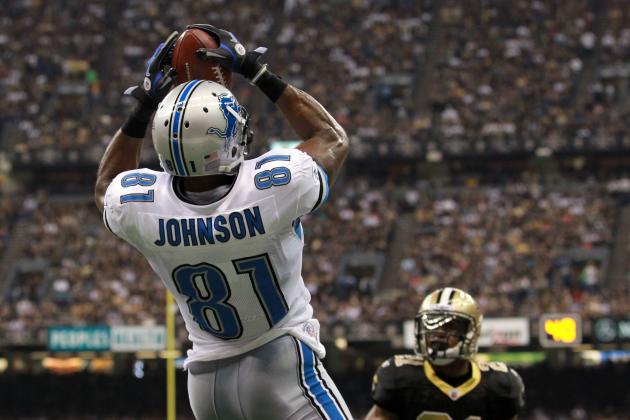 Ronald Martinez/Getty Images

The National Football League boasts many talented wide receivers, who possess arguably the most impressive physical gifts of any football players on the gridiron.
Assigning ranks to these players is no small task, as there's an abundance of skill at the position and oftentimes very small margins separate players.
But that's why it's worthwhile, right?
Here, then, are the top 14 receivers in today's NFL.
Begin Slideshow

»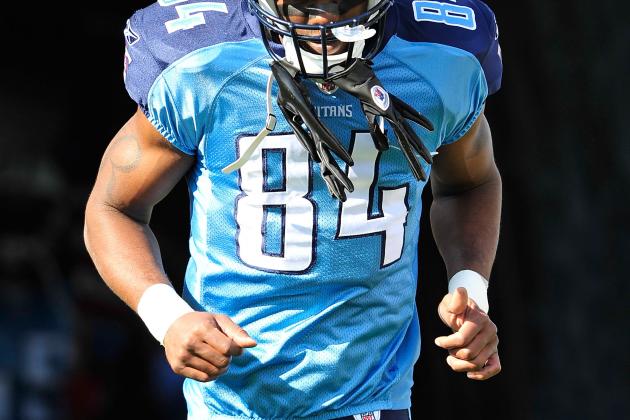 Grant Halverson/Getty Images

Sure, he's 35 and returning from retirement, but as long as Randy Moss is in the NFL, he will enjoy a spot on this list.
Blessed with a rare blend of size and speed, when Moss is in the zone, nobody can stop him. His play-making ability may not be quite what it used to be, but he's still capable of embarrassing defensive backs and changing the complexity of a game with his sheer talent.
It will be interesting to see how much gas he has in the tank in his first season as a San Francisco 49er.
Regardless of how much or how little he accomplishes in the remainder of his career, Randy Moss is a sure-fire Hall of Famer and will go down as one of the best receivers in NFL history.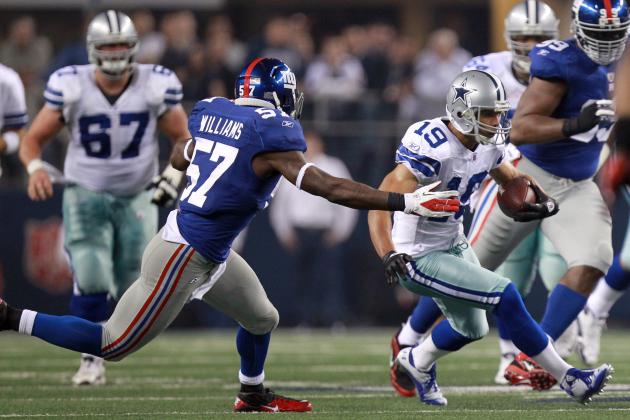 Ronald Martinez/Getty Images

Yes, he missed six games in 2011 due to a hamstring injury, but the speedy Austin still totaled seven touchdowns and 579 yards for the Cowboys.
In his six seasons in the NFL, Miles has become a prized weapon for the Cowboys, stretching the field vertically with his speed and surpassing 1,000 receiving yards in 2009 and 2010—his breakout seasons.
As long as he's healthy, Miles has plenty of action ahead of him. In 2012, look for another productive campaign from the Cowboy's top receiving threat, who will be joined by the rapidly rising Dez Bryant to form a potent one-two punch in Big D.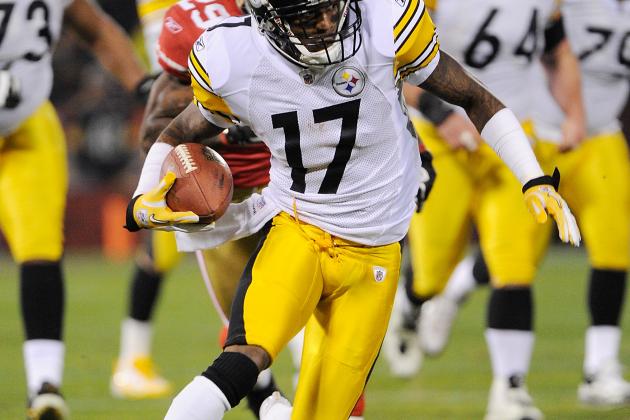 Thearon W. Henderson/Getty Images

At 23 years old, it's rare to find an athlete in any sport perform as well as Mike Wallace has in the first three seasons of his career. The former Mississippi Rebel has seen his reception totals increase from 39 to 60 to 72 and turned in back-to-back 1,000-yard seasons the past two years.
And, with the retirement of Steeler legend Hines Ward, Wallace will be the the main man in Steel City for the foreseeable future.
Expect steady improvement from the rapidly developing wideout, who's brimming with potential and opportunity.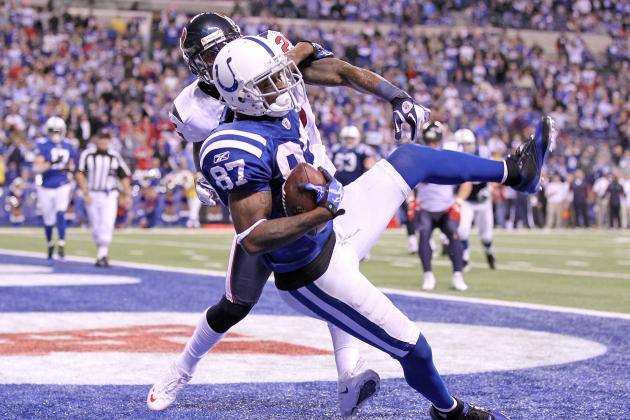 Andy Lyons/Getty Images

Wayne's numbers took a hit in 2011 with the loss of Peyton Manning, but when a wideout catches 75 passes for 960 yards and can say he didn't do as well as usual, you're talking about an elite receiver.
Although he probably won't see the same success in the future as he did in the Manning era, let's step back for a moment and consider what the former Miami Hurricane has accomplished in his long career.
Wayne has recorded seven consecutive seasons with 1,000 or more receiving yards (snapped last season) and eight seasons with 75 or more receptions, with three 100-plus catch campaigns and 73 touchdowns over 11 years.
It remains to be seen how he will fare with Andrew Luck attempting to fill the shoes of one of the best quarterbacks of all time. Regardless, we must consider Reggie Wayne one of the best wideouts in the league at this point.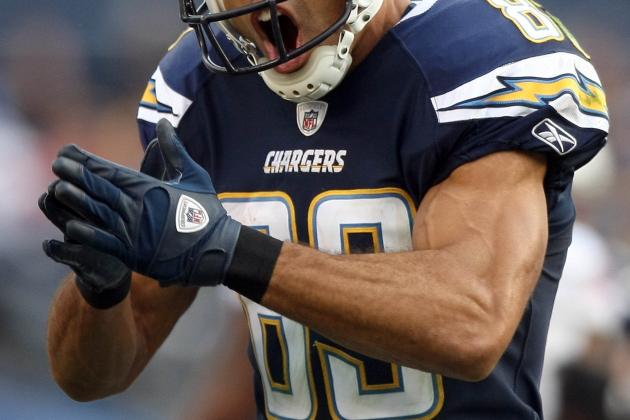 Donald Miralle/Getty Images

It will take some time to adjust to seeing him in a Buccaneers uniform, but everything points to Vincent Jackson continuing to shine as a go-to wide receiver.
With a career average of 17.6 yards per catch, Jackson is a bona fide playmaker who, at 6'5" and 230 lbs, requires considerable attention from the secondary and thus stimulates other offensive weapons to shine.
Alongside Mike Williams and Arrelious Benn in Tampa Bay, Jackson's addition could make the Bucs a legitimate threat in the NFC South.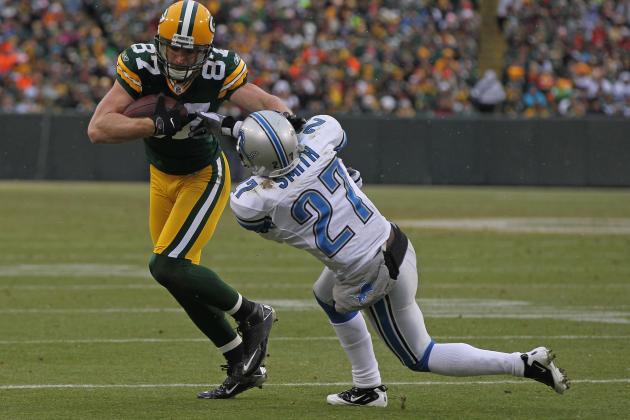 Jonathan Daniel/Getty Images

He may not be the flashiest or most dazzling athlete, but Jordy Nelson's career is on the uptick in Green Bay; with only four seasons under his belt and breakout numbers in 2011, Nelson's best is yet to come.
Which is not to say he hasn't impressed thus far. Nelson racked up 1,263 yards and 15 touchdowns last season, scoring only one fewer touchdown than league-leader Calvin Johnson.
Playing for one of the best teams in the league and supported by the out-of-this-world play of Aaron Rodgers set Nelson up well for long-term success in Green Bay. Look for his numbers to explode this season.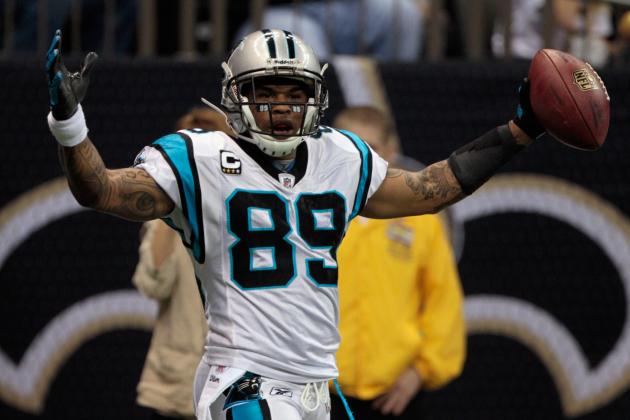 Chris Graythen/Getty Images

Smith had a characteristically solid output in 2011, snagging 79 passes for 1,394 yards and seven touchdowns, demonstrating once again that he is one of the best in the business.
Standing at only 5'9" but showing electrifying elusiveness, pound-for-pound, Smith may be the best wideout in the entire league. 2012 will mark his 12th season in the NFL, and the former Utah Ute, save for a few seasons, has performed at a very high level on a consistent basis.
At 33 years old, he may only have a few seasons left in the tank, but considering his career overall and his bounce-back season in 2011, Smith leaves nobody questioning his status as an elite receiver.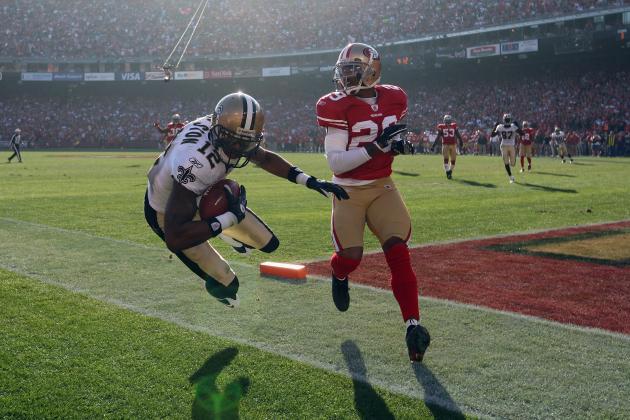 Ezra Shaw/Getty Images

Colston is the go-to man for one of the most prolific passers in today's NFL in Drew Brees, and while one could argue Colston's success is a product of Brees' talent, the relationship is bidirectional. Colston has been dominant in his six seasons in the league.
At 6'4" and 225 lbs, he's near impossible to stop one-on-one, and at least some of the credit for the success of Colston's fellow Saints receivers (Devery Henderson, Robert Meachem, etc.) has to be attributed to Colston and the attention he demands.
2011 was among Colston's most productive seasons (1,143 yards, eight touchdowns), and assuming Drew Brees re-signs, the wideout should continue to fuel the offensive juggernaut in the Bayou.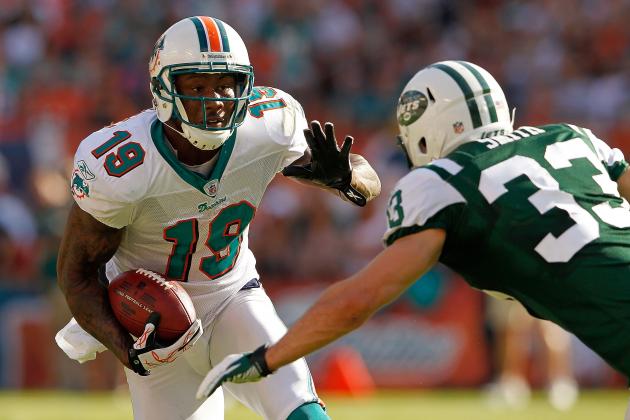 Mike Ehrmann/Getty Images

The Chicago Bears' receiving corps gets a major boost with the addition of Marshall, who's entering his seventh season in 2012. In one sense, it's hard to believe he's been in the league that long, but it's also easy to take for granted just how productive he's been in that span.
Although he doesn't score as many touchdowns as most elite receivers, Marshall's consistency in yards and receptions accumulated is astounding. If you throw out his rookie season, he has averaged 1,390 yards and just shy of 95 receptions per season over his short career.
Marshall saw slight dips in receptions and touchdowns as he transitioned from Denver to Miami, but he's coming off another productive season and should see more opportunities as he acclimates to life in Chicago.
The future is very bright for Brandon Marshall.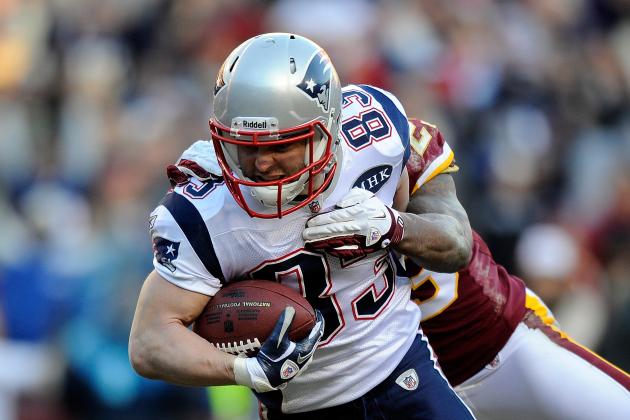 Patrick McDermott/Getty Images

It's hard to overstate Welker's impact on the Patriots offense. Working from the slot position, he is a ball hoarder and YAC machine.
Granted, he's, for the most part, not a serious scoring threat, but the sheer extent of his productivity and importance in the Patriots offense compel his inclusion in this list.
The numbers are jaw-dropping. Welker has topped 110 receptions in four of the past five seasons, reaching an eye-popping 122 last season. Add to that a career-high 1,569 yards and nine touchdowns, and it's clear that he's one of the hottest receivers in the league right now.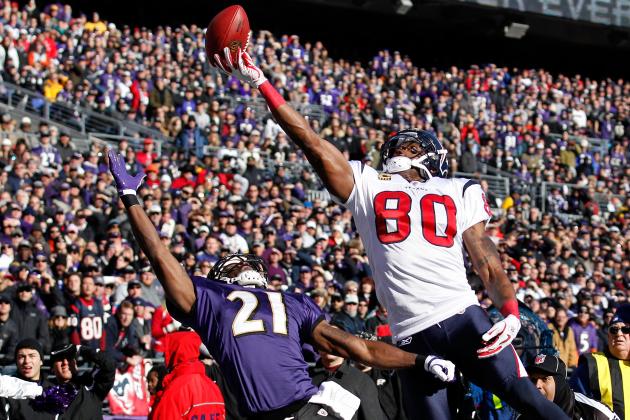 Rob Carr/Getty Images

After missing all but seven games in 2011 due to injury, Johnson will be hungry to return to the limelight as a top-flight wideout in 2012, assuming he recovers fully from arthroscopic knee surgery which, according to the Associated Press (via ESPN.com,) will sideline him for "three to four weeks."
Despite this setback, there's no debating Johnson's dominance in his over his nine seasons in the NFL. Using his powerful 6'3", 226-lb frame, he has muscled his way to three seasons with more than 100 receptions and has twice topped the 1,500-yard mark.
Although he has had some durability issues over his career, Johnson remains a premier receiver and should shine once again in 2012.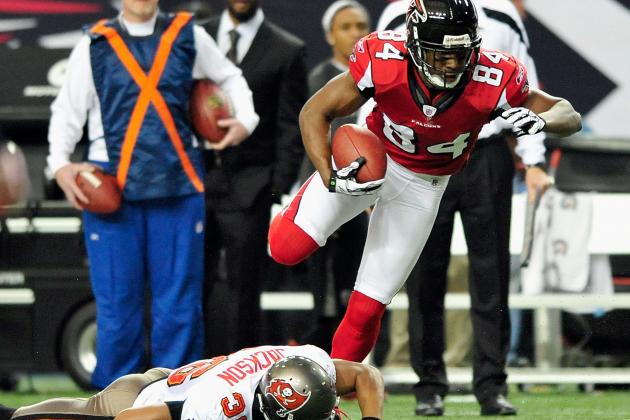 Grant Halverson/Getty Images

Finishing first and second in the league in receptions in 2010 and 2011, respectively, Roddy White seems to be underappreciated as the premier wideout for one of the league's most powerful offenses.
Indeed, White drives the Atlanta passing game and has shown consistency and fecundity second to none in recent seasons. He has surpassed the 1,000-yard mark for five straight seasons and has averaged 97 receptions over the past four campaigns.
At 30 years old, White should be approaching the peak of his career but don't expect him to fade from the forefront any time soon.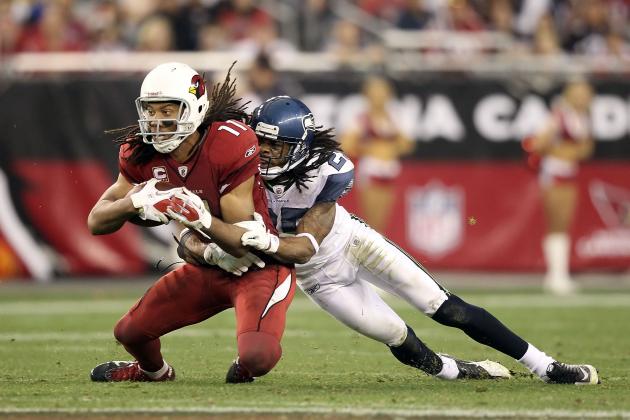 Christian Petersen/Getty Images

The numbers speak for themselves: six Pro Bowls, 9,615 yards and 73 touchdowns in eight seasons and a solid 87 catches per year to boot. It's hard to believe Larry Fitzgerald is only 28 years old, and, theoretically at least, has his best football still ahead of him.
The addition of Michael Floyd in Arizona means opposing defenses will have their hands full with two physically imposing wideouts when they face the Cardinals.
Ultimately, as he's shown time and again, Fitzgerald can only be contained for so long.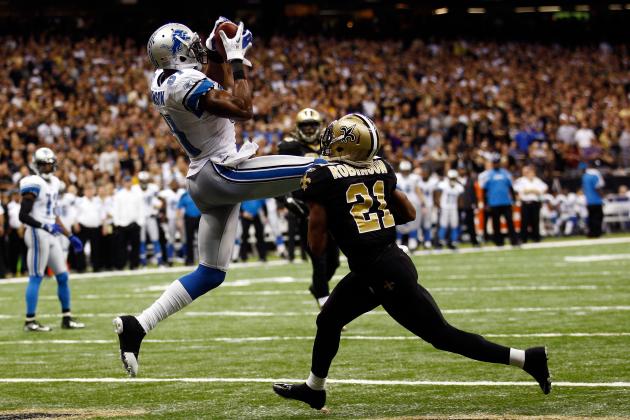 Chris Graythen/Getty Images

Seriously, how can you hope to slow down, let alone stop, a 6'5", 236-lb mammoth who has been clocked at a sub-4.4 40 and happens to possess excellent receiving skills?
That's the dilemma bedeviling defensive coordinators as Megatron exerts his will over helpless defenders across the league.
In only his second year appearing in all regular-season contests, Johnson exploded for 1,681 yards and 16 touchdowns, tops in the league among wide receivers (Patriots tight end Rob Gronkowski had 17 receiving touchdowns).
Looking ahead, it's downright scary to consider the potential for the 26-year-old Johnson as he, Matthew Stafford and the Lions improve.