Eden Hazard: Picking a Chelsea Starting XI That Includes the Transfer Star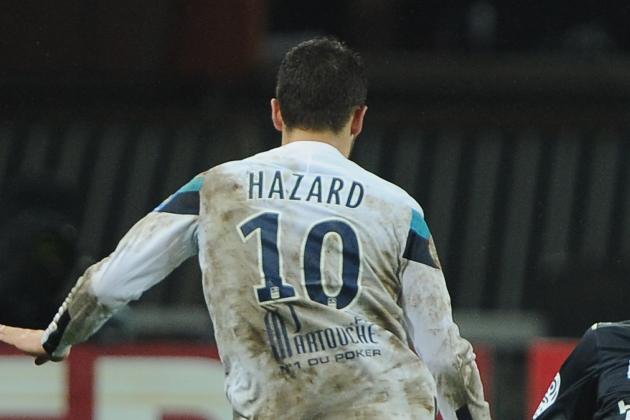 Pascal Le Segretain/Getty Images

The Eden Hazard saga is over, with the most talked about man in football confirming that he will be joining Chelsea next season.
Since their incredible victory in the UEFA Champions League final over Bayern Munich, the Blues were always a serious contender for the Belgian star—beating both Manchester United and Manchester City to his signature.
The next question then for Hazard and Chelsea is what will his role within the team be and how will he fit within the Blues' starting side. Let's take a look as to what the Blues' starting lineup will be with Hazard. Who keeps their starting place and who falls to the bench?
Just before we begin, I'd like to point out two things. Firstly, this lineup is based on the current players that Chelsea have—and not based on who may or may not be transferred. Thus whilst the Blues are certain to sign some new stars and dispose of some current players, you won't find any of those predictions in this list.
And secondly, the squad is based on the formation used by Chelsea most this season which, according to WhoScored.com is a 4-3-3 formation.
With that out of the way, let's take a look at the starting side for Chelsea with the inclusion of new signing Eden Hazard.
Begin Slideshow

»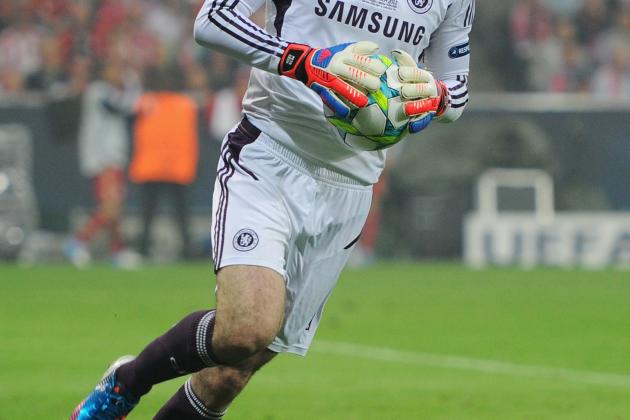 Mike Hewitt/Getty Images

Petr Cech was superb for Chelsea throughout the 2011-12 season and will remain the starting goalkeeper for as long as he desires to play at Stamford Bridge.
The 30-year-old recently signed a four-year deal with Chelsea—confirming his long-term commitment to the club.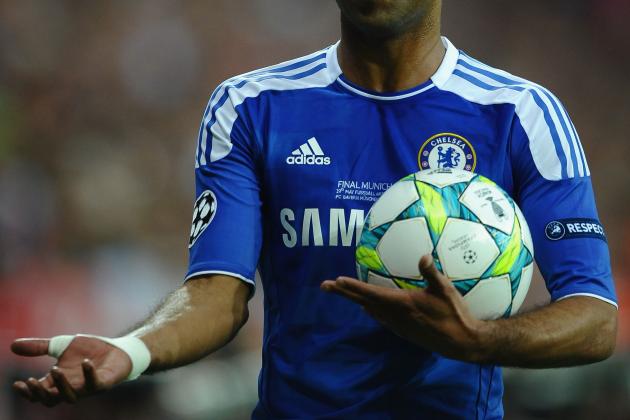 Laurence Griffiths/Getty Images

Ashley Cole—like many of Chelsea's squad—might be aging, but certainly not lacking in ability, with the defender proving he still has what it takes to compete at the highest level.
In the Premier League this season, Cole notched up the second-highest amount of assists for the Blues and the third-highest passing accuracy. Throw into that mix his 2.5 tackles per game and Cole's position in the Chelsea back line secure.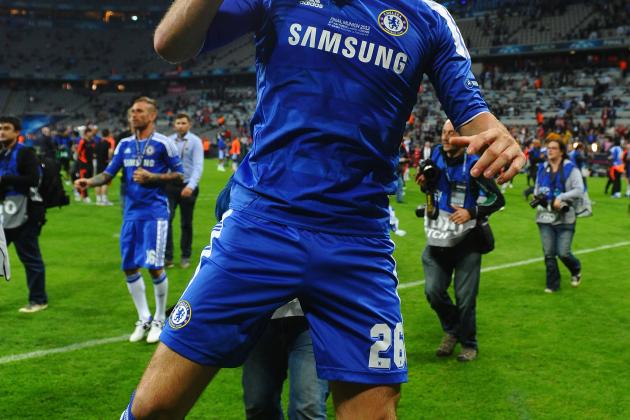 Laurence Griffiths/Getty Images

Whilst he might not have played in the UEFA Champions League final, there's no doubting John Terry's importance to the Blues and no doubt regarding his position in defense.
He scored six goals for Chelsea in the Premier League this season and finished with the highest passing accuracy despite having more passes per game than any other player.
Terry's position in defense is secure as long as he wants it.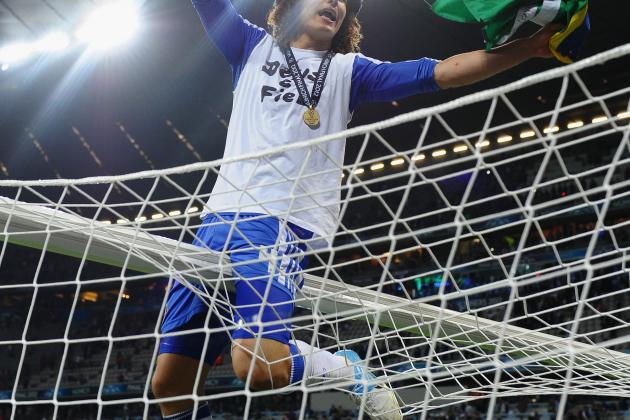 Laurence Griffiths/Getty Images

Drunken interviews aside, David Luiz was a revelation in defense for the Blues this year and deserves to keep his position in the starting side.
He led the team in interceptions this season and must be an automatic selection as a central defender. Eden Hazard is good, but he won't steal Luiz's spot in the back four.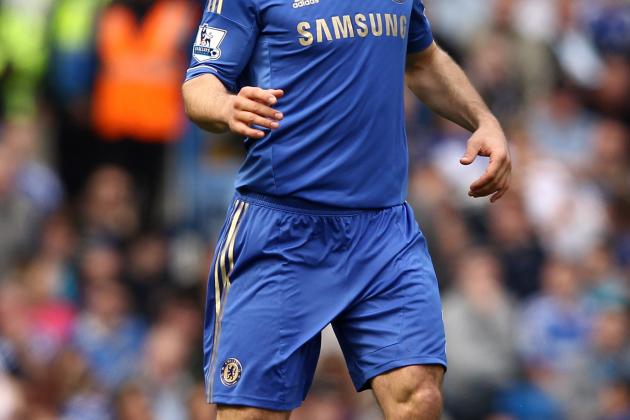 Ian Walton/Getty Images

The 28-year-old Branislav Ivanovic has already attracted interest from Real Madrid and Barcelona this transfer season, and who could blame the Spanish giants after the defender was excellent for Chelsea this season.
Averaging two tackles and two interceptions per game, Ivanovic finished with the sixth-highest average match rating as well as chalking up 4.2 clearances per game for the Blues this season.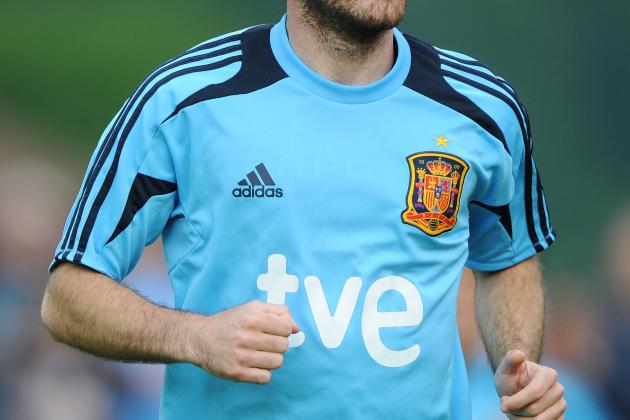 Jasper Juinen/Getty Images

Now we start to get in to the players affected by Eden Hazard and one of the big ones is Spanish star Juan Mata.
Mata was arguably Chelsea's best player this season—shown through the fact that he finished with the highest average match rating this season.
Mata finished the Premier League with six goals and 13 assists as well as an average of three key passes per game. With Hazard in the lineup however, Mata will play as a midfielder and not be pushed forward as a half-striker/half-winger—as he did on 19 occasions for the Blues this year.
Having said that, there's no way that a player of Mata's caliber doesn't find his way in to a starting lineup.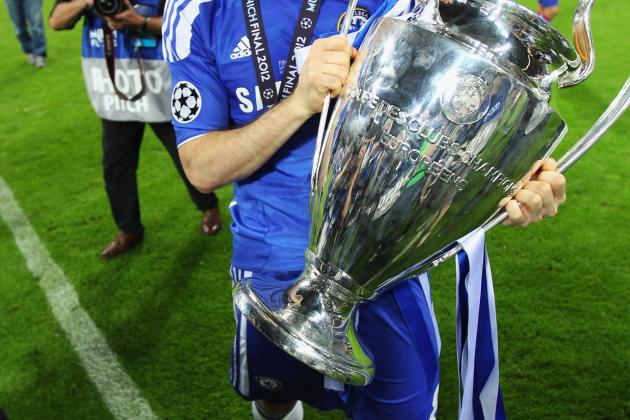 Alex Livesey/Getty Images

Why Frank Lampard? I mean, do we really even need to ask the question?
Lampard's inclusion at central midfielder is a no-brainer for Chelsea, with the club legend once again leading the Blues throughout the Premier League season with sublime skill.
He led the team in goals and finished third in assists, won more man of the match awards than any other player, finished second in key passes and turned the ball over only 0.7 times per game.
Like Terry, Lampard's position at Chelsea seems to be there for as long as he wants it as long as he continues to perform like he has done all season.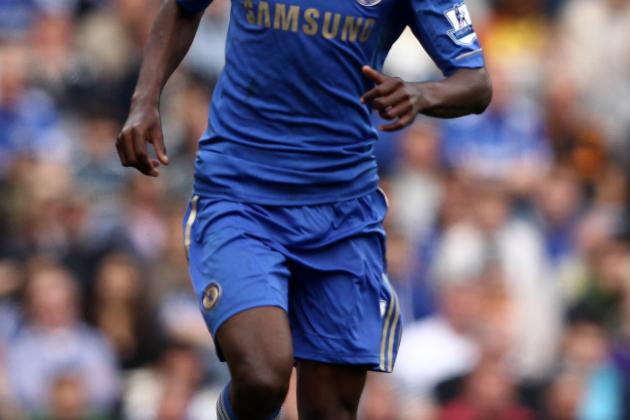 Ian Walton/Getty Images

Ramires' excellent play throughout the season—which saw him finish third in average match rating—sees him consolidate his position in the Blues' starting side.
In addition to his five goals in the Premier League, Ramires also led the team in tackles and successful dribbles per game. And despite a plethora of midfield talent already in the Blues' team, Ramires rightly keeps his starting position.
Claudio Villa/Getty Images

And there he is—the man himself, Eden Hazard.
The most talked about man in world football the past few weeks chose to play for the Champions League victors and will most likely assume the role of left forward at Stamford Bridge.
Hazard scored 20 goals and 17 assists for Lille this season and won a staggering 14 Man of the Match awards in the process.
With an average match rating similar to that of Robin van Persie and Wayne Rooney, Hazard has the potential not only to be a superstar within Chelsea but in the entire Premier League.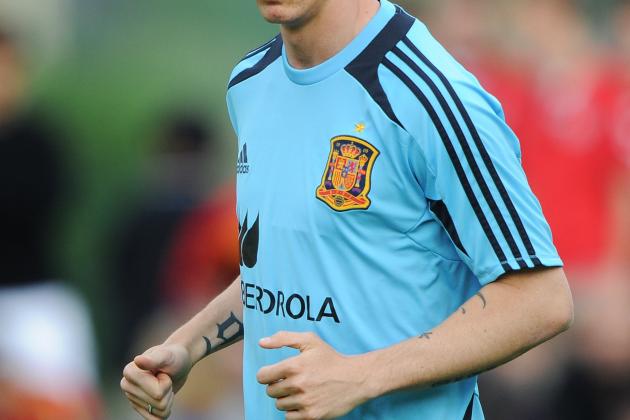 Jasper Juinen/Getty Images

Fernando Torres keeps his spot in the starting side with the Spanish international finally indicating that he's turned the corner out of his goal slump.
Since his transfer from Liverpool, Torres has perennially underperformed for the Blues—perhaps that is finally starting to change for the striker.
He finished third in goals and fourth in assists for Chelsea this year and finished second in successful dribbles per game. Torres might not be in the same form that he was say, two or three years ago, but he isn't in the same rut that he was, say, 12 months ago.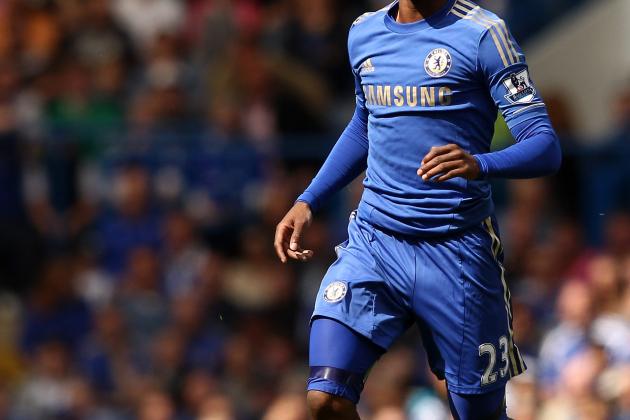 Ian Walton/Getty Images

Securing the final position in the Chelsea starting lineup is Daniel Sturridge, who has a great opportunity now that star forward Didier Drogba's imminent departure from Stamford Bridge.
Throughout the English Premier League season, Sturridge led the team in goals with 11. He did average more shots per game than any other Blues' player and was disposed far too often in 2012, leaving plenty of room for improvement.
Next season holds huge potential for the English striker and his career at Chelsea.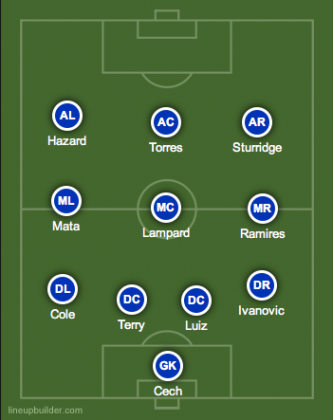 Chelsea's star-studded lineup—complete with new signing Eden Hazard—means that several good quality players simply cannot find a position on the pitch and are forced to the bench. It is more of a reflection on the players selected rather than the players omitted but, like every other team, there's always players that have to miss out.
Didier Drogba isn't officially off the books but with the club confirming that he will not be playing for them next season, he isn't in the starting lineup.
Raul Meireles was a player that I thought highly of about three months ago, but since then, has not done enough to win a spot in the starting side. Considering the talent already existent in defense for Chelsea, Meireles' tackling inability and horrendous interception rate simply isn't good enough to start.
Jose Bosingwa on the other hand, was arguably the toughest omission for me. He was excellent this season, but I'd rather have Ivanovic in defense—especially in light of his Champions League performances. Tough decision, but Bosingwa finds himself on the bench.
John Obi Mikel and Michael Essien both find themselves on the bench due to the incredible talent that Chelsea already has in midfield. They are both quality midfielders but with Juan Mata, Frank Lampard and Ramires already in the side, there's simply no room for either player.
Salomon Kalou is a good striker, but not good enough to beat out Fernando Torres or Daniel Sturridge for a starting position. Rumors are circling about his potential departure from Stamford Bridge and considering that he won't be starting for Chelsea any time soon, I think it's a wise decision.
It's tough, and it's the problem with only being able to field 11 players when you have the depth and talent that Chelsea has. I'd love to know what you think and what your starting team would be with Eden Hazard—who keeps their position and who is forced on to the bench?
Comment below or hit me up on Twitter — Follow @dantalintyre
All statistics courtesy of WhoScored.com