Roger Federer: How Fed-Ex Will Own Remaining Competition at French Open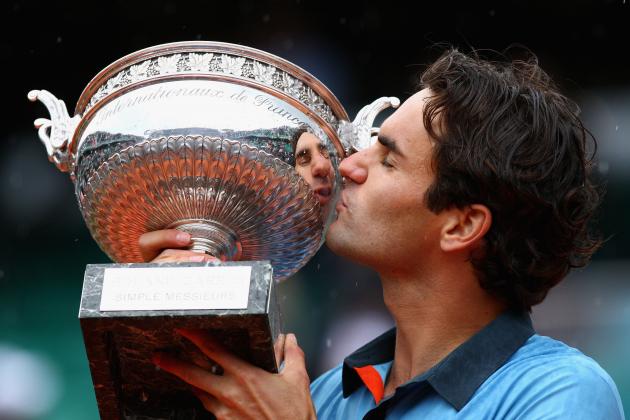 Ryan Pierse/Getty Images

Roger Federer has set countless records in his career: most Grand Slams in men's tennis history (16), most consecutive titles at two different Grand Slams (2003-2007 Wimbledon, 2004-2008 U.S. Open), etc. After taking down Tobias Kamke Monday in the first round of the 2012 French Open, he is tied with Jimmy Connors for most Grand Slam match wins (233).
However, Fed-Ex has just turned 30 years old, and is on the hunt for one more record.
If Federer wins the 2012 French Open, he will be the first man that old to win a Grand Slam since the 2003 Australian Open when Andre Agassi won it at 32 years old.
It's been over two years since Fed-Ex has won a Grand Slam title, which is the longest he's gone since he first won Wimbledon in 2003, but he is playing some of the best tennis of his career. On paper, he looks like he should been the No. 1 player in the world with a 31-4 record.
After what looked like an effortless first-round victory for Federer on Monday over Kamke, he is poised to win it all at Roland Garros.
Begin Slideshow

»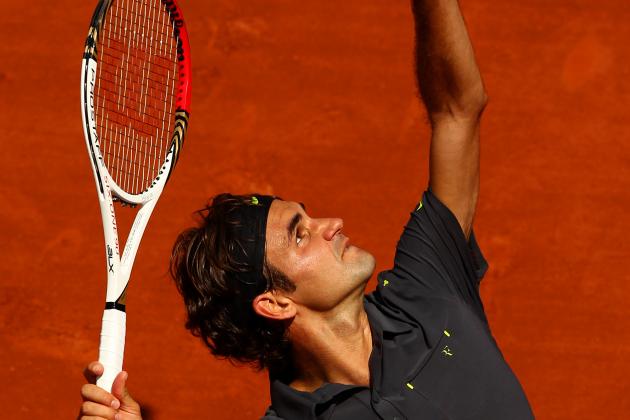 Clive Brunskill/Getty Images

As the No. 3 seed, Federer plays some unranked and inexperienced (compared to him) players in the early rounds of the 2012 French Open. In the second round, he will square off against Romania's Adrian Ungur, who defeated David Nalbandian in four sets on Monday.
Ungur is a counter-puncher; he relies on his opponent to make the mistake. This, however, is an ineffective strategy when one is playing against Federer. Federer is simply too consistent for Ungur to wear down.
However, it will be Federer's service power that will allow him to take down Ungur. Fed-Ex has an extremely dynamic serve that allows him to pull his opponent off the court and set up a guaranteed winner.
With his combined consistency and dominant service game, Federer will take down Ungur in the second round.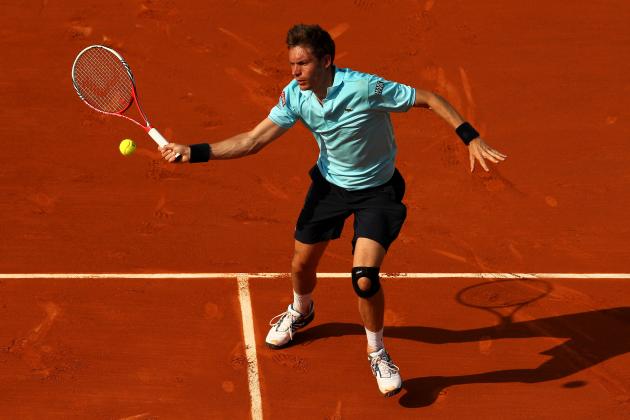 Matthew Stockman/Getty Images
Nicolas Mahut
Nicolas Mahut is most famous for playing in the longest match on record against John Isner in the 2010 Wimbledon. Clearly, the Frenchman has no trouble with long matches.
Luckily, neither does Federer.
The Frenchman proved to be a consistent player against Roddick, winning 71 percent of his service points. Mahut's serve proved to be effective as well, with 13 aces and an average speed of about 124 mph.
However, Mahut's consistency and serve-and-volley approach won't do much against Federer. Mahut simply does not have enough firepower to take Federer down, so Fed-Ex will prevail.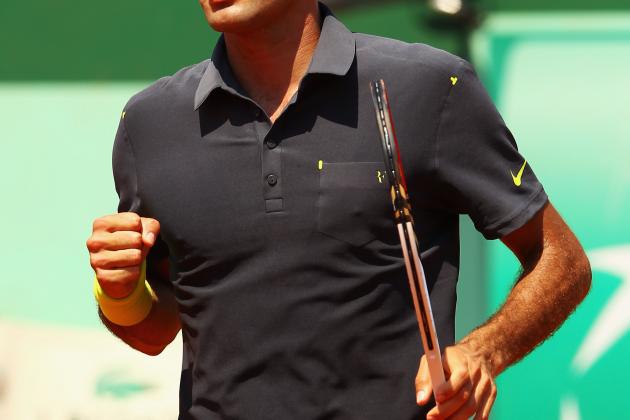 Clive Brunskill/Getty Images

Trying to decide whom Federer would play in the Round of 16 was difficult because so many ranked players were ousted in the first round. So, judging on his first-round victory over No. 23 Radek Stepanek, David Goffin has a good chance of making it this far.
So, let's look at how Federer would do against this French Open rookie.
Goffin is a good hard-court player, but his skills there won't necessarily apply at Roland Garros.
So, Federer should be guaranteed to win this match largely due to his experience both on clay and on the big stage of a Grand Slam.
Federer will most likely use this match to experiment and build upon his rhythm for the bigger matches to come. This means he will try out some serve-and-volley play, throw in a few slices and test his chip-and-charge.
Federer has already tested out some of these clay court strategies in his match against Kamke. Looking at his numbers, Federer approached the net 29 times and won 69 percent of those points. With numbers like that, Federer is sure to come up to volley more during the next few rounds.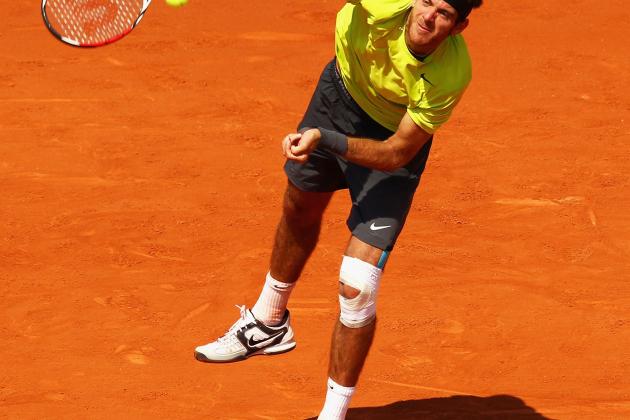 Clive Brunskill/Getty Images
Juan Martin Del Potro
The quarterfinals were also a hard one to determine. Federer will most likely play either Tomas Berdych or Juan Martin Del Potro, both great, experienced players, so let's look at them both.
If Federer squares off against Berdych, it will definitely be a close match. The big hitting Czech has beaten Federer in the past, at Wimbledon in 2010. However, Federer defeated Berdych more recently in Madrid on clay, and with that win fresh in his mind, Federer will pull through.
Speaking of his mind, it will definitely be a chess match between the two big hitters, but Federer's experience and mental toughness gives him the advantage.
Now on to Del Potro, known as the "Tower," because of his height and consequently his cracking serve. Federer will have to use his wit to win this match. This means Fed-Ex will pull out his serve-and-volley strategies as well as some well-placed drop shots.
Ultimately, Federer will prevail due to his clay court savvy.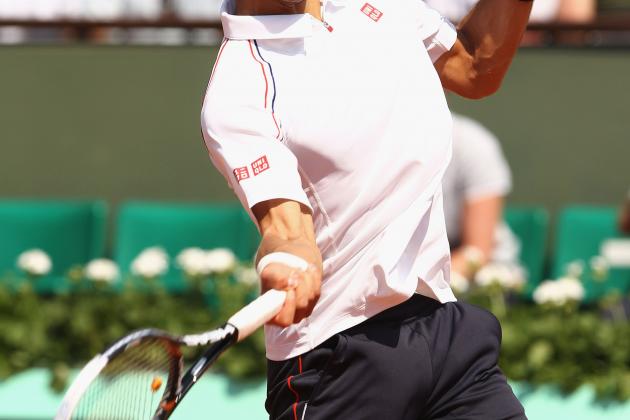 Matthew Stockman/Getty Images

This is when the real fun begins. Djokovic is not only the current No. 1 in the world, but he is also going after the elusive "quad," so if the Djoker wins the 2012 French Open, he will have won every Grand Slam this year.
Federer will need every ounce of skill and fitness to win against the highly motivated Djokovic. He is strong off both sides of his ground game; he has a tough serve and a solid knowledge of clay court play.
Here's why Federer can beat him: He's done it before.
In the 2011 French Open, Federer famously ended Djokovic's 43-match winning streak in the semifinals. He did so in classic Federer style: He was extremely consistent, used very good movement and, most importantly, was very smart.
Ironically, Djokovic has not gone further than the semis at Roland Garros, and if Federer can push him to the defense again, then history will repeat itself.
Clive Brunskill/Getty Images

In the 2012 French Open, they really will save the best for last. The Federer-Nadal rivalry is one of the greatest in history, and it will play out in this final.
Looking at their numbers, Nadal has the edge. Obviously he has more French Open wins than Federer (Nadal is going for the record-breaking seventh this year), and no one has more clay court game than the left-handed Spaniard.
However, Nadal can be quick-tempered at times, and if Federer can play a flawless match against Nadal while putting the pressure on to him, then Federer can get into his head and hopefully throw him off.
With so much on the line for both players, this could be one the best matches of all time, and if Federer can pull out a victory over Nadal on clay at Roland Garros, then Federer undoubtedly deserves the 2012 French Open title.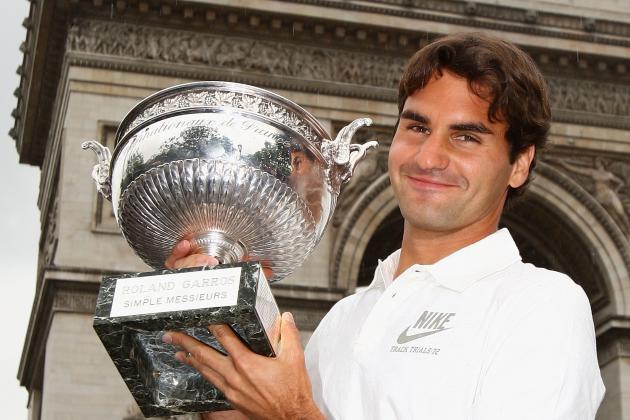 Ryan Pierse/Getty Images

There is no doubt that Roger Federer has a tough road ahead of him if he wants to win the 2012 French Open.
But, with this clear blueprint to victory over each potential remaining foe and his classic Federer style of tennis, Federer will soon be kissing that trophy again on June 10.