Pittsburgh Steelers: Mike Wallace, Management Need to Find Happy Medium
May 29, 2012

Justin K. Aller/Getty Images
Only time will tell if Mike Wallace and his agent, Bus Cook, playing hardball with Pittsburgh Steelers management will be end up being a beneficial thing for the 25-year-old wide receiver.
The restricted free agent still has not signed his one-year tender deal of $2.74 million, and it's obvious he and Cook are using this delay as leverage to try to get a decent long-term deal with the club. It's a typical strategy in the NFL, and not necessarily a bad one by Wallace, who missed the beginning of voluntary workouts (organized team activities) last Tuesday.
If Wallace, (72 receptions, 1,193 receiving yards and eight touchdowns in 2011) were to somehow get injured during OTAs, though a remote possibility, his chance at landing a long-term lucrative contract with Pittsburgh, or any other team, would severely be diminished.
Steelers president Art Rooney and general manager Kevin Colbert have both stated the team wants to sign Wallace to a long-term deal.
"Our intention has always been to sign Mike to a long-term contract," Colbert said.
Wallace is unhappy with the tender offer, but the Steelers certainly aren't in a position with their present salary cap to give him the monster contract like the one a league source said he wants that surpasses the eight-year, $120 million one Larry Fitzgerald signed with the Arizona Cardinals last year.
Wallace has until June 15 (one day after mini-camp ends) to sign the tender offer before the Steelers can cut it to 110 percent of his 2011 salary—or $577,500—a huge $2.1 million loss on Wallace's part.
Jared Wickerham/Getty Images
I highly doubt management will actually exercise that reduction piece of the tender offer as it would likely alienate Wallace even more, which could lead to him holding out for training camp and possibly the start of the season—a bad move and vibe for both parties involved.
So a little bit of hardball and posturing by both sides at this point in time, but most people think a deal will eventually get done.
"It'll be over, (just) a little bit of short-term misery,'' head coach Mike Tomlin said. "It won't be significant in the big scheme of things hopefully.''
The Steelers have been down this road in the recent past with Plaxico Burress and Santonio Holmes, and some cynical fans, tired of the prima donna wide receiver routine, think the Black and Gold will be just fine with Antonio Brown and Emmanuel Sanders showing much promise last year.
However, with Hines Ward now gone, not signing the speedy Wallace for at least one year would hurt the pass-heavy offense quarterback Ben Roethlisberger and new offensive coordinator Todd Haley hope to further cultivate.
So both sides need to give in a little bit next month. The Steelers need to pay the piper and Pro Bowler Wallace (and his agent, Cook) need to step back from demanding so much money that it hamstrings the club and any future deals it may want to try to make.
As it looks now, Wallace will continue this premeditated waiting game (missing mini-camp from June 12-14) until his agent takes one final pre-mini-camp attempt at securing a long-term deal, which the Steelers will likely deny if the asking price is still too high.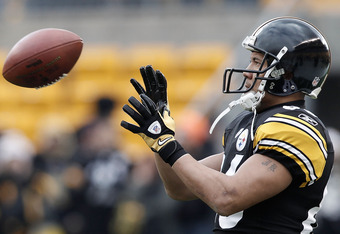 Jared Wickerham/Getty Images
Wallace should give in at this point (June 15) and sign his restricted tender offer knowing he could lose a lot money and hope the team agrees, in good faith, to return to the bargaining table—like it did with Troy Polamalu, LaMarr Woodley and Lawrence Timmons last year—during training camp.
Should Wallace decide to play the ultimate hardball and sit out training camp and the start of the NFL season, he will not only hurt the team by having it lose the league's best deep threat, but he will be hurting himself in terms of game shape and his image to other teams that may be interested in signing him next season.
If Wallace does sign the $2.74 million tender offer and the Steelers make no real effort to sign him to a long-term pact, he will then become an unrestricted free agent and other teams will then be able to bid on him for next season without the fear of losing a first-round draft pick.
This is a modern-day game of "NFL chicken," with both sides not willing to give in to the other just yet with Wallace and his agent knowing how the game works and what happened last offseason.
I expect both sides to reach some sort of a happy medium during training camp with the young wide receiver wanting to spend the prime years of his football career with a quality organization like the Steelers.
However, if Wallace and Cook can't agree to the best deal the Steelers have to offer under current financial circumstances, Wallace may end up going the same route as Burress and Holmes did—straight out of the Steel City.
Follow me on Twitter: @KevinStott11