15 Reasons the Los Angeles Dodgers Survived Matt Kemp's DL Stint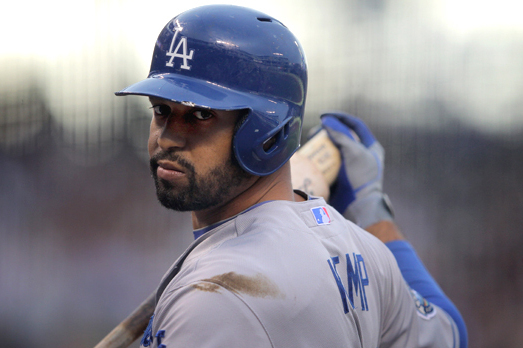 Coming into 2012, outside expectations for the Dodgers were low. Aside from Matt Kemp, Clayton Kershaw and Andre Ethier, the Dodgers were stocked with a bunch of names that left experts far from excited.
Grantland.com predicted the Dodgers would finish in fourth place in the division with a losing record. Of the eight CBSsports.com experts, only two predicted the Dodgers would finish as high as second place, while Yahoo.com mirrored Grantland's prediction of a fourth-place club.
Then, Matt Kemp happened.
The Dodgers' star stormed through the month of April in historic fashion—establishing himself as the game's best player after just 23 games. During that stretch, Kemp compiled an on-base percentage of .490 with 12 home runs, 25 RBIs and 24 runs—all among the league leaders.
Thanks to the outburst, the Dodgers were among the best teams in baseball with a 16-7 record.
Then, just 13 days into the month of May, things seemed to be on the verge of unraveling. After winning just two of their first five games in May, Kemp injured his hamstring and was reluctantly placed on the DL.
As high as hopes were on May 1, the prospect of adding Kemp to a disabled list that already included Juan Rivera, Jerry Hairston and Juan Uribe seemed problematic. Instead of hoping to extend their division lead, the general feelings seemed to shift towards a goal of simply maintaining it in the absence of their star.
Then, the unthinkable happened. Despite the absence of Kemp, the Dodgers admirably kept things afloat. In fact, the second place Giants didn't gain a single game on the Dodgers until Monday night.
With Kemp healthy, the Dodgers had a record of 23-11—a winning percentage of .676. Since the injury they are 9-5—a winning percentage of .642.
For those wondering how it all happened, here are 15 reasons the Dodgers were able to survive.
Begin Slideshow

»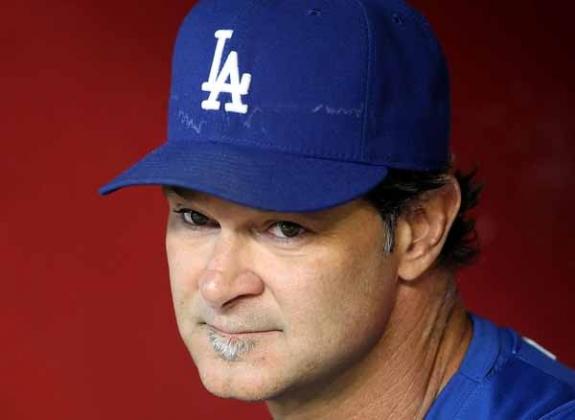 While in some sports it is hard to quantify a manager's impact, in baseball, things can sometimes be very clear.
While Mattingly has gotten plenty of criticism for his use of the bunt, it's hard to criticize much of what he has done this season.
Handed a roster full of minor leaguers and cast-offs, Mattingly has been forced to pencil in a brand new lineup almost every night, keeping players fresh and in a rhythm.
To say Mattingly has gotten the most out of his players might be an understatement, because in an ideal world, nearly half of the current Dodgers would probably be playing elsewhere.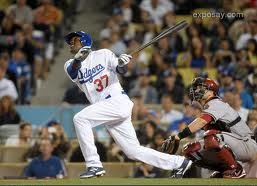 Elian Herrera. Scott Van Slyke. Ivan DeJesus. Matt Treanor.
Prior to injuries, chances are most baseball fans had never heard of these guys. Aside from Treanor, a career backup catcher, the other three guys had barely sniffed the big leagues.
Then Kemp got hurt and they turned into temporary studs.
Herrera, a 10-year minor league veteran who had never even been invited to training camp, had a nine-game hitting streak before going hitless Monday night, but is still hitting .317 in 11 starts.
Perhaps more valuable than his bat, however, has been his versatility— he can play just about every position on the field from second base to center field.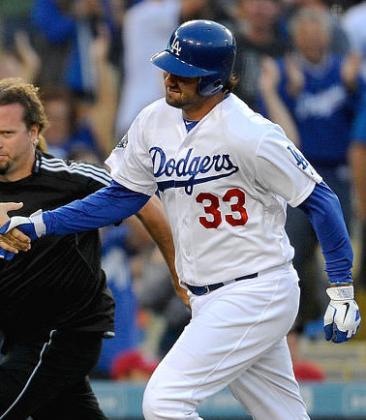 It's hard to imagine that an entire season can come down to one game, but the way wild card and divisional races have been determined in recent years, the idea has never been more true.
While Van Slyke's numbers have been far more underwhelming than Herrera's, it was May 20th that cemented his role on the Dodgers.
Down 5-3 to the St. Louis Cardinals in the bottom of the seventh with two runners on, manager Don Mattingly summoned Van Slyke to pinch-hit for Adam Kennedy.
After working the count to 3-0, Van Slyke declined to watch a free pitch go by and smashed Marc Rzepczynski's pitch into the left field pavilion, giving the Dodgers a 6-5 win.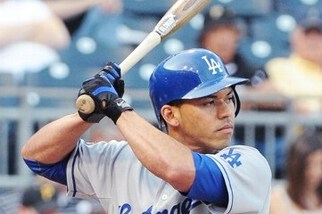 For De Jesus, the story is very much the same as Van Slyke's.
Having appeared in just seven games this season, De Jesus was one of the least-used players on the Dodgers' bench. On May 22, however, he too secured his spot in the lore of the 2012 Dodgers.
Down 7-6 heading into the ninth in Arizona, the Dodgers put runners at first and second with just one out. After an Andre Ethier strikeout, De Jesus was the Dodgers' last hope.
Fortunately, De Jesus gave the Dodgers just what they needed—a two-run double over the center-fielder's head that gave L.A. an 8-7 lead and their fourth straight victory.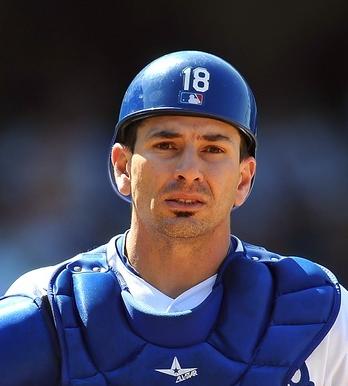 Most famous for having married Olympic gold medalist Misty May, Treanor has been an underrated contributor to the Dodgers' success thus far.
Playing behind the biggest surprise of the year, A.J. Ellis, Treanor has quietly put together a .290 average and is in the midst of a six-game hitting streak.
With a roster like the current one in which every hit counts and every opportunity must be capitalized, the contributions of Treanor cannot be overlooked.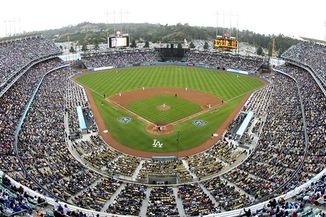 Since Kemp's DL stint began, the Dodgers are 6-3 at home and are an incredible 21-6 on the season.
To put that in perspective, just one other team in the N.L. West is over .500 at home (San Francisco), and the second best home record in baseball is 17-7.
So despite the low attendance numbers that began during the McCourt era, the Dodgers are giving Los Angelenos exactly what they come for: wins.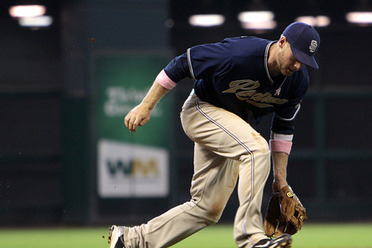 One break for the Dodgers has been the relative easiness of their schedule.
In Kemp's absence, the Dodgers have faced St. Louis, Arizona (twice), San Diego and Houston (aside from the one game against Milwaukee).
Combined, those teams have a record of 87-105 on the season.
While St. Louis was in first place prior to getting swept by the Dodgers, L.A. has definitely lucked out in facing this portion of their schedule without Kemp.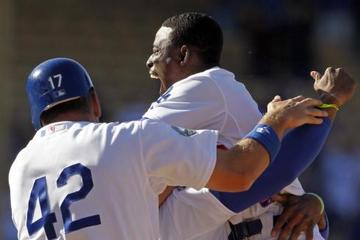 With seven of their 14 games during Kemp's DL stint being decided by two or fewer runs, the Dodgers have managed to go 4-3 during that stretch.
In games decided by one run, the Dodgers are actually 3-1, thanks to the heroics of players like De Jesus and Van Slyke.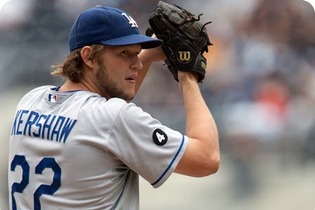 With one superstar down, everyone knew the Dodgers would look to Kershaw in hopes that he could keep the ship steady.
In his three starts after Kemp's disappearance, Kershaw has been incredible, going 23 innings and allowing just two earned runs.
As the reigning Cy Young Award winner, Kershaw has been everything the Dodgers have needed this season, quietly putting together a season that is on par with 2011. So far he ranks second in the league in ERA (1.97) and is first in WHIP (0.90).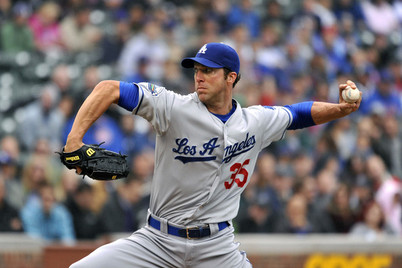 While Kershaw was expected to be great, Chris Capuano was most definitely not.
Coming into the season, Capuano was regarded as just another mistake by general manager Ned Colletti, having made just 40 starts since 2007.
Instead, the Dodgers got a guy who is tied for the league lead in wins (7), has the fourth-best ERA in the league (2.14) and is seventh in WHIP (1.00).
At the moment, Capuano is riding an eight-game streak of quality starts, having allowed more than three earned runs just once all season.
When Capuano starts, the Dodgers are 8-2.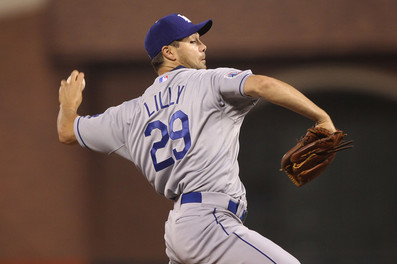 If the Dodgers were going to succeed this season, the belief was that it was guys like Ted Lilly who would need to step up big.
Lilly entered the season having posted an ERA of 2.79 in the second half of 2011, with opponents hitting just .183 off him. Thankfully, those trends continued into 2012.
Prior to getting shellacked in his last start, Lilly had an ERA of just 1.79 and a WHIP of 0.91, as the Dodgers were 6-1 in games with him on the mound.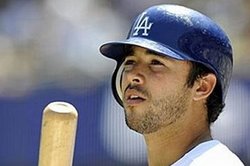 With Kemp out, the middle-of-the-order production fell on just one player's shoulders: Andre Ethier.
As with all of the other Dodger players, Ethier has stepped up to the plate. With a very respectable .314 average this season, Ethier is tied for the league lead in RBIs with 41.
In Kemp's absence, Ethier has hit .391 despite the lack of protection in the lineup while driving in 10 runs in 13 games.
While we can point to a bunch of different players who have stepped up since May 14, every team has keyed in on Ethier and designed their pitching gameplan around him. The fact that he has remained consistent and productive is a testament to how great of a player he is.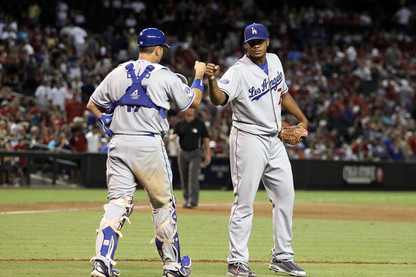 While Javy Guerra's troubles cost the Dodgers what could have been a couple more victories, the switch to Kenley Jansen in the closer's role has come at the perfect time.
In nine opportunities this season, Jansen has closed the door six times. While 6-9 isn't a great conversion rate, Jansen has actually earned the victory in all three of his blown saves.
Since Kemp went down, Jansen has pitched 5.1 innings and allowed just three hits while striking out six.
While Jansen and Guerra are the big names in the bullpen, one of the unsung heroes thus far has been Josh Lindblom.
On the year, the 24-year-old righty has 11 holds, an ERA of just 2.22 and a WHIP of 1.07 as the primary setup man.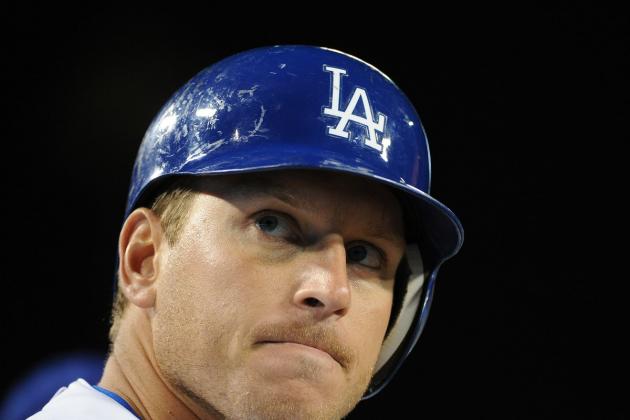 David Wright, Paul Konerko, Joey Votto, A.J. Ellis and Josh Hamilton.
At the moment, those are your 2012 leaders in on-base percentage.
For most baseball fans, four of the five names up there make perfect sense, but A.J. Ellis? Who?
The 31-year old catcher has been incredible for the Dodgers this season, doing absolutely everything well. Aside from catching the pitching staff with the second best ERA in baseball, Ellis has gotten on base, gotten on base and gotten on base.
Having started 37 games this season, Ellis has reached base in 35 of them, either by hit or walk.
Among all catchers, Ellis ranks third in OPS and first in WAR (wins above replacement), a metric that measures his hitting and fielding value compared to a replacement-level player.
In fact, Ellis is 10th in all of baseball in WAR.
So yeah, A.J. Ellis is really good. (And really funny).
One other thing that he is, however, is clutch.
His "clutchness" began May 18 in the most A.J. Ellis way possible: a walk-off walk.
With runners at second and third, the Cardinals decided to walk James Loney in the bottom of the ninth to bring Ellis to the plate with one out.
Four pitches later, Ellis was on his way to first base as the dugout emptied to celebrate another Dodger win.
Fast forward to May 26, and it was Ellis once again who was the hero for the Dodgers.
After leading for most of the game, the Dodgers gave up the tying run in the top of the eighth against the Astros, putting the score at 3-3.
After neither team could do anything in their next two at-bats, it was the Dodgers with a chance to win it in the bottom of the ninth.
After a hit-by-pitch, sacrifice bunt and intentional walk, the Dodgers had runners at first and second with just one out and the ever-present Mr. Ellis stepping to the plate.
After a ball and a strike, Wilton Lopez tried to sneak a knee-high fastball past Ellis and he promptly smashed it over the left field wall for a three-run bomb and his second walk-off in eight days.