NBA Officiating: Is It as Bad as Fans Think?
May 29, 2012

My girlfriend is not a sports fan and whenever I'm on our living room couch watching a game, she always asks the same question, "Why are you screaming at the referees?  You know they can't hear you."
I'll admit that she has a point. Though I am loud, my lungs have not been blessed to the point where my ranting at various games can actually be heard at the arenas. 
Still, though we may be a few years removed from the Tim Donaghy scandal, NBA officiating still needs a lot of work and monitoring. Some games today are just so poorly called, it makes one question why some referees are even allowed to call games.
That being said, let me take you back to Game 1 of the first-round series between the New York Knicks and Miami Heat. Though Miami was favored, the Knicks had played well enough under coach Mike Woodson and I was expecting the series to be close from start to finish.
Instead, the referees took over and didn't even let the Knicks play. The final score of that contest was 100-67, with New York scoring a combined 29 points in the second and third quarters.  I'm not saying you all have to agree with me, but I think it's pretty obvious that the referees let some flops slide in that contest.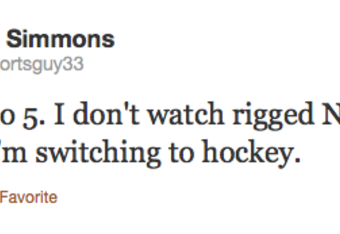 Adding onto the case against that game's referees was a Tweet by ESPN's Bill Simmons, and he made his opinion crystal clear. I'm sorry, but if one of the best sportswriters in America has an issue with the officiating, particularly in a game featuring teams he doesn't root for, then there's a problem.
More importantly, how are the referees in NBA games missing all of the flops that go on?  I recently wrote a column regarding flopping and even NBA Commissioner David Stern thinks that something needs to be done about it.  Last I checked, these officials are paid because of their flawless knowledge of the rules of basketball, but they can't even tell when a player exaggerates a foul?
The even sadder part is that they're protected from all criticism. Say one bad thing about the refs after a game, and you get fined by the league.
Anyway, I'm rambling.  The fact of the matter is that yes, NBA officiating is as bad as complaining fans think it is. New York-Miami is one of the greatest rivalries in NBA history, and one that should be a complete and utter dogfight whenever it goes down. Instead, LeBron & Company were practically handed the series (or at least the first game) on a silver platter, and Bill Simmons would agree with me.
If Stern is as serious about flopping as he claims to be, then he'll start making the refs take responsibility for their bad/blown calls.