Mel Kiper 2013 Big Board: 9 Players ESPN Expert Overlooked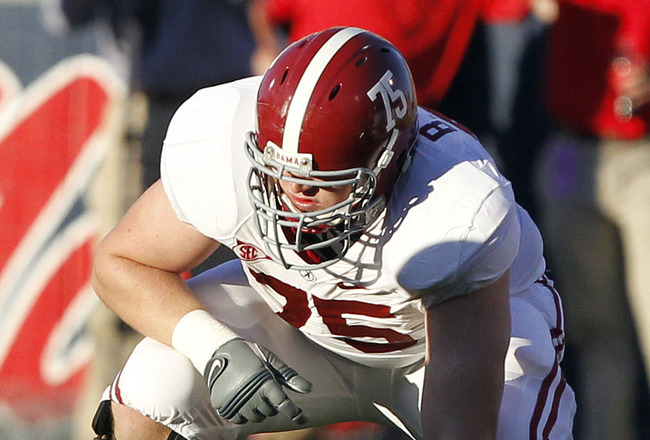 Butch Dill/Getty Images
Sure, we just wrapped up the 2012 NFL draft, but why not look ahead? The 2013 NFL draft is less than 350 days away, and draft guru Mel Kiper, Jr., has already released his first Big Board.
As you celebrate the advent of another round of debate over NFL prospects and consider the wisdom meted out by the Draft God himself, don't forget that no matter how much Kiper may know, he can't account for everybody. There are plenty of athletes poised to shine in the NFL that the expert may have underestimated.
That said, here are nine players Mel Kiper, Jr., left out of his first Big Board.
Montee Ball, Wisconsin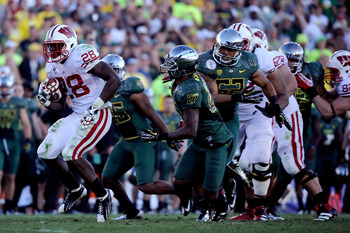 Kevork Djansezian/Getty Images
After tying Barry Sanders' NCAA-record 39 touchdowns, amassing 1,923 rushing yards and finishing fourth in Heisman Trophy voting last season, Ball is poised to explode in 2012 as the Wisconsin Badgers tailback and main attraction.
The Wentzille, Mo., native, despite losing weight between his sophomore and junior campaigns, still packs a punch at 210 lbs and has shown impressive speed and elusiveness in his three seasons in Madison.
Granted, Ball's success, like the success of all Wisconsin tailbacks in recent years, would not be possible without a massive and punishing offensive line, but all signs point to another impressive season for the tailback, who will set himself up nicely heading into the NFL draft.
Tony Jefferson-Oklahoma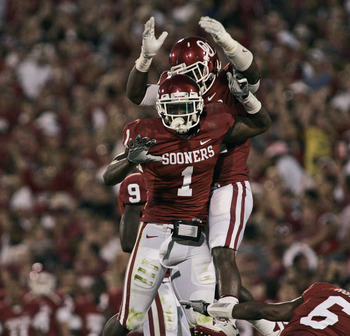 Brett Deering/Getty Images
Jefferson, who has played both linebacker and defensive back for the Sooners, has shown incredible versatility and potential over his two seasons in Norman.
Indeed, the 5'10", 199-lb Chula Vista, Calif., native did it all for OU in 2011, leading the team in interceptions, finishing third in tackles and fourth in tackles for loss. He has shown consistent improvement, both athletically and mentally, over his collegiate career and is poised to shine in 2012.
It's not a question of if Jefferson will be in the NFL, but when; he could forgo his senior season or stay in school for one more year after the 2012 campaign.
Stedman Bailey, West Virginia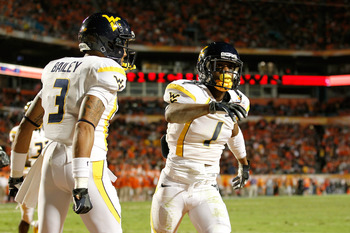 J. Meric/Getty Images
Another underclassman brimming with potential, Bailey led WVU receivers in 2011 in yards (1,279) and touchdowns (12), serving as a key cog in an offensive juggernaut that finished sixth nationally in passing yards per game.
Bailey, who will be a junior in the fall, has shown exponential statistic improvement as a Mountaineer and brings consistency and reliability to his team. Despite being slightly undersized at 5'10" and 190 lbs, he is a ball hawk and playmaker and, barring a major setback, will see success at the next level.
Mike Taylor, Wisconsin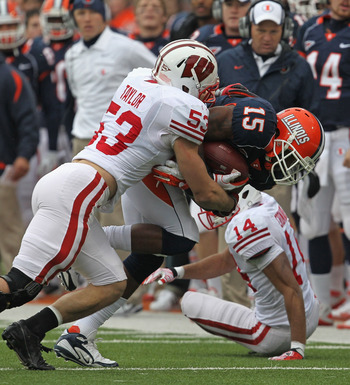 Jonathan Daniel/Getty Images
Taylor, outside linebacker for the Badgers, has made quite a name for himself in Madison over the past three seasons. Despite succumbing to a knee injury midway through his freshman campaign, he showed impressive resilience and has started 25 of 26 games over the past two seasons.
Finishing the 2011 season with 150 tackles (third-highest nationally), Taylor's nose for the ball, along with his 6'2", 222-lb frame, renders him well-positioned to make the leap to the NFL, assuming he stays healthy for his final year as a Badger.
Bacarri Rambo, Georgia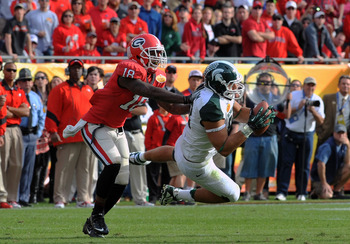 Al Messerschmidt/Getty Images
Let's face it: Having a name this cool alone warrants inclusion on this list. That's not all the Bulldogs' Bacarri Rambo has going for him, though.
The free safety, who decided to return for his senior season in Athens, picked off eight passes in 13 games in 2011, second only to N.C. State's David Amerson nationally. Rambo also defended 16 passes and logged 55 tackles en route to earning First Team All-American honors.
Rambo leads a Bulldog unit that finished fifth nationally in yards allowed per game last season. He will receive national recognition once again his senior year as he prepares to make the transition to playing on Sundays.
T.J. Johnson, South Carolina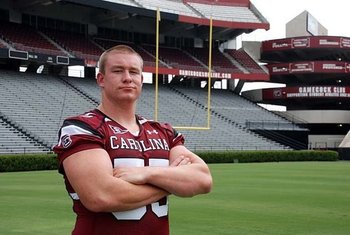 http://media.thestate.com/smedia/2010/08/27/13/tjjohnson.lead_art_horizontal.prod_affiliate.74.jpg
Johnson is blessed with incredible size (6'6", 319 lbs) and has started all 40 games the past three seasons for the Gamecocks. The hulking senior center has proven his competence the past three years by being one of the most dominant linemen in the most dominating conference in football.
In addition to numerous athletic accolades, Johnson was also included in the SEC Fall Academic Honor Roll the past two seasons. Overall, he has proven to be a well-rounded and high-achieving athlete cut out for success in the NFL.
Geno Smith, West Virginia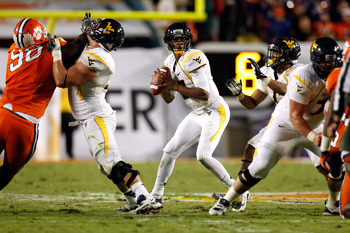 J. Meric/Getty Images
Surprisingly, Mel Kiper, Jr., neglected to include the 6'3", 214-lb signal-caller for a Mountaineer squad that generated almost 350 passing yards and 37.6 points per game in 2011.
Smith has thrown for 7,148 yards and 55 touchdowns the past two seasons and is on pace to go down as one of the best quarterbacks in WVU history with a solid senior campaign.
It will be interesting to see if he can enjoy the same level of success in the Big 12 as the ACC, but there's no reason to doubt his ability to adapt. The Mountaineers should compete for the conference championship, and possibly more, behind Smith's leadership.
The gunslinger will be ready to face NFL competition.
Nick Harwell, Miami of Ohio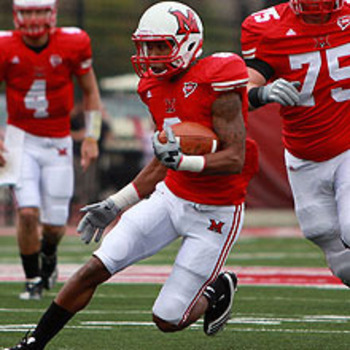 http://media.scout.com/Media/Image/93/932713.jpg
He may lack national exposure as a Miami of Ohio RedHawk, but wideout Nick Harwell has made the most of his two seasons in the MAC, hauling in 161 passes for 2,296 yards and 15 touchdowns. His 129.5 yards per game in 2011 were second nationally, and it's scary to imagine what he could do with two more seasons.
Harwell has the height to make it in the NFL at 6'1", but could benefit from bulking up; he is currently listed at 187 lbs. He probably will fill out a bit over the next two seasons and will be on many NFL draft boards when he decides to move on.
Barrett Jones, Alabama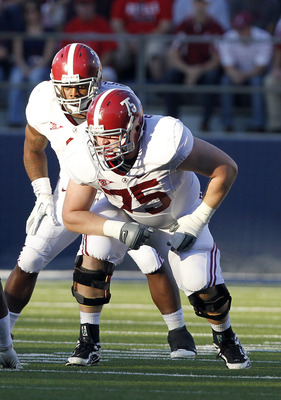 Butch Dill/Getty Images
Again, it's hard to believe Jones fell to this list. He has accomplished almost everything possible in his three seasons anchoring the Crimson Tide offensive line, mostly at right guard.
Jones, a behemoth at 6'5" and 302 lbs, has won the Outland Trophy as the nation's best interior lineman, been awarded All-American multiple times (First Team in 2011 and Third Team in 2010) and, according to www.rolltide.com, succeeded on 98.5 percent of his blocking assignments in 2011.
His consistency over the past three seasons helped pave the way for the success of a Heisman Trophy winner and another finalist in addition to two national championships for the Crimson Tide.
Needless to say, we'll be seeing more football from Jones after his senior season.
Keep Reading