NBA: Golden State Warriors' Attempt to Secure Lottery Pick Makes No Sense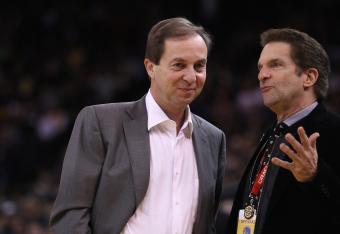 Ezra Shaw/Getty Images
It was reported by ESPN.com over the weekend that the Golden State Warriors are currently in talks with the Utah Jazz to construct a deal that would enable them to secure a top-seven pick in next week's lottery.
The Warriors did finish with one of the seven worst records in the 2011-2012 season but are still not 100 percent assured of attaining one of the top seven picks. It all depends on where the balls ping and pong next Wednesday in the NBA lottery.
There is about a 16 percent chance that Golden State does not either move up in the lottery or retain their seventh spot. If they end up with an eighth or higher number, their pick will be forwarded to the Utah Jazz. The Warriors hope to eliminate that misfortune.
After all, knowing the unluckiness of a franchise that has missed the playoffs in 17 out of the past 18 seasons, it's best to eradicate any bit of twisted fate.
According to SFGate.com, the Dubs are seriously considering making a deal with the Jazz so that they could keep their top draft pick. Golden State is positioning itself to control its own destiny.
"Any time you're dealing with chance, there are a lot of outcomes that you like and some that you don't," Warriors general manager Bob Myers stated. "From an organizational standpoint, it's not enjoyable. It's just stressful."
The Warriors' desire to trade up with the Jazz is the latest example of the organization taking initiative to become a successful team. Last week, the Warriors ownership group announced its intention to relocate to San Francisco.
This week, the Dubs are making plans to retain a top lottery pick.
But is the latter a wise move?
NBADraft.net's mock draft shows that, if the Warriors stand pat at No. 7, they could end up selecting guard Jeremy Lamb out of UConn. This doesn't make a ton of sense considering that a) the Warriors are notoriously in search of big men to man the middle, and b) they already have a solid backcourt in point guard Stephen Curry and shooting guard Klay Thompson.
Both Curry and Thompson are locked in as starters next season; so this prediction simply shows how weak this year's NBA pool is—particularly in the frontcourt.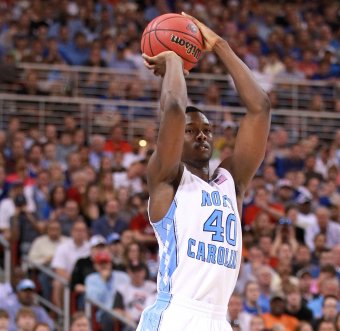 Andy Lyons/Getty Images
Right now, the consensus is that the Warriors will not be in line to retain any of the top three big men in the draft.
NBADraft.net predicts that the top three teams will likely pick Anthony Davis, center from Kentucky, Thomas Robinson, power forward from Kansas and Andre Drummond, center from UConn. Meanwhile, DraftExpress.com has those three players being selected at one, two and four.
Either way, the Warriors would have to seriously move up in order to land one of the coveted big men in the draft. Other candidates to consider are Perry Jones, power forward out of Baylor, and Tyler Zeller, center out of North Carolina.
Rumors continue to swirl that the Dubs, with David Lee at power forward and a healthy—hopefully—Andrew Bogut at center, are no longer in dire straights for frontcourt depth and strength. Instead, the team is seemingly targeting a small forward as its position of need.
Is Lamb or Harrison Barnes, small forward out of North Carolina, seriously worth securing at the seventh spot? Will any of the top projected wingmen be worth the sacrifice?
There's only one real way it'd make sense to make a deal with the Jazz, especially considering that the Dubs have an 86 percent chance (six out of seven coin flips) of landing a top-seven spot simply by letting the cards fall where they will.
If Golden State is miraculously able to rid itself of center Andris Biedrins (who is now relegated to backup center behind Bogut), swingman Dorell Wright (who somehow fell out of favor with head coach Mark Jackson last season) or both.
But why on earth would Utah want to take on Biedrins and the $9 million he is due in 2012-2013 (Biedrins has a $9 million option for 2013-2014)? The Jazz wouldn't and shouldn't have anything to do with that ridiculousness.
They need to seriously look at what's in it for them to keep the Warriors from moving up in the lottery—or from not falling further down. Utah should inquire about better, more suitable players than Biedrins, a lowly center, and Wright, a player who regressed immensely last season.
Do you like the Warriors trading with the Jazz to secure top-7 selection?
More importantly, however, the Warriors ought to take a step back and determine whether it's worth it to make these drastic, aggressive decisions. Given this era of Moneyball player analysis and the return on investment of a top-10 lottery pick, is making a trade for an unknown quantity, in a fairly-thin NBA draft, really worth it? Especially given the Dubs' draft history as a whole?
Golden State has not had its fair share of lottery luck.
SFGate.com diagrammed the Warriors' lottery history, and it shows that acquiring a top-seven pick does not ensure success. At least not for the Warriors.
Since 1985, Golden State has 10 top-seven selections. Of those 10, four of them—Chris Mullin, Mitch Richmond, Anfernee Hardaway and Vince Carter—were selected to an All-Star Game. Mullin is the only player that went as a Warrior, while Hardaway (traded away for Chris Webber, who was traded after one season in Golden State) and Carter (traded for Antawn Jamison, who has never been selected to an All-Star Game) never played a single game for the Dubs.
Nice.
Needless to say, Warriors fans don't exactly trust the relevance of moving up in the NBA lottery, particularly if there isn't any sure-fire shoo-in star in the making to select. The Dubs' roster is convoluted enough as it is with the myriad of injured pieces and redundant players. What's the point in being so offensive about securing a higher lottery pick?
Again, Warriors brass are doing all the pleasant things to make fans appreciate their hard-nosed desire to win. But are they doing these things out of necessity or out of desperation?
They need to take a serious look at what's available in the top-seven and determine if any of those players is suitable to the makeup of their roster.
Otherwise, this is more PR fluff that seemingly is ruffling feathers just for the sake of it. Which seems to be ownership's M.O. recently.

Follow me on Twitter: @nathanieljue
This article is
What is the duplicate article?
Why is this article offensive?
Where is this article plagiarized from?
Why is this article poorly edited?

Golden State Warriors: Like this team?