NBA Draft Lottery 2012: Where Will Kentucky's Anthony Davis Play?
May 29, 2012

Jeff Gross/Getty Images
One of my favorite traditions in sports is set to take place on Wednesday night in the mecca of the sporting world: Secaucus, New Jersey.
The NBA Draft Lottery is where franchise fortunes can change in an instant with the opening of an envelope.
(I never understand why they open the No. 2 envelope when they do, making the most exciting moment of opening the No. 1 envelope anti-climatic. I should not be one to question the draft lottery process, though, as it is definitely legitimate and not fixed in any way.)
So what if the team with the best odds rarely wins the lottery, teams that conveniently need a boost more than others seem to win with lesser odds or hometown superstars randomly end up in their home city? That's the incredible fun of the system and makes the preview so much more challenging.
The prize of this year's draft is Anthony Davis, who is from Chicago. With the Bulls not having a lottery pick this year, the hometown path won't be explored. However, many other factors go into who is going to win the draft lottery, not just odds or randomness of the legitimate lottery.
I will say that the winner of the process is often based on karma.
And karma will be culminating at the NBA draft on June 28 at the Prudential Center in Newark, New Jersey.
Wait, what?
The NBA is having its draft in the arena and the state that the NBA no longer has a team.
There was no other venue in New York or anywhere else available? Is next year's draft in Sacramento?
I can imagine the David Stern entrance onto the stage will not be followed by a grand ovation. It really is weird to give the middle finger to the state where the draft lottery is held, unless NBATV is also moving to Brooklyn.
With the joys of lottery-protected picks in play, 14 teams have to show up for the draft lottery (even though Portland and New Orleans have two picks), and potentially two teams are leaving with nothing—hopefully a catered meal or a cab back into the city, at least. The Cavaliers stepped up their draft lottery game last year, as the bow-tied Nick Gilbert brought it home with the pick they got from the Clippers.
Here is how I see the balls—or whatever they use in the very transparent, legitimate process—dropping for Davis:
14. Houston
Actual Odds: 0.5 percent
Legitimate Odds: Zero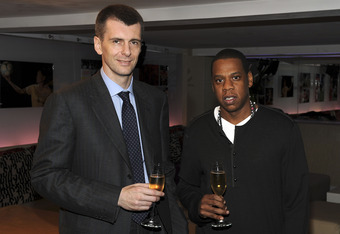 Larry Busacca/Getty Images
I'm not sure if the Rockets were saved or punished by the trade that was not to be before the season.
I do know that the Rockets' odds aren't too high, and a full revolt by about 20 other owners will take place if the Rockets do win.
13. Phoenix
Actual Odds: 0.6 percent
Legitimate Odds: Beyond less than zero
Do you think for even one second that this would work out for the Suns, that a franchise player like Anthony Davis would go up on stage in Newark (the 2016 or 2017 draft will definitely be in Oakland) and have commissioner David Stern hand him a Suns hat?
Phoenix fans would start hoarding ammo and supplies, as the Mayans' prediction would look spot-on.
12. Milwaukee
Actual Odds: 0.7 percent  
Legitimate Odds: Zero
Milwaukee is a franchise that is just there—no strife, no threats of moving, nothing.
This is why their odds are zero. Too bad for a team that is one big man away from being good.
11. Portland
Actual Odds: 0.8 percent  
Legitimate Odds: Bigger concerns
Portland would be thrilled about winning the draft lottery, but most likely the NBA does not want to see a big man star go to Portland where, for some reason, degeneration of knees happens at such a fast pace.
Portland is much more interested in its other pick, which could be from sixth to ninth, or not at all this year.
10. New Orleans
Will analyze at No. 4.
9. Detroit
Actual Odds: 1.7 percent
Legitimate Odds: Maybe 0.5 percent
Detroit definitely needs a boost, and an Anthony Davis/Greg Monroe interior would be pretty intimidating.
I just think that Detroit is like Milwaukee in the 2012 landscape of basketball, where they are just there, and being just there and mediocre do not equal lottery success.
8. Toronto
Actual Odds: 3.5 percent   
Legitimate Odds: Zero
Anthony Davis is not going to Canada. In this landscape, where superstars basically want to play in five or six cities,—and Dallas and Phoenix are not desirable—a great city like Toronto with really passionate basketball fans when given a team to care about is not going to get the guy.
Maybe if Chris Bosh was the alpha star who bolted from his team for the Heat instead of LeBron, or the Raptors threatened moving to Hamilton, then they would have a shot. They should just send the Dinosaur mascot as their representative to the lottery to make the event just a bit more fun.
7. Utah
Actual Odds: Zero         
Legitimate Odds: Cab money and some frequent flier miles
I guess Utah has to go, but it's not like it can get Anthony Davis. Yet, the Jazz may still have a pick in the Top Eight, because they were smart enough to deal with...
7a. Golden State
Actual Odds: 3.6 percent   
Legitimate Odds: Maybe closer to 2017
Before we have fun with why Utah may get this pick, I took a peak at the San Francisco Chronicle and their article about how the Warriors are trying to ensure they don't lose their pick, under any circumstances.
Having the eighth pick in the draft is incredibly valuable, until one realizes that the Warriors would be making the pick. The highlight of the article is the chart that shows that this will be the 21st time the Warriors are in the draft lottery since 1985 (or, in more fun terms, 17 of the last 20).
The trade, which led the Warriors to basically tank the remainder of this season (allegedly), came in 2008 for Marcus Williams. The Warriors did everything they could to protect maybe the seventh pick in the draft because they traded for a guy who started zero games with them, played in nine and scored 12 points total.
Add to that the now-five-year lame-duck period the Warriors will have in Oakland, and there is little chance a star like Davis is going to Golden State. I've never seen a team attempt to get rid of season-ticket holders more painfully.
Tanking then moving. Why did those mean fans boo Joe Lacob?
6. Brooklyn
Actual Odds: 7.5 percent    
Legitimate Odds: About 35 percent
The logic is simple on this one.
Brooklyn is a big move for the NBA, and since the star players basically want to play in a few cities, New York needs two huge, viable teams.
Brooklyn gets Davis, Deron Williams stays there, the Nets have a start.
The other factor in play for the Nets involves David Stern's strange passion for being a villain. There is nothing that says, "Goodbye, New Jersey," better than the Nets changing their franchise in the arena they no longer play in. A lot of fans from Brooklyn would make the trip to cheer and maybe offset the boos, which will be heard a lot.
The NBA had to know the Nets were moving, so relocate the draft. I can't wait until June 28.
5. Sacramento
Actual Odds: 7.6 percent   
Legitimate Odds: About 20 percent
This is what Detroit and Milwaukee are lacking: an unstable arena situation, with a deal that looks to be dead again, and a move for the Kings looks to be more than their odds of winning this lottery.
The Kings have to be players in the Anthony Davis sweepstakes either as an incentive to have Sacramento build the arena, or as a present for the city the Kings move to. I call it the "Durant Bonus."
4. New Orleans
Actual Odds: 14.8 percent 
Legitimate Odds: About 20 percent
This is the famed right-a-wrong situation, sort of like Cleveland experienced last year.
The Hornets need to send either a parade float or a singing beignet to help bring them good luck. If Cleveland has the kid, New Orleans better bring beads or fried dough.
With New Orleans having a new owner, the franchise could use a marquee player to help stabilize the Hornets and build the fanbase that held out to see if they were leaving.
In bad news for New Orleans, it will not be hosting the NBA draft anytime soon.
3. Cleveland
Actual Odds: 13.8 percent
Legitimate Odds: About 15 percent
I'm not willing to bet against the kid; something about the bow tie or the glasses is intimidating on that stage.
Plus, the NBA could feel real guilty over LeBron leaving and give (not give in the illegitimate way) the Cavs the No. 1 pick two years in a row. I can definitely see the Cavs getting a Top Three pick out of the draft, even while other teams jump into the Top Three.
2. Washington
Actual Odds: 19.9 percent   
Legitimate Odds: About 5 percent
The fact that the Wizards won the draft lottery in 2010 and two years later are at No. 2 is not a great sign of success. In fairness, they were only three games worse than the Raptors, but that's what happens when some teams end the season weeks before it's over, and others like the Wizards put effort in, even at the end.
Anthony Davis would help out a team that traded away their big athletic guy and would bring together two guys who at least know where the Kentucky campus is. (There is a certain strange link between the legitimate draft lottery process, and the winner of that draft lottery process is often getting a player from a John Calipari program.)
1. Charlotte
Actual Odds: 25 percent   
Legitimate Odds: Maybe 5 percent, just because of the actual odds
I would be floored if Davis went to Charlotte. Stunned.
If this was a year where a good big guy or Euro was the projected No. 1 pick, I could see it.
Not this year.
The Bobcats should send an actual Bobcat to the draft lottery to eat all of the other envelopes and the beignet mascot to ensure Charlotte gets the No. 1 pick, where Davis will be teamed up with...players. Whoever they are.
If Charlotte is in the final two, and that No. 2 envelope is opened to not reveal Charlotte (see how stupid that is), I will wonder if something is amiss. How can karma be with the team with the worst winning percentage? How was karma not golfing with Jordan?
See you in Secaucus, Newark Nets fans.