Pacquiao vs. Bradley: Why This Fight Will Be Closer Than You Think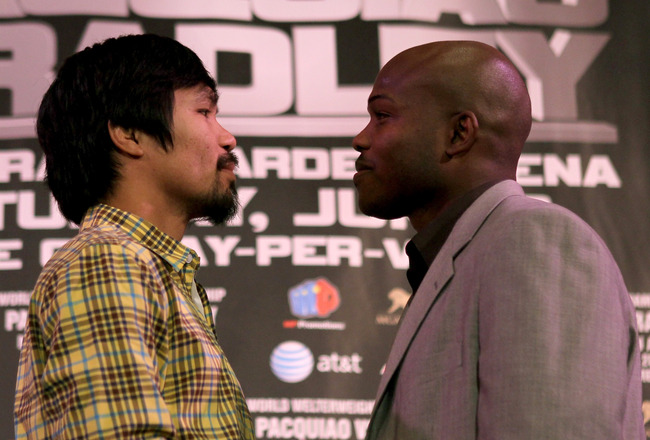 Manny Pacquiao vs. Timothy Bradley
Stephen Dunn/Getty Images
Despite the credentials of Timothy Bradley, most people are treating the June 9 fight as a bump in the road for Manny Pacquiao. Like Floyd Mayweather's fight with Miguel Cotto, Bradley is viewed as a good fighter, but not on the level necessary to defeat Pacquiao. However, Bradley poses a few elements that could give the Pac-Man a real run for his money in two weeks.
Speed vs. Timing

Highlights of Timothy Bradley

While speed is not the most important solo element, it is a vital component to boxing success. The major element of Manny Pacquiao's dominance over the last five-plus years has been a combination of overwhelming speed and tremendous stamina to apply pressure consistently over 12 rounds.
Against Bradley, he faces a fighter with similar hand and leg speed who possesses above average timing with his punches. It will be interesting to see if "Desert Storm," as Bradley is called, will match the punch output of Pacquiao or look to be more of a counterpuncher in the mode of Juan Manuel Marquez.
Distraction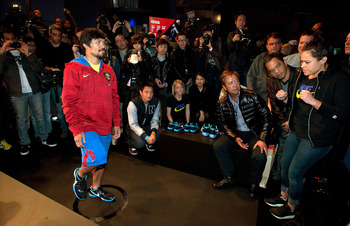 Simply put, Manny Pacquiao is in high demand
Mike Lawrie/Getty Images
With all due respect to Floyd Mayweather, who I still feel is the best pound-for-pound fighter in the world, he is not the international star that Manny Pacquiao is. That said, I feel that at times, his schedule and demands are actually a hindrance, not an asset.
Case in point, Pacquiao's comments against gay marriage created a firestorm of controversy over the past two weeks. He spent training time addressing the scope of his comments and meaning behind it. In contrast, Bradley has been almost nondescript except for the HBO behind-the-scenes buildup for the fight. He definitely has an advantage. Then again, so have most of Pacquiao's recent opponents.
Motivation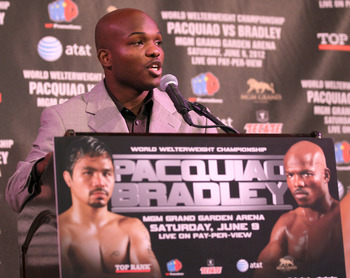 It gets no bigger for Bradley
Stephen Dunn/Getty Images
Quite simply, this could be Timothy Bradley's only real chance on the biggest stage. Even though he is a very good fighter, Bradley does not bring the cache of a fighter like Manny Pacquiao. However, a win, while it will not elevate him over Pacquiao, brings recognition he could only get fighting Floyd Mayweather.
For Pacquiao, without a guarantee that the Floyd Mayweather fight is going to happen, chances are he is not as hungry for this fight as he would have been four or five years ago. It is good to be on top, but it is almost impossible to have the drive to stay there.
For Bradley, a win here or even a competitive loss very well may be the highlight of his career.
A great comparison would be to "Sugar" Shane Mosley. Mosley is a Hall of Fame fighter, but he toiled in relative obscurity until his first victory over Oscar De La Hoya in 2000. That fight propelled him to higher heights, but never to the marquee in boxing.
Bradley has the opportunity to make that leap as well. Quite simply, it means more for him to win than it does for Pacquiao to lose. Manny Pacquiao will remain a top-tier fighter win or lose. Timothy Bradley goes back to just being another very good fighter that hardcore boxing fans know with a loss.
Age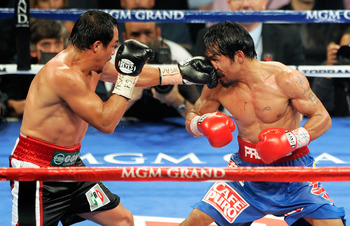 Did Marquez show signs of slippage in the Pac-Man?
Ethan Miller/Getty Images
It seems as though all great fighters have a fight that exposes subtle hints of decline the public does not recognize until a more obvious fight does the deed. For Roy Jones Jr., it was his first fight against Antonio Tarver. For Floyd Mayweather, it may have been his relative struggle with Miguel Cotto. With Manny Pacquiao, many wonder if his third controversial fight with Juan Manuel Marquez was that fight.
Pundits have argued (and I am inclined to agree with many points) that Marquez is simply a stylistic foil for Pacquiao. Add to that the familiarity with the fighters, and the struggle for Pacquiao to win a hotly contested majority decision seems logical. But Pacquiao, while still fast, was not as fast as I had seen him versus say, Ricky Hatton. Marquez was able to make him miss, which made Pacquiao as tentative as I had ever seen him.
At 33, Pacquiao is no longer in his prime as a fighter. Bradley, on the other hand, is 28 and smack in the middle of his prime. It stands to reason that this makes the opportunity for Bradley that much bigger.
Power (or Perception of It)
Pacquiao's TKO of Cotto was his last
Al Bello/Getty Images
Manny Pacquiao's two fights in 2009 were perhaps his most impressive. He destroyed Ricky Hatton with a picture perfect left hook in Round 2 and fought through the bigger Miguel Cotto to score a 12th round TKO. However, he has not had a knockout since.
Timothy Bradley is not a power puncher based on the numbers. Of his 28 official bouts, only 12 have been knockouts. He is a boxer who fights with speed and volumes of punches.
While Pacquiao is still extremely dangerous, one has to wonder if he still has the raw speed to throw punches that will get a top-level fighter out. Bradley's only real chance to win is going to be by decision, so it is imperative that he is able to stand up to Pacquiao's punches early and establish his space in the ring.
Intangibles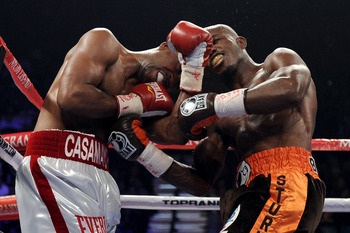 Will Bradley be able to adapt to Pacquiao?
Harry How/Getty Images
Manny Pacquiao has two distinct things going for him. One, he just may be the fastest fighter in boxing overall in terms of hand and foot speed. It has helped him against larger fighters and could balance out a fight against someone with similar speed in Bradley. Pacquiao also has, for my money, the best trainer in boxing in Freddie Roach. Corner issues will not a be a problem for the Pac-Man.
For Bradley, I think this fight is going to come down to whether or not he wants to really win the fight and risk being hurt or dropped early, or if he is going to play it safe. I have a feeling that Bradley is going to put forth his best effort June 9. IF (and that's a big if) that happens, this will be a compelling fight as long as it lasts.
I say that because Bradley is smarter than a lot of fans care to give him credit for. Contrary to what some have written, he is not an adaptable fighter like a David Diaz. I am of the thinking that Pacquiao's drive to pull the trigger for long stretches has diminished somewhat.
I say this because, given his reputation and the expectations of many astute observers each of the last two fights, Pacquiao should have been able to finish off his last two opponents—an over-the-hill Mosley and an aging although still very competitive Marquez. Mosley was upright after 12 rounds, and many believe Marquez won their third fight.
Conclusion

Pacquiao/Bradley 24/7

There is a legitimate reason why Manny Pacquiao is a big favorite in this fight versus Timothy Bradley: if both fought at their very best, Pacquiao would win.
The question going in to June 9 will be, how close to his best will Manny Pacquiao be? Is he still as hungry, as focused and as ferocious when an opponent is in trouble to put him away? Will the distractions, some possible slippage and a good opponent create the perfect storm to create a big upset?
For Timothy Bradley, the question is, will he fight to win like Miguel Cotto against Floyd Mayweather? Or will be get hit (and hurt) and cover up like Joshua Clottey against Pacquiao or David Haye against Wladimir Klitschko?
Fight fans love Pacquiao because he is an action fighter. But it takes two to tango in the Sweet Science. What Bradley's game plan is and how it will be affected if/when Pacquiao hits him with a big shot will determine how good this fight will ultimately be.
I want to hear what you have to say and provide your predictions on the fight. Thanks for reading.
Keep Reading