NBA Draft 2012: 5 Prospects Whose Stock Will Be Most Affected by Lottery Order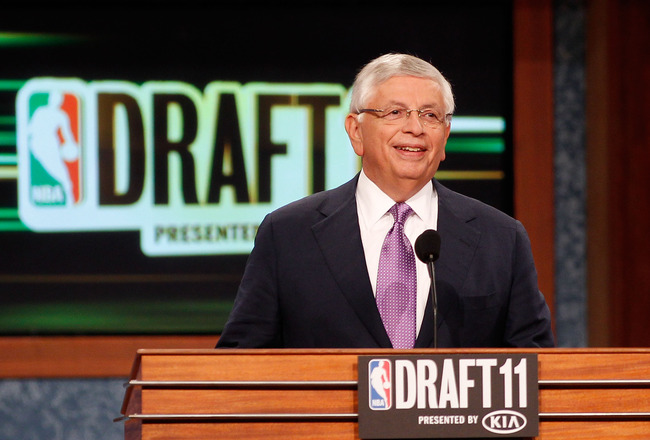 Mike Stobe/Getty Images
The 2012 NBA Draft Lottery takes place on Wednesday, May 30.
This night sets the draft order and allows more considered and concrete mock drafts to be concocted ahead of the NBA Draft in a few weeks time.
This year, the odds are high. Kentucky Wildcat big man Anthony Davis is the consensus top pick this year, no matter who lands the rights to said pick.
As for many of the other members of the 2012 Draft Class, their final positions will hinge on the results of Wednesday's draft lottery.
Certain players are niche. If a team that must fill a specific need falls down in the draft, its prospective player could end up sliding down the board below his expected draft slot.
It's all in the balance in this year's lottery.
No. 5: Bradley Beal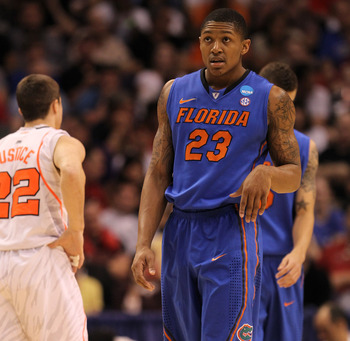 Jamie Squire/Getty Images
Bradley Beal should wind up with the Cleveland Cavaliers in the 2012 draft.
Questions are over his size
Just 6' 3" in shoes, Beal is a small guy even if he plays out of position at point guard. As a shooting guard, he'd be one of the NBA's smallest.
This could result in significant matchup issues down the road for whoever drafts him.
He might find himself slipping should the Cavaliers risk their pick on someone else, but he won't slip far. His talent of offensive output is too much to miss out on for many teams.
No. 4: Andre Drummond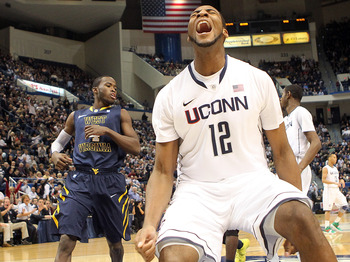 Jim Rogash/Getty Images
I predict Andre Drummond will likely be fifth overall to the Sacramento Kings, should the draft order follow the math correctly.
However, should the Kings move up to second, for arguments' sake, Drummond could find himself heading south.
The Kings would then be tempted by the best players left on the board which, after one pick, are many options, including hard-working guard Michael Kidd-Gilchrist and backcourt phenomenon Bradley Beal.
If the Kings pass, Drummond's next landing spot looks to be either the Portland Trail Blazers in sixth or the Detroit Pistons in ninth. The other teams predicted to draft before ninth are all in the market for smaller guys at other positions, resulting in a hefty drop for Drummond.
No. 3: Michael Kidd-Gilchrist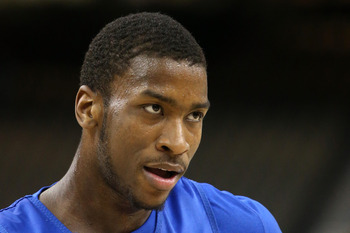 Ronald Martinez/Getty Images
Michael Kidd-Gilchrist can bring a wealth of intangibles to an NBA team.
On top of his scoring and defending, Kidd-Gilchrist brings a great work ethic to the table. He seems more than willing to sacrifice his body for the sake of his teammates.
This type of player is often well-received in the NBA.
The Washington Wizards would take him in a heartbeat, should they land the second pick that their record gives them a high chance of winning.
However, if a team like the Sacramento Kings winds up in second, they already have a star at shooting guard: Tyreke Evans.
Would they draft another, while leaving guys like Andre Drummond and Thomas Robinson on the board?
No. 2: Thomas Robinson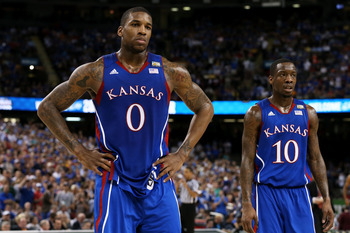 Jeff Gross/Getty Images
Thomas Robinson will most likely go at number four to the New Orleans Hornets.
Could the Cavaliers be tempted by his upside?
Robinson is a terrific player on the defensive side of the ball; an elite rebounder and a good defender overall.
On the offensive side, he has a decent game and could be leaned on in important spells during a game.
Pairing him with Rookie of the Year and 2011 overall top pick Kyrie Irving could prove to be a master stroke in pairing a big interior threat with an agile point guard able to score from distance.
It's not a big jump from fourth to third, but it lands Robinson with a Cavaliers group that is only a few more good trades from serious playoff contention in the Eastern Conference.
Fourth sees him land with the New Orleans Hornets. The team's future is unknown as Eric Gordon's future with them is up in the air.
No. 1: Perry Jones III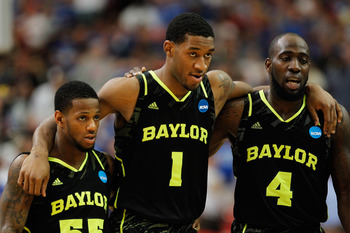 Streeter Lecka/Getty Images
I had Perry Jones III drafted at number seven by the Golden State Warriors in my mock draft three weeks ago.
One of the reasons for that was the Warriors' need to fill a big gap at small forward.
For Jones, much depends on the Warriors' odds holding true. If they were to move from that spot, he could find himself sliding backwards in the Top 10 as, should they move up, the Warriors would have the ability to pick a better player.
The teams directly below the Warriors are the Raptors and Pistons, neither of which is in desperate need of a small forward like Jones.
Not to mention many teams may buy into some of the bad press regarding Jones' abilities and whiff on him in favor of a safer pick.
Keep Reading