Pacquiao vs. Bradley Live Stream: Comprehensive Map to Fight Online
June 10, 2012

Stephen Dunn/Getty Images
Tonight's fight for the WBO welterweight title between Manny "Pacman" Pacquiao and Timothy "Desert Storm" Bradley from the MGM Grand is sure to be one for the ages.
There's more at stake in this matchup than just a title belt, as Pacquiao is fighting to preserve his reputation as one of the greatest pound-for-pound boxer in the world and is surely looking to dispel the notion that he is on the decline. Bradley, on the other hand, is at a much different point in his professional boxing career, and is looking to capitalize on this golden opportunity to establish himself as a top-tier boxer.
There's a chance we could be witnessing a changing of the guard, as the 28-year-old Bradley is undefeated in his 28 professional contests. If he is able to score a victory over Pacquiao (54-3-1, 38 KO), he would become the giant killer of professional boxing and the first fighter to triumph over the Filipino fighter in over seven years.
For the casual boxing fan, it may not be so easy to see the implications of the prospective result of this fight, so here's what you need to know before the 9 p.m. ET start.
According to Ring TV, the fight will be streaming through Top Rank.
Pacquiao's Possible Strategy
Pacman will be looking to avoid the same fate that befell him in his last bout against Juan Manuel Marquez. The result was in his favor, but the body of work told a different story.
Pacquiao fell victim to Marquez's feint-and-bait technique in their fight back in November, when Marquez feinted countless punches round after round, which resulted in Pacquiao giving up his defensive strategy and counter-punching tactics early and often.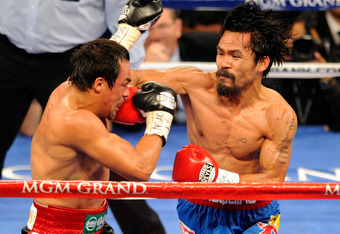 Ethan Miller/Getty Images
It would be a catastrophic mistake if his camp did not harp on that all through training. If Pacquiao gives himself up too early, it could prove fatal in his chances to emerge victorious.
Pacquiao is a faster puncher, and he will be looking to keep Bradley at a relatively close distance to keep his opponent from exploiting the two-inch reach differential. While two inches doesn't seem like much, over the course of 12 rounds it can be a huge factor. Pacman has the ability to close the ground between himself and his opponent in an unrivaled fashion and will need to do so if he wants to win.
Bradley's Possible Strategy
Bradley's camp has definitely been watching the video of the Marquez-Pacquiao tilt in preparation for this matchup. We've seen that Marquez has Pacquiao's number like no other fighter in the world and Bradley would be wise to implement some of the strategies that Marquez used.
Marquez kept a perfect distance from Pacquiao during their fight, and Bradley should want to do the same in this one. Bradley has accidentally head butted his opponents on more than one occasion, so he will be looking to avoid that same end in this fight. He wouldn't want the fight to be marred by anything like that, so he's been working on eliminating that part of his game.
The tricky thing about that is Bradley will have to maintain a greater distance between himself and the belt-holder in certain situations when he wouldn't normally do so. That could wind up helping Bradley though, as those who get caught inside with Manny seldom come away with a win.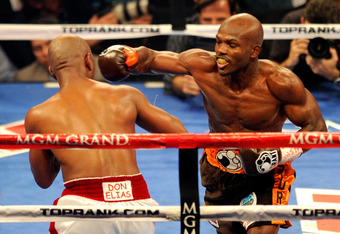 Ethan Miller/Getty Images
Pacquiao's Most Important Asset
Pacquiao has a clear-cut advantage in the speed department, but that doesn't mean Bradley is slow. Manny is just a bit faster than his opponent, as he usually is, and he will definitely use that to his advantage.
Pacquiao will need to get Bradley close to him and unleash countless flurries of his lighting-fast punches of all types. If he uses his speed on the inside to pepper Bradley with jabs and power punches, "Desert Storm" won't have a chance on the scorecard if this one goes the distance.
Bradley's Most Important Asset
Bradley has two things that he needs to use to his advantage: His counter-punching and his chin.
If he can keep space between himself and Pacquiao, he'll be able to use his counter-punching to the best of his abilities. He needs Pacman to telegraph his punches if he wants to win, and the only way to make that happen is to stay relatively away from him during the fight. If he can keep at a distance, it will be much easier for him to effectively counter-punch Pacquiao's strikes.
His chin will do him wonders in this battle, barring he doesn't get endlessly rocked from the outset. Pacquiao has a perfect combination of speed and power, but that will be neutralized to some extent by Bradley's ability to roll with the punches.
If he takes a couple of shots to the face, he'll be able to come back with his own onslaught, unlike some of the other fighters Pacquiao has faced in the past.
Implications for Pacquiao
If Pacquiao is to lose this fight, he's going to be thrown into a firestorm of criticism from the media and from the fans. He's 33 years old and much has been made of the possibility that he will retire after this fight.
Will this be the end for Pacquiao if he loses? Will this be the end for Pacquiao if he wins? 
Could Floyd Mayweather abandon the idea of fighting Pacquiao if he loses to Bradley, deeming the "The Fighting Pride of the Philippines" unworthy of a fight?
We won't know until after the fight, but it's something to ponder in the days leading up to June 9.
Implications for Bradley
If Bradley can win this fight, the landscape of pound-for-pound boxing will be severely impacted. With a win, he will silence the critics who believe that he is not a better fighter than Amir Khan.
Bradley could make a career out of this one fight. If he can win, the momentum that he gains could propel him to the top of the junior welterweight class, placing him above Marquez in the pound-for-pound rankings.
A loss on June 9 could send Bradley into a tailspin, though, and knock him down a few pegs in the rankings.
Who to Follow
Make sure you keep tabs on the official Bleacher Report boxing Twitter, as B/R is your source for sports news 24/7.
If that doesn't do it for you, you can check out the ESPN boxing Twitter for more information.