NBA Draft Lottery 2012: 3 Teams That Desperately Need the Top Pick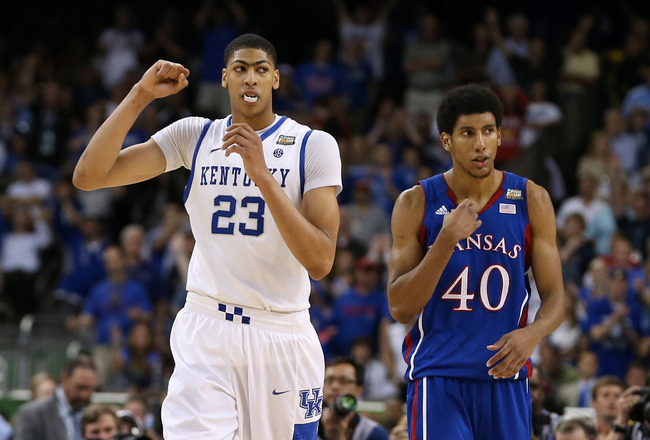 Jeff Gross/Getty Images
Every year, the worst teams in basketball have something to be excited about; the NBA Draft Lottery.
One lucky team will get their ping-pong ball picked, and that team will take home the first pick in the NBA Draft. Top picks like Derrick Rose, Hakeem Olajuwon, Magic Johnson, Shaquille O'Neal, Kareem Abdul-Jabaar, LeBron James, and David Robinson have transformed teams into powerhouses.
Guys like Kevin Durant, Michael Jordan, and Russell Westbrook have been pleasant surprises as second, third, and fourth picks, but every team craves the top selection.
This year, the top prize in the draft is Kentucky power forward Anthony Davis, who guided the Wildcats to a national championship. Davis is known for his punishing defense, great rebounding, and his ability to impact a game in any way.
Here are the three teams that need the top pick (Davis) the most.
Brooklyn Nets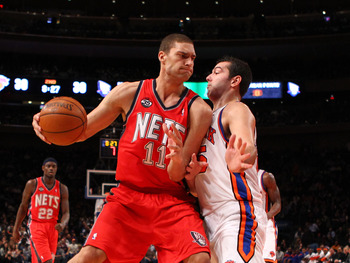 Brook Lopez tries to get in position for a basket.
Al Bello/Getty Images
Rumors are swirling about the Nets acquiring Dwight Howard, and the Nets might bring back Brook Lopez. However, they will certainly want Davis if they want to succeed.
First of all, the Nets are moving to the Barclays Center in Brooklyn, and to bring in more fans, they'll need good players and a good team. While their main objective is to bring back star point guard Deron Williams, they should be praying to win the lottery.
Davis blocks a lot of shots, and he gives tremendous effort on the defensive side of the ball. On offense, he can shoot, drive, and draw fouls. He averaged 14.3 PPG, 10 RPG, and 4.7 BPG in his first (and only) year at Kentucky.
If New Jersey did bring in Howard to go along with Williams, they'd instantly become a powerhouse. Howard and Williams would draw offensive comparisons to Chris Paul and Blake Griffin on the other side of the country, and they'd make the Nets an obvious playoff contender.
Factor in Davis and you have a definite championship contender, even in the 2012-13 season.
He would fire up the crowd and lure fans to the Barclays Center, and with Dwight Howard and Deron Williams on his team, he could easily start fast-breaks. The Nets would have their own Big Three and compete in the East.
Even without Howard, Davis and Williams could be the East's version of CP3 and Griffin. Davis has great athletic ability, so he could grab missed shots and reset the offense, or slam home alley-oops thrown by Williams.
With or without Howard, winning the lottery would surely lure D-Will to Brooklyn. With Davis (and maybe Howard), Miami would have to watch out.
Sacramento Kings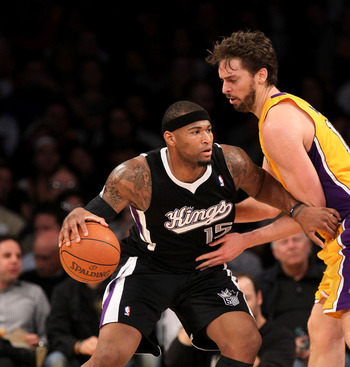 DeMarcus Cousins tries to dribble by Pau Gasol.
Stephen Dunn/Getty Images
DeMarcus Cousins is a solid power forward, but in the future, the Kings are going to want a guy like Davis playing the 4.
Cousins has had problems off the court, and the Kings don't want a guy like that to build their franchise around. Cousins can put up points, but he doesn't have the defensive intensity that Davis brings.
Davis hustles more, and he doesn't ever stop trying. For a team that gave up the most points last year, Davis' defensive presence will be huge. He has the rare ability to greatly impact a game without scoring.
While Cousins consistently records double-doubles, Davis does as well. He'll shut down big men, one thing Cousins struggled with. He could lure fans to Power Balance Pavilion and help save the Kings from moving to Anaheim.
Not only would Davis bring in fans and help keep the Kings in Sacramento, he would affect the team on both sides of the ball. With an above-average point guard in Tyreke Evans, he would get good looks to score.
Sacramento may not realize this right now, but they need Anthony Davis.
Charlotte Bobcats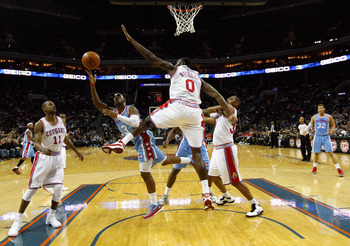 Bobcats big man Bismack Biyombo tries to block a Clipper shot.
Streeter Lecka/Getty Images
Did you really think I would leave this off the list?
Charlotte is the most desperate out of all the teams right now, maybe even more desperate than any team in history. They need a big man, and they need one now.
DJ White averaged 6.8 PPG, the most out of any Bobcat power forward. However, the Bobcats gave up an average of almost 101 points per game, and they didn't score much either.
Enter Anthony Davis.
Davis would give guys like DJ Augustin and Kemba Walker a good target down low, and he would greatly impact the game down low by grabbing rebounds, scoring points, blocking shots, and starting fast-breaks.
Bismack Biyombo, Charlotte's top rebounder, averages 5.8 boards per game. I'm willing to bet that Davis would raise that number.
Even though the Bobcats wouldn't become an immediate contender, Davis is a guy they could build a team around. Charlotte's attendance would go up, their win total would skyrocket, and Davis would be a great player.
All the Bobcats need now is to win the lottery.
Keep Reading

Brooklyn Nets: Like this team?