NBA Draft 2012: 8 Prospects Looking to Shed 'Bust' Label
Duke big men don't have a great track record in the NBA.
Streeter Lecka/Getty Images
It almost doesn't seem fair.
Without playing in either a preseason, or regular-season game, without so much as a practice, there are NBA draft prospects deemed "busts" before they're even selected.
Coming off a season in which Jeremy Lin became one of the NBA's top stories, one might think Lin's path to the NBA as an undrafted point guard from the Ivy League would help to change the traditional techniques used to evaluate talent.
Think again.
Even with the NBA draft one month away, there are already players who are seeing their stock fall. Falling draft stock doesn't have to curtail one's career. As Jeremy Lin showed this past season, even a player who goes undrafted can eventually make a huge impact in the NBA.
Falling draft stock will without question impact the money that player makes in his initial contract. There's a big difference between the top of the lottery and the middle of the first round. Same goes for the second round, where guaranteed deals are in no way assured.
Which players are dropping right now? Who is being saddled with the dreaded "bust" label, and more importantly, can that label be shed?
Andre Drummond
Is Andre Drummond the next Hasheem Thabeet?
Jim McIsaac/Getty Images
Andre Drummond, 18 years old, 6'11" center, UConn
Andre Drummond has a few major pluses and a few major minuses.
On the plus side is that he's an 18-year-old who stands 6'11" and weighs 275 pounds.
On the minus side is that he's got a tendency to disappear or even appear listless on the court. That was a concern at UConn, where the season is only 30 games. In the NBA it's 82, more if your team makes the playoffs.
Add in these names. Charlie Villanueva, Emeka Okafor, Hilton Armstrong and Hasheem Thabeet. All four were highly touted big men to come out of UConn. Thabeet was the second overall pick in the 2009 draft.
Not one player has lived up to their pre-draft potential. Perhaps that track record as much as anything else is why Drummond finds himself already looking to shed that "bust" label with a month left before he's even selected.
Jeremy Lamb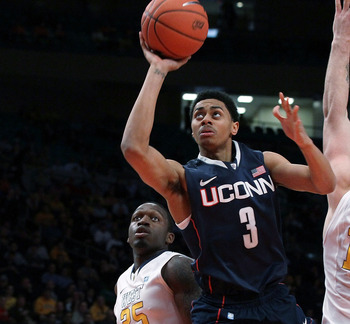 Jeremy Lamb of UConn had higher stock in the lead-up to the 2011 draft.
Jim McIsaac/Getty Images
Jeremy Lamb, 19 years old, 6'5" shooting guard, UConn
Don't get upset: this isn't a slide show dedicated to bashing UConn players. It just so happens that the Huskies have two players slated to go in the first round, both of whom are prime targets for the "bust" label.
Jeremy Lamb is the rare example of a player who may have been better served had he left college earlier.
When UConn won the NCAA championship in April 2011, Lamb was a hero; he was the best offensive player on the team that won the national championship.
One year later, he was part of an inconsistent team that was embarrassed in the first round of the NCAA tournament by an upstart Iowa State team. That may explain why in spite of freakish athletic gifts, Lamb is burdened by the "bust" label.
Chad Ford says he's too weak physically.
NBA Draft Insider says Lamb lacks leadership abilities.
Lamb could go anywhere from the later part of the lottery to the middle of the first round. Once he's actually selected, he's going to have a chance to prove all the doubters wrong.
Fab Melo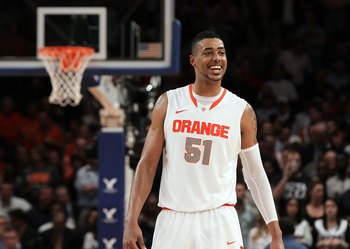 Fab Melo will look to make an impact in the NBA.
Jim McIsaac/Getty Images
Fab Melo, 21 years old, 7'0" center, Syracuse
If you took the time to watch any Syracuse basketball this past season, then you already know why Fab Melo is battling the "bust" label.
To say he's raw offensively might be an understatement. Melo just doesn't look comfortable with the ball in his hands on offense. Even when he's got decent position, he rushes his move or his shot. At times, his moves are telegraphed and look too deliberate.
Melo needs work on the offensive end. The issue for Melo in the NBA will be can his rebounding and shot-blocking, both of which are far more developed than his offense, buy him enough time in the NBA to learn to produce on offense?
If he can stick around in the league for a few years, he may develop into a solid all-around big man. If not, then he'll live up to that "bust" label that he's already saddled with.
Harrison Barnes
Harrison Barnes has gone from "can't miss" to "bust" in two college seasons.
Andy Lyons/Getty Images
Harrison Barnes, 19 years old, 6'8" shooting guard, North Carolina
When Harrison Barnes arrived at the University of North Carolina, he was the top recruit in the entire nation. A "can't miss" player with a complete offensive game.
Two seasons later, Barnes is battling a reputation that has him painted as soft, one-dimensional and not physical enough.
As a former top recruit, Barnes is probably well aware that there's not much he can do before he actually dons an NBA uniform to shed the negative labels that currently hang over him.
Once he's drafted and on the court, he'll have ample opportunity.
Perry Jones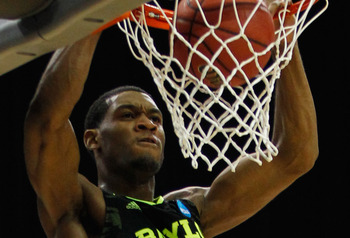 Perry Jones hopes to have a slam-dunk NBA career.
Streeter Lecka/Getty Images
Perry Jones, 20 years old, 6'11" power forward, Baylor
In a draft slated to select great athletes to play in a league already well stocked with great athletes, Perry Jones still stands out athletically.
That's a blessing and a curse. It's a blessing because Jones can do things on the court and at, near or above the rim that most human beings can not.
It's a curse because that type of ability comes with some serious expectations.
Perry Jones is dogged by reports that he plays unevenly, not up to his potential and can be passive.
Even with those red flags, Jones' elite athletic abilities have him slated as a lottery pick. Will Jones be able to play to his potential and use his athletic abilities to dominate in the NBA?
One team will inevitably be willing to find out.
Austin Rivers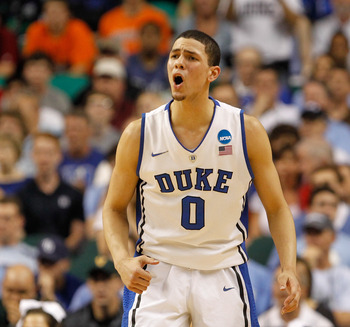 Can Austin Rivers live up to his hype in the NBA?
Streeter Lecka/Getty Images
Austin Rivers, 19 years old, 6'4" shooting guard, Duke
Austin Rivers is the son of a former NBA point guard who is now a NBA head coach.
The pedigree is impressive and so is the skill set. Rivers is a highly skilled one-on-one offensive player.
It's a five-on-five game, though.
In the one season he spent at Duke, Rivers had some dramatic highlights such as his buzzer-beater against rival North Carolina. He also had lowlights like the first-round NCAA tournament exit at the hands of No. 15 seed Lehigh.
All those one-on-one attributes set Rivers up for a label he most certainly doesn't want. "Selfish" is just one of the negatives that Rivers has found himself saddled with as the lottery approaches.
It only took one season in which Rivers ultimately displayed a laundry list of things that could be reasonably expected of a 19-year-old.
The NBA isn't looking for "typical" out of their teenage prospects. Rivers is faced with the challenge of proving he's not typical to whatever team eventually selects him.
Jared Sullinger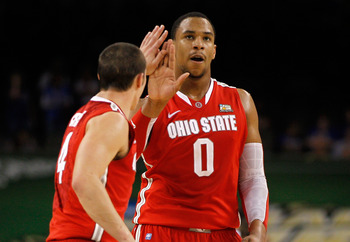 Too short? Jared Sullinger will look to prove the scouts wrong.
Chris Graythen/Getty Images
Jared Sullinger, 20 years old, 6'9" power forward, Ohio State
There have been potential busts that have on-the-court issues. They could be selfish, raw, passive. Those are not the issues that plague Sullinger.
Sullinger's issues are for the most part, off court. For one, while Sullinger is a massive human being standing 6'9" and weighing 280 pounds, there are questions about whether he's too large and not quite tall enough to hang under the basket with today's high-flying NBA power forwards and centers.
The other issue is related to the first one mentioned. His conditioning. Sullinger plays with all-out abandon on the court. That can wear him down and when that happens, rather then admit it and head to the bench, Sullinger can become foul prone.
While Sullinger is huge, he's not a high-flying type of athlete. That caused problems at the college level and in the NBA, it will be even worse.
Can Sullinger shed the "bust" label and prove the doubters wrong?
Moe Harkless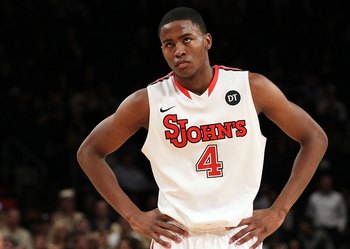 Moe Harkless can't afford to pout; he's going to get a shot at the NBA.
Jim McIsaac/Getty Images
Moe Harkless, 19 years old, 6'8" small forward, St. John's
When news first leaked that Moe Harkless from St. John's was making the leap to the pros after his freshman season, there were people (like myself) who thought he was making a mistake.
As it turns out, I wasn't alone.
Harkless is plagued by many of the same attributes that get attached to almost every young player who leaps to the pros.
Inconsistent? Yes. Not physically strong enough? Right again. A few questions about his work ethic? Yes, of course.
Moe Harkless may also end up being a very good NBA player. Harkless has explosive athletic ability. He can finish around the rim as well as anyone and he can actually get to the rim as pretty efficiently as well.
He has all the ability to be a good defensive player, but he's not always consistent in his effort.
If Harkless goes in the middle of the first round, then as a 19-year-old he'll be given time to develop. With his talent, the ceiling could be pretty high.
Keep Reading