Bruce Bennett/Getty Images
October 5, 2016
Game 1 of the Stanley Cup Finals is still two days away, but the first punches have already been thrown, via Twitter.
The Los Angeles Kings' official Twitter handle took a shot to their counterparts in New Jersey, with a rather big-time blow to the face. 
"Aside from fist pumping, what else is there do in NJ?"—LA Kings (@LAKings)https://twitter.com/LAKings/status/207151537036861440" data-datetime="2012-05-28T16:49:09+00:00">May 28, 2012
However, the fight was not over. The Devils' Twitter handle came right back with a blow to the mid-section, sending shockwaves throughout the Twitter-verse. 
@LAKingshttps://twitter.com/LAKings">LAKings> "there is plenty to do. We have a great aquarium #AtlanticCityhttps://twitter.com/search/%2523AtlanticCity">#AtlanticCity>, the Statue of Liberty stands in #NJhttps://twitter.com/search/%2523NJ">#NJ> & playoff hockey consistently."—New Jersey Devils (@NHLDevils) https://twitter.com/NHLDevils/status/207166679615143936" data-datetime="2012-05-28T17:49:20+00:00">May 28, 2012
And while the Devils delivered the proverbial blow to end all trash talk, the Kings' Twitter responded to the trash talk thrown at them, courtesy of fans. 
@j_charronhttps://twitter.com/j_charron">j_charron> "We have zero, how many do the Canucks have?"—LA Kings (@LAKings) https://twitter.com/LAKings/status/207162949075341313" data-datetime="2012-05-28T17:34:30+00:00">May 28, 2012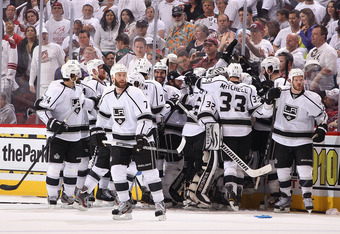 Christian Petersen/Getty Images
@gaycanuckhttps://twitter.com/gaycanuck">gaycanuck> "Come on, you know you want to root for us."—LA Kings (@LAKings) https://twitter.com/LAKings/status/207169732422545408" data-datetime="2012-05-28T18:01:27+00:00">May 28, 2012 
I'm sure there will be a lot of people rooting for the Kings, regardless.
Now as we get away from my awful wrestling/boxing commentary, there is no idea has to who runs these accounts. But when you get social media involved for a championship series like this, it is always a fun time to be an avid Twitter user.
We are bound to get an epic series between the Kings and Devils that will feature great goaltending, plenty of offensive opportunities and some heated exchanges. But how epic would it be to watch both users of these accounts duke it out in-between the second and third period?
They can put a wrestling ring on center ice and have a fight that would make Hulk Hogan and Andre The Giant proud. Gary Bettman can be the special guest referee and be knocked out with a chair, just for good measure and to get the crowd excited.
Until Game 1 gets underway, people won't be talking about the amazing run the Kings are on, nor will they discuss the epic matchup in goal with Jonathan Quick vs. Martin Brodeur.
But they will be talking about the epic main event for WrestleMania—The Battle of the NHL Twitter Users.
Like the new article format? Send us feedback!