Stanford: Famous Football-Baseball Stars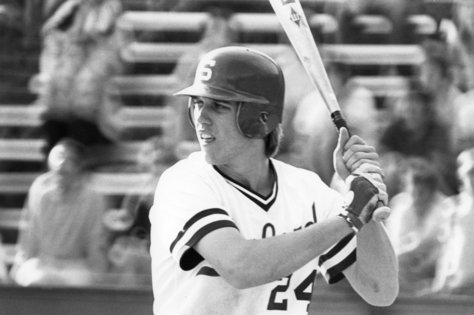 John Elway (Photo by Stanford Athletics)
Over the past several weeks, we've showcased John Elway, John Lynch and other Stanford football stars who excelled in baseball as well.
With Stanford's baseball team set to host an NCAA Super Regional this weekend, we now present the final installment in the multi-part series of Stanford football-baseball greats, featuring a top NFL exec, a legendary Stanford coach and an equally legendary multi-sport star from the 1920s.
Turn the page to learn more.
Begin Slideshow

»
Ray Anderson (Photo by US Presswire)
Ray Anderson is well-known as the NFL's Executive VP for Football Operations.
At Stanford, he lettered in football in 1973-75, and in baseball in 1974.
In football, Anderson was a WR/KR, and led Stanford in kickoff and punt returns in 1974 and 1975. For his career, he had 43 punt returns for 355 yards, including a 65-yard touchdown, and added 66 career kick returns for 1,356 yards.
Anderson still ranks fourth all-time on The Farm in kick return attempts and eighth all-time in career kick return yardage.
Nowadays, Ray is in charge of major aspects of the NFL's operations, including officiating, player discipline, college relations and game operations. He's had quite a busy offseason, dealing with the Saints's bounty situation.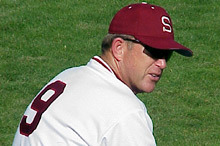 (Photo Scout.com)
Mark Marquess, known to Cardinal faithful as "Nine" for his uniform number, has been Stanford's head baseball coach since 1977 and is one of the greatest NCAA baseball coaches ever.
He's won 1,459 games, fourth among active coaches, highlighted by back-to-back NCAA titles in 1987-88. All told, his Cardinal teams have made 27 total NCAA tournament appearances, including 14 trips to the CWS.
Marquess was also a star football and baseball player for Stanford. An All-American first baseman, he hit .404 in 1967 (fifth all-time at Stanford) and still ranks fifth all-time in career triples.
In football, Marquess lettered in 1966-68, playing QB, WR, DB and KR. He led the team in punt returns in 1966 and his career punt return average of over 10 yards remains among the top 10 in school history.
After college, Marquess was drafted by the White Sox and spent four years in the ChiSox organization.
His Cardinal will host the NCAA Super Regional this weekend and hope to make yet another trip to the CWS in Omaha next month.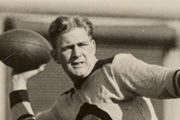 (Photo from NFL Hall of Fame)
NFL Hall of Famer Ernie Nevers was an All-American RB and LB for Stanford in the 1920s. He also pitched for the baseball team and played forward for the basketball team.
At 6'1" and 205 lbs, Nevers was a physical force by the standards of the early 20th century. He played every down of every game. His most memorable performance as a collegian came in the 1925 Rose Bowl, where he singlehandedly out-gained the famous Four Horsemen of Notre Dame, with 34 rushes for 114 yards.
In baseball, Nevers was a star pitcher and slugger.
Along with Chad Hutchinson, he's one of two Stanford athletes to have played both football and baseball professionally. After graduation, he first played three years of MLB with the St. Louis Browns.
He then switched to the NFL, where he played for the Duluth Eskimos and Chicago Cardinals from 1926-31 (sitting out 1928 due to injury), earning All-NFL honors each season.
To top it off, Nevers played pro basketball in 1927, making him the only athlete ever to play three sports professionally in the same year.