Loyola Wins First NCAA Championship in School History
May 28, 2012

Winslow Townson/Getty Images
After a memorable season that shocked the lacrosse world, the Loyola Greyhounds have become the newest men's national champions by beating Maryland, 9-3.
With their victory, Loyola is now the smallest school to ever win a Division I title in any sport. 
While Maryland's defense got most of the attention coming into this game, it was the Greyhounds defense that rose to the occasion, allowing no Maryland goals in the entire second half. 
In particular, sophomore goalie Jack Runkel was spectacular, allowing just three goals all game and shutting down the Maryland offense on the few opportunities it had. For a sophomore, Runkel was calm and collected on the game's biggest stage.
The Most Outstanding Player award went to Eric Lusby, who had four goals in the game. His tournament total of 17 goals is a new tournament record.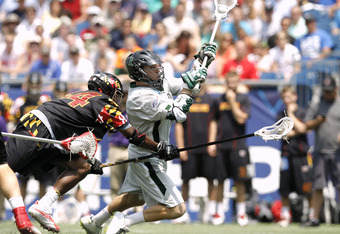 Winslow Townson/Getty Images
For Maryland, this is a particularly crushing loss. Not only is this its second consecutive loss in the finals, but this team also has not won a championship in over 30 years despite being in the final four on a relatively regular basis.
Maryland seemed erratic on the offensive end, particularly when it came to shooting the ball. The Terrapins had a tough time hitting the cage, and when they did get a shot on target, Runkel was there to make the save. As the game progressed, Maryland seemed to press out of desperation and began to take shots that were not from ideal locations.
In any case, as no one would have predicted at the start of the season, the Loyola Greyhounds have shocked the world and are the 2012 national champions.