French Open 2012 Results: How Top Players Performed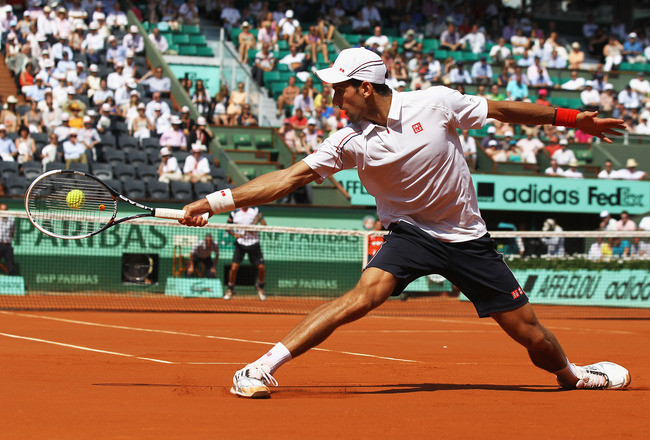 Matthew Stockman/Getty Images
The 2012 French Open has just gotten underway and the first two days of play have been tremendous.
The Americans have had more people moving on to the second round than usual, which is always an impressive thing since they do not grow up on the red clay.
Novak Djokovic, Roger Federer and John Isner set out to the courts and wasted no time in booking their spots in the next round.
The other top players struggled more than we had thought they would. Overall, there were no major upsets, though some results did come off as surprising.
Here are the recent results and how the top players looked.
Roger Federer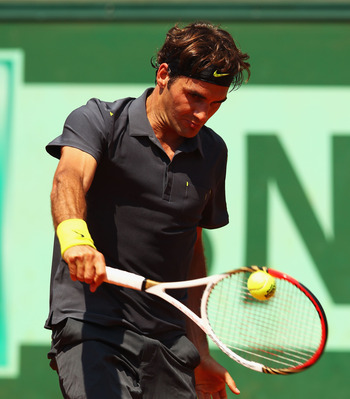 Clive Brunskill/Getty Images
Feds seemed to have won comfortably just from a glance at the scoreboard, but he had much more trouble than indicated by his straight sets win over Tobias Kamke from Germany, 6-2, 7-5, 6-3.
He struggled to make first serves, threw in a number of double faults, misfired off both wings and found himself broken on several occasions.
The German played Roger's forehand more than he should have, especially since the surface is red clay.
Roger also failed to serve out the match—a characteristic that is rare of his quick-playing game.
Feds needs to step up his game in the following rounds if he wants to take out Top-10 players such as Tomas Berdych, Juan Martin del Potro and Novak Djokovic, whom are all in his half of the draw.
Gilles Simon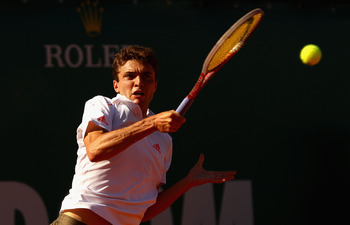 Clive Brunskill/Getty Images
The Frenchman needed the home crowd to back him as he lost the first set to a fast-starting Ryan Harrison.
However, Simon recovered well by taking a tight second set.
He was then down a break in the third, but stormed back to make a strong statement by the end of the fourth set.
He won 3-6, 7-5, 6-4, 6-1 and played just the same as he always does—very consistent and steady.
The match was more lost by the American than it was won by Simon, as Harrison has a bad tendency of imploding mid-match which he must fix if he wants to become a household name.
John Isner
Clive Brunskill/Getty Images
Big John, A.K.A. The Marathon Man played no such match today.
He easily took out Rogerio Dutra Silva from Brazil with a scoreline of 6-3, 6-4, 6-4.
He served very well and hit big forehands (which is always a given for the American).
Look for Isner to make the second week with his best-looking draw in a long time.
Novak Djokovic
Matthew Stockman/Getty Images
Nole looked nothing short of impressive today, and after a very competitive opening set he cruised to victory in straight sets fashion over Potito Starace.
The score was 7-6 (3), 6-3, 6-1.
And the Uniqlo look suits him well, I think. Perhaps this could be his first title at Roland Garros as well as his first tournament with the new sponsor.
Victoria Azarenka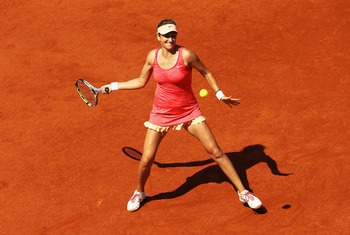 Matthew Stockman/Getty Images
The world's No. 1 was outplayed by Alberta Brianti, whom Chris Evert said was performing like a Top-10 player.
Sooner or later, you had the feeling Azarenka was going to either mentally check out or come back strong—she chose both options.
She was down 7-6 (6), 4-0 and faced break points to go down 5-0, which would have surely been the end of it all.
However, she dug deep and won 12 of 15 games to win the second and third sets 6-4 and 6-2, respectively.
Azarenka must play better tennis than she did today or else she will exit prior to the second week.
Follow Tennis Community Leader and Featured Columnist, Jeff Cohn, on Twitter.
Keep Reading