San Francisco 49ers: Are Team Expectations Too High in 2012?
May 28, 2012

Christian Petersen/Getty Images
In the shortened 2011 league year, Jim Harbaugh and his new staff turned a 6-10 team into a Super Bowl contender. It's a team that, while suffering through the hard times for the better part of a decade, has been loading their roster with first round draft picks. This immense talent has been stockpiled in the Bay Area, accumulating while waiting for a leader with direction—and with Jim Harbaugh came that leader.
After the remarkable season the 49ers posted under him in his first year, San Francisco's stock has been blowing up faster than Facebook. The team is ascending, and now everyone knows it. And with all things considered, the Niners are now deserving of that target that will be on their backs in 2012. ESPN's Power Rankings has the 49ers at No. 5, but they are easily a favorite to win the NFC next season.
Things are looking really good for Harbaugh's Niners, but many express the concern of a dreaded sophomore slump. For as many things that could go right for the 49ers in 2012, there are quite a few things that could go wrong. Besides a sophomore slump, the injury bug and potential inadequacies on the offensive are concerns.
We've come to understand that if San Francisco's division opponents have a cross-hair on any team, it's the 49ers. Seattle and Arizona's animosity has grown with the Niners since last year, and the Rams had one of the NFL's best total off-seasons. Fans want to worry about games against Green Bay and New England, but the NFC West will be throwing punches at San Francisco this year—the games will be fiery and extremely tense.
Outside of the division, the 49ers are looking at road games against Green Bay, New Orleans and New England. Challenges will also be brought to their doorstep when the Detroit Lions, Super Bowl champion New York Giants, Buffalo Bills and Chicago Bears come to town.
Another headline concern is: what is Alex Smith's fate in 2012 and beyond? He's worked on his mechanics and will finally have continuity in the offensive system, but will he take that sizable step forward or regress? Will he be able to keep a very sensitive future Hall of Famer satisfied?
And the defense was so brilliant in 2011—could they possibly keep that going from year to year? It's a unit that's almost too good to be true, and envisioning an improved version of last year's squad is slightly difficult.
There are a number of things that could interfere with the success we believe the 49ers are destined for. But there are a few factual things to be considered that could alleviate some of the worry.
Taking a look at Harbaugh's career as a head coach:
In his first year as head coach for the University of San Diego, he led the Toreros to a respectable 7-4 record. Josh Johnson quarterbacked Harbaugh's squad to an 11-1 outing in both his sophomore and junior years. In Harbaugh's second and third seasons with the team, he had back-to-back Pioneer Football League championships.
After his time with the University of San Diego (2004-2006), Harbaugh became head coach of the 1-11 Stanford Cardinal. In 2007, the Cardinal had improved by three wins, posting a 4-8 record. In 2008, they went 5-7; in 2009, they went 8-5 and earned in appearance in the Sun Bowl. And in Harbaugh's last year with the team, they reached double-digit wins and a victory in the Orange Bowl over Virginia Tech.
The winning percentage increased every year consistently.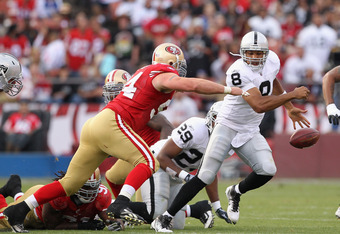 Ezra Shaw/Getty Images
The 49ers are also going to prove to be the benefactor of youth. San Francisco has not only one of the most talented teams in the NFL, but one of the youngest. Entering the 2012 season, Jonathan Goodwin (33) and Randy Moss (35) will be the only players on offense over 30. On defense, Justin Smith (32) and Carlos Rogers (30) are the only two players over 30, both playing at an extremely high level.
And for the most part, this is a team that has been built through the draft. They've fought together through the hard times and have grown stronger as one. They've persevered, finally having tasted success and don't plan on returning to rock bottom.
The expectations for this team are reasonable where they stand. History shows us that this team could very well improve in year two under coach Harbaugh—any better, and San Francisco would've been Super Bowl champions. It isn't outlandish to believe this team won't succumb to something as fabled as a sophomore slump, when they put in the hard work and produce results the way they do. 
San Francisco is switching roles in 2012, from the hunter to the hunted. Harbaugh will have a brand new motivational campaign to fuel his players based off of this new persona. They won't lose steam between seasons, because they aren't built that way.
No team has a better makeup overall, as well as individually, when it comes to exceeding expectations, and San Francisco welcomes the challenge in 2012.
Follow me on Twitter: @DeSimone80