Anthony Davis: Evaluating Kentucky Star's Chances to Help Team USA Win Gold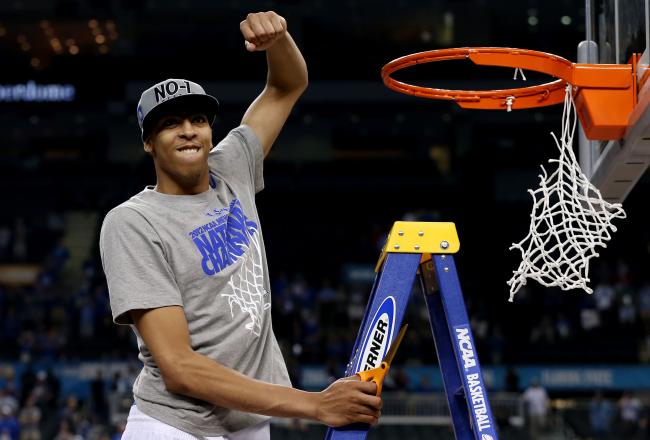 Jeff Gross/Getty Images
Kentucky's Anthony Davis put on a show for the nation during the Wildcats' championship run in the NCAA tournament. Now, he'll try to put on a show on the international stage in the 2012 Summer Olympics.
Davis was added to the pool of finalists after USA Basketball chairman Jerry Colangelo and coach Mike Krzyzewski realized that they didn't have a true center (other than Tyson Chandler) on the roster after Dwight Howard went down with an injured back late in the season. It's all but a fact that Davis will be playing for Team USA in London this summer.
Here is the rest of the roster for Team USA.
Howard is out, and it's a physical impossibility for Chandler to play every minute of every game, so there's no doubt that Davis is going to see court time this summer. The question is, what kind of impact will he have on this already star-studded roster?
He'll absolutely provide a formidable interior presence on the defensive end when Chandler is on the bench resting. He's never played against world-class talent, but Chandler is basically a player-coach on the roster, and he'll be able to mentor Davis for the time they are together.
Davis isn't Chandler, though, and there's no reason to expect him to play as well as the Defensive Player of the Year will, but Davis certainly showed that he has the ability to shut down the paint for an entire game.
The United States open against France on July 29, and that will be Davis' first test. The French will have Joakim Noah and Ian Mahinmi at the center spot. Noah has a motor that you don't see in too many big men and will presumably getting starter's minutes for the team, so when Chandler is out, Davis will be banging around down low with Noah.
Noah has never been a serious offensive threat, but he pulls down 10 and 10 for the Chicago Bulls, and it wouldn't be a surprise to see him get more involved on offense with France.
Mahinmi is a poor man's Noah, and while he was an adequate role player for the Dallas Mavericks, he won't be a huge factor in the Olympics.
Davis should be able to play effective defense on the two of them, but there's another guy named Tony Parker who is going to be driving to the paint in that opening game. Protecting that paint will be Davis' primary task on the defensive end, and he's shown that he can do that against the best penetrators at the college level, but will he be able to do that against a top-tier guard like Parker?
That will be hard for him to do, but he'll probably be able to do it. Chandler will make sure that he is in the right spot at all times, as he does for the New York Knicks defenders when he's on the bench, so we'll seldom see Davis out of position.
That's just the opening round in which the team's ridiculous scoring talent should be able to carry the load, even if they have to score 120 points to do so. Once pool play is over, the real test will eventually come.
The USA doesn't have a scheduled game in pool play against Spain, but they'll probably be meeting them in the later stages in their quest for a gold medal.
The Gasol brothers are going to be some kind of force in this Olympics, as they have the chemistry (or telepathy) that only two brothers who have played with and against each other for almost their entire lives could have.
Will Anthony Davis seriously help Team USA this summer?
Their passing, post play and jump shooting is something to behold, but Davis impacts basketball games on defense like no 19-year-old that we've ever seen. Pau and Marc are going to get their points when the Spaniards and the Americans meet, but Davis will be able to limit the two to some extent. The Gasol's are significantly more polished on the offensive end than Davis, but Davis is longer, faster and more athletic than they are, which will give him a distinct advantage.
Davis isn't going to have a huge impact on the offensive end throughout the Olympics, but the USA obviously doesn't need him to. They could probably play five-on-four against some teams and still come away with a victory, as this is one of the best group of players we've seen in the last few Olympics.
It'll be fun to watch Davis, the young and inexperienced defensive stalwart, play against the world's best. He could wind up doing something special that nobody would have expected, but he's probably going to stay within his abilities and not try to do too much.
My guess is, at the least, we'll see "The Unibrow" make some highlight-reel blocks this summer in London.
This article is
What is the duplicate article?
Why is this article offensive?
Where is this article plagiarized from?
Why is this article poorly edited?