NBA Trade Rumors: Dallas Mavericks Shouldn't Enter Dwight Howard Sweepstakes
May 29, 2012

Sam Greenwood/Getty Images
Even with arch nemesis and head coach Stan Van Gundy disowned by the Orlando Magic, it appears that superstar center Dwight Howard is still looking for a way out.
Since Howard agreed to stick around Orlando for another year, though, his only chance to change scenery in the meantime will be via trade.
That's not especially good news for teams like the Dallas Mavericks who've positioned themselves to make free-agent acquisitions and lack the assets to make a big splash in the trade market. Nevertheless, Howard reportedly still has his eye on Dallas (via Chris Sheridan of Sheridan Hoops):
Dallas is on Howard's list, too, which bears mentioning. The Mavs have Dirk Nowitzki, Shawn Marion and Brendan Haywood under contract for next season, taking up $37 million of cap room. But Haywood could be amnestied and Marion could be dumped, which would at least give Dallas a chance to be creative in trying to clear enough space to absorb Turkoglu and Howard.
Even if there's a way Mark Cuban can make the numbers work, it's hard to imagine a deal like this actually going down.
For starters, the Mavericks just don't have the talent to interest a franchise that could otherwise land promising young players like Brook Lopez and MarShon Brooks of the Brooklyn Nets. Unless the Mavericks have any interest in moving Dirk Nowitzki (an unlikely event at best), conversations with Orlando are all but guaranteed to be a non-starter.
The best Dallas has to offer is some combination of Shawn Marion, Brendan Haywood and a youngster like Rodrigue Beaubois—in other words, not much.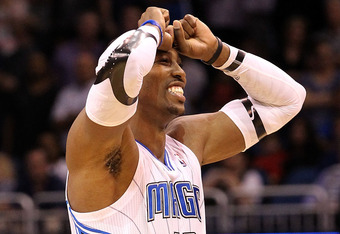 Sam Greenwood/Getty Images
It's equally unthinkable that Dallas would look to acquire Howard through a trade when there's still  some possibility he'll be a free agent after next season anyway. If the Magic move Howard and he agrees to an extension with his new team (e.g. the Brooklyn Nets or Los Angeles Lakers), then the Mavs will be officially out of luck.
If Orlando can't make such a scenario work, though, he could potentially be moved as a slightly less expensive rental option instead.
Obviously, the Magic would net a better return if Howard agrees to an extension. His suitors are far more interested in an enduring relationship that a one-season fling. That, in turn, could take Dallas out of the running before it can even make an offer.
As bad as the Mavericks' chances may look, we should remember that they're the ones on Howard's list. Who knows to what extent those feelings are actually mutual?
Whatever team lands Howard will be getting a guy who isn't exactly a picture of team-first leadership. Should his new destination fall short of his all-important expectations, we could be right back where we started.
Perhaps the Mavericks should count themselves lucky. The one who got away may not have been worth having in the first place.