Ashley Judd: Everything You Need to Know About Dario Franchitti's Wife
May 28, 2012

Nick Laham/Getty Images
Who is Ashley Judd and why does she keep appearing in the sports section?
Believe it or not, the 44-year-old actress has multiple connections to the sporting world, and it starts with her husband.
Judd is married to Dario Franchitti, who just won his third career Indy 500 on Sunday, becoming just the 10th driver in 96 years to win three or more 500s. She is incredibly supportive of her husband of 11 years, and was with him just moments after the big win.
You may be saying to yourself, "big deal, every wife is supportive of their Indy driver husband;" well this isn't the first time Judd has been in front of the camera. In fact, she has made a career in front of the lens.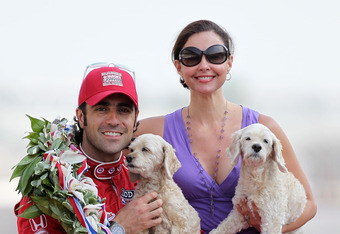 Nick Laham/Getty Images
Judd first broke on the scene as an actress back in the early '90s, appearing in small roles in movies such as Kuffs, Ruby in Paradise, Smoke and A Time to Kill.
Then in 1997 she got her big break in Kiss the Girls starring alongside Morgan Freeman, and followed that up with another hit in 1999 with Double Jeopardy (click here for full IMDb page). After another decade of movies, she is now acting in the TV show Missing.
She has plenty of fans in the entertainment industry, but Judd may be more famous for her college basketball allegiance.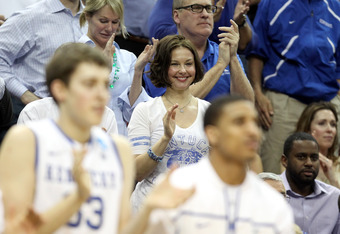 Andy Lyons/Getty Images
The unofficial biggest fan of Kentucky basketball can be seen at virtually every home game at Rupp Arena feverishly rooting on her Wildcats.
After getting access to the UK locker room after a NCAA Tournament win in March, she accidentally left with the cell phone of former Wildcat Terrence Jones.  
Joe Robbins/Getty Images
She is routinely shown by the TV cameras, and seems to relish her role as super-fan. Judd doesn't sit in the expensive luxury seats; she can be seeing screaming her head off in the student section along with all of the other big-time fans. She is one proud alum.
So while Judd may not be an athlete herself, she has more than a few connections to sports that allow her to be a relevant member of the sports section.  
We were reminded of as much with her husband's big victory on Sunday.