2012 MLB Draft: Power Ranking Top 10 High School Players in This Year's Class
May 28, 2012

The crop of high school players in the 2012 Major League Baseball Draft comes with a lot more risk than teams would normally be comfortable with, the potential reward with some of these players is astronomical. 
With the game becoming more about speed and defense in recent years, the way that players are evaluated has changed. A one-dimensional player is not going to be good enough to succeed in today's MLB. 
Fortunately, there are a lot of high school prospects who bring a lot of upside to this year's class. Here are the best of the best, along with a prediction of where they will be taken in the first round. 
(Note: These are my own personal rankings, not necessarily where I think they will be taken in the draft.)
No. 10 Addison Russell, SS, Pace HS (FL)
Russell is an interesting prospect in this year's class. It is widely assumed that he would end up shifting to third base, but he wants to play shortstop so desperately that he lost a lot of weight and has the body for the position. 
The problem is, Russell's weight-loss has hurt his power production this season. He has big power in his bat when he does fill out, but he must find a way to alter some flaws in his swing make more consistent contact. 
As long as Russell accepts the inevitable move to third base, he could turn into an above-average defender with plus power and a good average. 
Draft Projection: Late-First Round
No. 9 Corey Seager, SS/3B, Northwest Cabbarus HS (NC) 
Seager has one of the smoothest swings in the draft. He generates tremendous power with a short, quick stroke to the ball. He doesn't have a great approach at the plate, which is something he needs to work on in professional ball to keep his average at least respectable. 
Considering how strong and athletic he is, Seager should have no problems turning into at least an average big leaguer, with the potential to do more.
A great athlete with a strong baseball pedigree--his brother, Kyle, plays for the Mariners--Seager will play third base at the next level. He has a strong arm and will have above-average range when he gets more comfortable. 
Some doubt about his signability will push him down draft boards, but there is no doubt he is a first-round talent. 
Draft Projection: Late-First Round
No. 8 Lance McCullers, RHP, Jesuit HS (FL)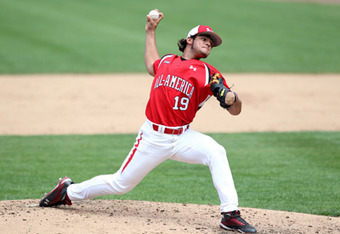 McCullers is one of the more interesting pitchers in this year's draft. For a long time, it was thought that he was going to be strictly a reliever due to a high-effort delivery that put a lot of undue stress on his arm and hurt his ability to command pitches in the zone. 
As the high school season has gone on, scouts have noted some slight tweaks in his mechanics that, while not completely fixing his command issues, do help his chances to remain a starter in professional baseball. 
If there is a team out there that believes it can continue to develop his delivery to help him command a mid-90s fastball and hard-breaking slider, he could go in the top half of the first round. 
Draft Projection: Mid-First Round 
No. 7 D.J. Davis, OF, Stone HS (MS) 
Davis is one of my personal favorite prospects in this draft. He is an electric athlete, with arguably the best speed in the draft and should be at least an above-average center-fielder in professional baseball thanks to his ability to cover a ton of ground. 
He doesn't project to hit for a lot of power, but he should get his share of doubles and triples, especially with his speed. Davis' offensive game is predicated on his ability to make contact more than drive the ball, so he is going to take some time to get a feel for the game and advanced pitching. 
Still, the speed and athleticism will make Davis a first-round pick on June 4. 
Draft Projection: Late-First Round
No. 6 Courtney Hawkins, OF, Carroll HS (TX)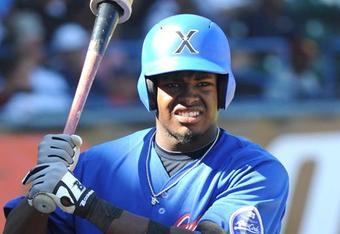 Hawkins could turn out to be one of those all-or-nothing hitters that drive fans and scouts absolutely nuts. He has tremendous bat speed, which helps him hit the ball a long way when he makes contact. But therein lies the problem: Contact. 
Too often Hawkins gets caught in-between and the strikeouts start piling up. Since the bat speed is so good, you have to believe the contact will improve as he gains experience. 
Hawkins has the range, arm strength and glove to be an above-average right fielder. As long as the overall hit tool comes around, he is going to be a star. 
Draft Projection: Mid-First Round 
No. 5 Max Fried, LHP, Harvard-Westlake  HS (CA)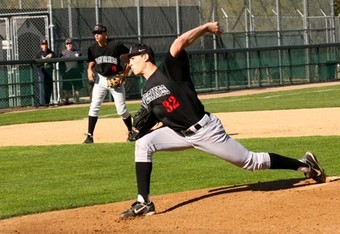 Fried is without a doubt the best left-handed starter in this draft class. He already has good velocity on his fastball, usually high-80s to low-90s, and one of the best curveballs of any pitcher available. 
At 6'3" and 170 pounds, there is still a lot of projection left for Fried. His fastball should end up more in the low- to mid-90s when he fills out. He has an advanced feel for all of his pitches and above-average command already. 
For now Fried is the No. 2 high school pitcher, but that can change in a hurry depending on what happens with the next person on the list. 
Draft Projection: Top 10
No. 4 Lucas Giolito, RHP, Harvard-Westlake HS (CA)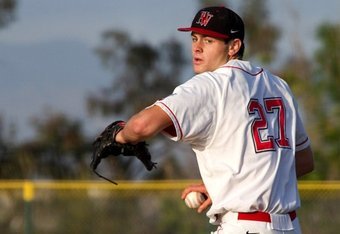 The great mystery of the first round is what will happen with Giolito. He suffered a sprained ulnar collateral ligament in March, though it didn't require surgery and he recently started a throwing program to show teams what he can do prior to the draft. 
As long as the medicals check out prior to the draft, Giolito could easily find himself taken in the top 3. His stuff is the best in this class, with a plus-plus fastball that sits in the mid- to high-90s and a hard curveball.
At 6'6", 230 pounds, Giolito certainly looks the part of a No. 1 starter, though his command could push him down more to the No. 2 starter range. Despite the elbow injury, he has a nice, clean delivery that he finishes well and really stays on top of the ball. 
If you ask me today, I think Giolito will go in the top 10. Ask me next Monday, and I could easily say he goes in the first four or five picks. 
Draft Projection: Top 10 
No. 3 Albert Almora, OF, Mater Academy (FL) 
There is a case to be made for Almora as the top high school outfielder in this draft class, simply because he is more polished at this stage of the game than Byron Buxton, who makes an appearance on the list very soon. 
Almora's upside isn't quite as high as Buxton's, but if you like center-fielders who play plus defense and project to hit for a high average and at least above-average power in the big leagues, he is not a bad consolation prize. 
Draft Projection: Top 10 
No. 2 Carlos Correa, SS, Puerto Rico Baseball Academy
There might not be a player who has helped his stock more this season than Correa, who was always thought of as a first-round talent but now looks like one of the handful of players the Houston Astros will take with the first pick. 
It's hard to envision Correa going that high, but stranger things have happened. His bat is going to be very special. He has a great feel for the game with a lot of power and projection in his body. 
If he was going to stay at shortstop, with that bat, he would probably be one of the top 2-3 picks. Since he is likely going to move to third base, where he should be at least an above-average defender with arm strength and range, he will have to settle for being a top-10 pick. 
Draft Projection: Top 10 
No. 1 Byron Buxton, OF, Appling County HS (GA)
Buxton is easily the most exciting athlete available in this year's class. He has the potential to be a five-tool superstar, with plus-plus speed and arm strength. He boasts incredible bat speed and a terrific swing path that will allow him to hit for more power when he gets experience and his body fills out. 
The biggest drawback to Buxton right now is that he is facing weak competition in high school, so we have no idea how his tools will translate against advanced pitching. He is a project, but if you have the patience and staff to support him, he can develop into one of the best players in the game. 
Draft Projection: Top 3 
For more Draft and Prospect analysis, and all the Cleveland Indians tweets you can handle, be sure to follow me on Twitter.