Why Don Mattingly Could Become MLB's Next Great Long-Tenured Manager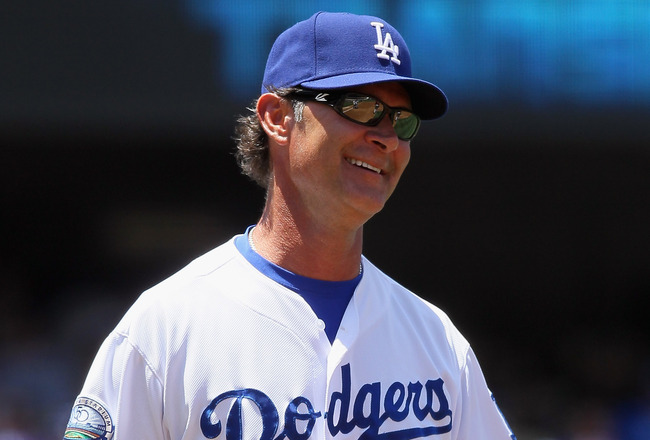 Jeff Gross/Getty Images
The Los Angeles Dodgers are currently the best team in baseball. Don't argue—it is science! At 32-15 entering play on Memorial Day, the boys in blue have gotten contributions from who you would expect (Matt Kemp, Andre Ethier, Clayton Kershaw), and some unheralded heroes (A.J. Ellis, Tony Gwynn, Jr., Jerry Hairston, Jr., Chris Capuano).
But the man behind these players is second-year manager Don Mattingly, who has also done a tremendous job in keeping this team on top of the standings.
Don't get me wrong—if you have watched Dodgers games this season, you know Donnie Baseball isn't the most tactical manager. Nor does he make the best, most timely decisions in crucial situations.
But he will get better with time, and there is a few reasons why Mattingly could be MLB's next great long-tenured manager. Someone in the vein of Mike Scioscia or Bobby Cox, who has a decade or more of successful years with the same team.
Rapport with Players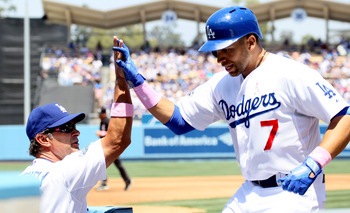 Stephen Dunn/Getty Images
There are a lot of things that go into being a great manager, and believe it or not, having good relations with your players is near or at the very top of the list. Look at Ron Washington or Joe Maddon. Their players love playing for them and the results show it.
Of course, their teams are talented and would probably be contenders for any manager. But that kind of clubhouse atmosphere and buddy system with the manager puts them over the top.
Mattingly is well on his way to being a similar type of manager. While fans may question his judgment in some situations, you have got to love his attitude.
The players on this year's Dodgers team has free reign to have fun, which is easy when you are winning. Mattingly knows his job is to teach, and he refused to trash players like the environment he had as a player in New York.
If nothing else, Mattingly is the type of person that will guarantee him a few extra years, where a manager with a bad attitude (looking at you, Bobby V.) might get canned right after one losing season.
Not Afraid to Defend His Team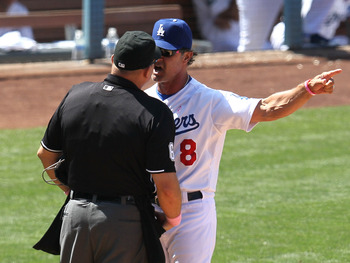 Stephen Dunn/Getty Images
Another thing you don't want your manager to be is passive. Mattingly has been tossed from a few games already, because he will fiercely defend his players if they think a call went against them.
Mattingly doesn't go out to argue a call without purpose though. He is not there to kick dirt on the umpire or throw a base into the outfield. If he legitimately believes his players got gypped by an umpire, he will take the fall for them in the form of an ejection.
As a player and a fan, you have to give the guy mad props and respect for putting himself on the line on their behalf. This loops back into being a player's manager—a guy they can trust to be a good coach and teammate.
He Has Been There Before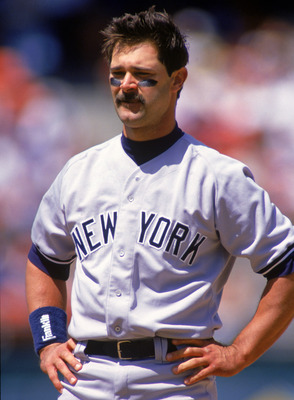 Otto Greule Jr/Getty Images
Most managers started as players, but few had the type of career Mattingly did. He was a great player during his time, and he was in the lion's den in New York. Under the blinding lights and heavy pressure of wearing the pinstripes, Mattingly still thrived.
In 14 years with the Bronx Bombers, Mattingly hit .307 and averaged 20 homers and 100 RBI. He was the American League MVP in 1985 and a six-time All-Star to go with nine career Gold Gloves. Basically, Donnie was a talented all-around player, who can now relate to most every type of player on his team.
There are many who believe Mattingly should be a Hall of Famer (I am one of them), but he has yet to be enshrined. Not only is Mattingly arguably the best current former-player-turned-manager, but he has thrived in the toughest place to play in professional sports.
Learned from the Best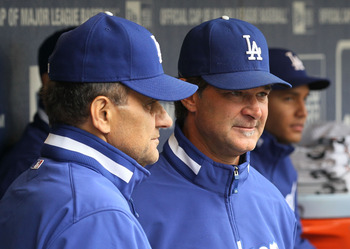 Jim McIsaac/Getty Images
Mattingly had the luxury of being Joe Torre's understudy in New York and in Los Angeles. That means he had years of observation, training and conversation with one of the game's calmest and most successful managers ever.
I don't know what exactly Torre taught Mattingly, but it speaks volumes that Joe was such a proponent of Don getting a managing job after Torre retired. Even if Mattingly has a ways to go to be the type of game manager that Torre was, he will have that head start on new managers everywhere.
As a Dodger fan, I have faith that the combination of learning under Torre, and the type of player Mattingly was will turn him into one of the smartest managers in baseball over the next couple years.
Similar to players on the field, managers are always learning and adjusting their games. As Mattingly logs more time in charge, he will get even better at tactical managing. And it doesn't hurt that he could probably call up Torre for advice anytime he wants!
A Winning Atmosphere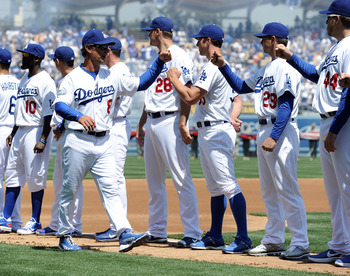 Harry How/Getty Images
We all know what the Dodgers and Mattingly have done so far this season. Naysayers may point to the pitching staff and the lineup, and say the manager has nothing to do with it.
But what's lost in this year's amazing success, is that the Dodgers actually finished three games over .500 in 2011, just a few games behind the Giants. The team was mostly a lost cause because of the locked finances, very public ownership divorce and non-contention by June.
Yet, the Dodgers were the hottest team in baseball down the stretch last season, and Mattingly was pulling all the right strings to make it happen. Not to mention keeping everyone grounded and focused on winning ball games in the midst of so much drama.
Now, with new, rich owners and a team that has proven they can win consistently, Mattingly has control of a team that loves him, loves winning for him and knows how to do it.
Matt Kemp is locked up for the next eight seasons, Ethier and Kershaw are next. And if all goes according to plan, Mattingly should be the captain of the ship for the entire ride.
Keep Reading