Los Angeles Dodgers: Why I Will Never Step Foot in Dodger Stadium Again
May 28, 2012

While Dodger Stadium is known to many for its rich history, it is quickly becoming known as one of the most dangerous places to watch a game.
On Opening Day last season, Brian Stow, a San Francisco Giants fan, was brutally beaten in the parking lot by two Dodgers fans following the game. Stow, a paramedic and father of two, sustained severe injuries to his brain and skull and was placed into a medically induced coma following the incident.
Claiming that cutbacks in stadium security led to the attack, the Stow family filed a lawsuit against the Dodgers and former owner Frank McCourt.
Just last week, a minor fender bender in the Dodger Stadium parking lot led to the beating of a driver and the arrest of four people.
Sad as it may sound, these events do not particularly surprise me. My most terrifying moment at a sports event took place at Dodger Stadium. 
It was May of 2005. I had spent the prior two years as a missionary for my church in Oklahoma, so I hadn't attended a baseball game for quite some time. I was attending college in Utah and went home to Southern California for the weekend. Part of the trip was to visit my family, but mostly I went to see my Angels playing the Dodgers.
I got tickets for the entire family and we made the trek from Anaheim to Chavez Ravine. By the time we arrived for the game, the Angels had already taken a healthy lead. There was a lot of trash talking between the two sets of fans, but nothing I hadn't seen before.
As the game continued and the Angels built a larger lead, the animosity between the two sets of fans grew. Friendly banter gradually turned into contentious attacks.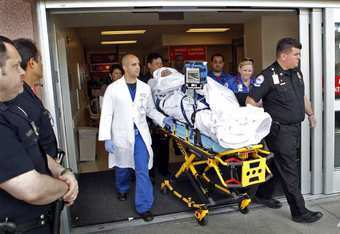 About 50 feet away I saw an Angels fan shove a Dodgers fan, followed by the Dodgers fan punching the Angels fan in the face and throwing him down three rows of seats. Security came and escorted them out, but that was only the beginning of the madness.
More and more fights broke out and it got to the point where we no longer felt safe. My dad said it was time to head home.
While exiting the ball park, we saw a brawl take place in front of one of the concession stands where a crowd of people watched. Some were cheering while others just stood frozen, wondering what to do. Our walk turned into a brisk run.
As I exited the gates, a man grabbed my arm, pointed to my Angels shirt and hat and said "I'd take that off if I were you." I stuffed my hat under my shirt and put on my neutral-colored sweatshirt. I wasn't going to take any chances. Thankfully we made it back to the car and out of the parking lot safely.
I have been to countless games at several venues around the country including AT&T Park, Angel Stadium, Wrigley Field and Yankee Stadium. Not once did I feel unsafe. Not once did I feel in danger. I am sure that other stadiums and arenas have had issues with violence and security, but nothing compared to what the Dodgers have faced in recent years.
One of the reasons why I love watching sports is the escape that it provides from the day-to-day frustrations and worries of real life. When you think about it, what takes place on a baseball field means absolutely nothing—it is just a game. It's called "America's pastime" for a reason.
Following the Brian Stow beating, the Dodgers made a concerted effort to increase security at the stadium. In fact, their efforts may have helped the most recent incident from getting worse.
Following last Monday's fight at Dodger Stadium, the Dodgers released a statement that praised stadium security and L.A. police for a "quick security response (that) prevented the confrontation from escalating further."
But can increased security stop another violent attack from happening? What is the cause of this? Is it something specific about the fan base? Is it the sale of alcohol? I'm not quite sure. But I am sure of one thing.
I will never step foot in Dodger Stadium again. 
Follow me on twitter @nhtanner and nathanhtanner.blogspot.com