New England Patriots: Steve Gregory and Other Impactful Offseason Additions
May 28, 2012

Harry How/Getty Images
The 2012 offseason has been a pleasing one for Patriots Nation, with the Patriots signing more free agents than any other team in the NFL, and moving up twice in the first round for defensive help in this year's NFL draft. 
Having brought in a plethora of depth-enhancers and potential game-changers, which players will make the biggest contributions in 2012?
To discuss the topic, myself and fellow B/R-enthusiast Kyle Cormier will each give our takes on a few pressing questions.
Q1: Which defensive free-agent signing will make the biggest impact in 2012?
Kyle: Steve Gregory is not a name many fans may be that familiar with, but as of right now he is the starting free safety. Unless much-maligned draft pick Tavon Wilson goes out and has a stellar camp, Gregory should be the starter, and is a huge upgrade over the revolving door of players who played there last season.
I would look for Gregory to be a consistent presence there week to week and be their biggest impact signing on defense.
James:  I will second this notion, Kyle.  Gregory is a natural free safety, who unlike most playing the position last year, has the ability to cover. The starting spot is his to lose going into the season.
I think the next guy in line to be a heavy contributor is Jonathan Fanene.  Used primarily in a backup role with the Bengals, Fanene has showcased a real knack for getting after the quarterback, bringing pressure up the middle and on the outside.  With his versatility and high motor, look for Bill Belichick to carve out a nice role for Fanene in 2012.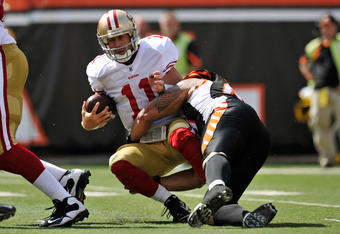 Jamie Sabau/Getty Images
Q2: Which offensive free-agent signing will make the biggest impact in 2012?

Kyle: On offense, the obvious answer is Brandon Lloyd, but that does not make it the wrong answer. Lloyd gives the Patriot offense one of the things they were in most need of a season ago, a receiver with the ability to make plays outside the numbers.
James:  As is usually the case Kyle, I think you are spot-on here.
However, I am going to go outside-the-box a bit, and say that the addition of Josh McDaniels as offensive coordinator will have the biggest offensive impact in 2012.
The one weakness that New England's offense had a season ago was the lack of quality receiver play (aside from Wes Welker, of course).  McDaniels is one the premier offensive minds in the game and has enjoyed particular success in coaching up wide receivers (See: Brandon Lloyd).
Q3: Which defensive draft pick will make the biggest impact in 2012?

Kyle: On defense, I think the rookie who will perform the most this year will be Dont'a Hightower. Hightower will be used in a variety of spots and packages. Bill Belichick will look to get every ounce of his versatility onto the football field this season. A sleeper could be Alfonzo Dennard, but he has a lot of depth ahead of him at cornerback right now.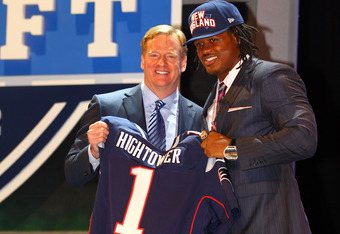 Al Bello/Getty Images
James:  In recent history, the Patriots first-round draft choices have been thrust into starting roles almost immediately (Jerod Mayo, Devin McCourty, Nate Solder).  With the departures of DEs Mark Anderson (now with Buffalo) and Andre Carter (free agent),  Chandler Jones will get every opportunity to start.  With his freakish athleticism and long arms, I could envision Jones having a huge impact as a rookie.
Q4: Will the lone offensive draft pick Jeremy Ebert make the squad in 2012?

Kyle: Jeremy Ebert is in a tough spot. He could go out and have an amazing camp and still not earn a roster spot. At this point it would appear his only shot will be the practice squad, barring a number of injuries to other receivers.
James:  With veterans like Brandon Lloyd, Jabar Gaffney, and Donte Stallworth ahead of him on the depth chart, Ebert is looking at a nearly impossible uphill climb.  Not only do these veterans have the advantage of proven success in the NFL, they all also have proven success in this offensive system.
Ebert will not make the roster, but like you mentioned he should be an interesting developmental player to watch on the practice squad.
That will just about wrap things up for our discussion this week.  Thanks for joining me Kyle, and we will have to collaborate again in the coming weeks.
To read more articles like this, check out James' and Kyle's profiles.