Eden Hazard: Chelsea Blue Is Best Choice for Coveted Playmaker
May 28, 2012

Claudio Villa/Getty Images
Eden Hazard could've gone to any English power of his choosing, but there is little question that Chelsea is the best option.
Hazard agrees as, according to Goal.com, he's expected to sign with the club at Stamford Bridge some time this week.
UPDATE: Monday, May 28 -- 3:58 PM ET
It is official, Eden Hazard has just announced that he'll be signing with Chelsea via Twitter:
I'm signing for the champion's league winner.

— Eden hazard (@hazardeden10) May 28, 2012
He'll play a key role in their attempt to defend the European crown.
Priced at £32 million, the 21-year-old Belgian came to terms with Manchester United, Manchester City and Chelsea. The Blues weren't considered to be a serious contender with both United and City knocking, but their Champions League success pushed them over the top.
It's a great move, too. Chelsea are saying goodbye to long-time West Londoners Didier Drogba and Salomon Kalou this offseason and are in need of offensive reinforcements. The two Ivorians have factored into the Blues' plans for quite some time and Hazard, being young and filled with potential, is the ideal candidate to replace some of their production.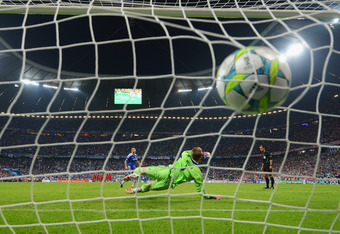 Mike Hewitt/Getty Images
Even with Drogba out, Chelsea is going to continue operating with one striker up top. Fernando Torres should get his chance to shine once more, and the Blue also have Romelu Lukaku and Daniel Sturridge.
The latter Englishman could also play in the midfield if need be. Hazard joins the likes of Frank Lampard, Juan Mata, Ramires, Michael Essien, Oriol Romeu, Florent Malouda and Raul Meireles in the midfield.
The former Lille player is a two-time Ligue 1 Player of the Year in France but has been searching for an opportunity to play Champions League football the last two years.
Chelsea wouldn't be returning to the prestigious European competition if not for their timely run to the final, but they're guaranteed a spot back now and will again be a force.
A move to Old Trafford or to the Etihad wouldn't have been terrible for his career by any means, but moving to West London gives him a chance to succeed in every possible competition and to etch out a long-term spot in the starting XI.
Expect Hazard to make an immediate impact next season and for him to quickly become one the rising stars in the Barclays Premier League.