French Open 2012 Scores: Breaking Down FedEx's Win and Best Matches So Far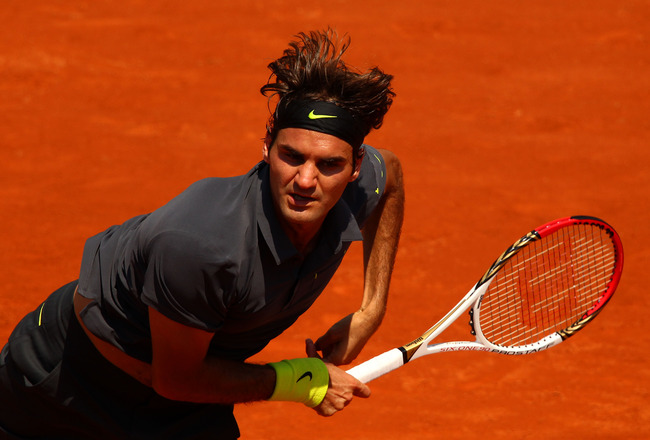 Clive Brunskill/Getty Images
The French Open had several exciting matches on Monday, with the highlight of the day being Roger Federer's record-tying win.
With his first-round win, Federer tied the record for most Grand Slam wins in the Open Era, tying Jimmy Connors.
Besides Federer, there were a few intriguing storylines that made the first day of the French Open exciting.
Here are the five most exciting matches so far, with Federer's win being the highlight.
Kevin Anderson vs. Rui Machado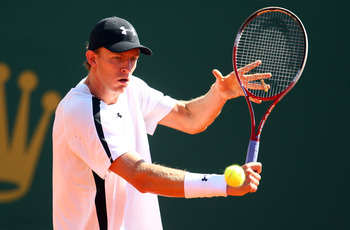 Julian Finney/Getty Images
Despite not being one of the marquee matchups of the day, Kevin Anderson's win over Rui Machado was a back-and-forth affair that kept the final result in doubt until the very end.
After splitting the first two sets, Machado seemed to pull ahead with a solid win in the third set.
After losing the third set, Anderson stepped up his game and blew Machado out of the water in the fourth set, winning 6-1.
In doing so, Anderson forced the match to match points, and neither was able to pull away until Anderson finally finished the deal, winning the match points 11 to 9.
While Anderson had a few more errors, his dominant serve won the day, as his 26 aces were simply too much for Machado to overcome.
If Anderson can cut down on the unforced errors, he could be a player to watch as this tournament unfolds.
Michael Llodra vs. Guillermo Garcia-Lopez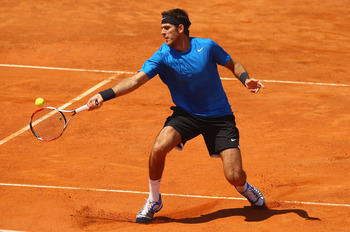 Clive Brunskill/Getty Images
Another surprisingly interesting match was between Michael Llodra and Guillermo Garcia-Lopez. This match is in its final points, as they are playing their final set as of this writing.
The match started out evenly matched, as Llodra and Garcia-Lopez pushed the set to 6-6, finally decided in Llodra's favor.
After a fairly even first set, Llodra seemingly pulled away, taking the set 6-2. Finally, though, Garcia-Lopez stepped up his game, taking the third set 6-3.
Though the outcome is still in question, Llodra has been solid based on the strength of his serve, which has been significantly more accurate than Garcia-Lopez's.
Novak Djokovic vs. Potito Starace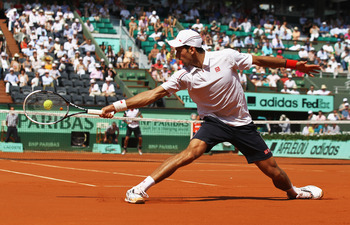 Matthew Stockman/Getty Images
While some under-the-radar matches were worth a look on Monday, people watched to see stars like Novak Djokovic play, and he did not disappoint with a solid win over Potito Starace.
The first set was actually a fiercely contested battle, with Djokovic finally taking the set 7-6.
Djokovic then took his game to the next level, dominating Starace 6-3 and 6-1 to win the match.
While Starace put up a good fight, he had eight more unforced errors than Djokovic. To beat Djokovic, Starace would have needed to play the game of his life, and he simply didn't do that here.
Djokovic wasn't perfect either, but his accuracy on serves and his aggressiveness in approaching the net were too much for Starace to overcome.
Nicolas Mahut vs. Andy Roddick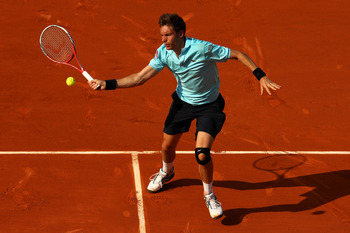 Matthew Stockman/Getty Images
Perhaps the surprise of the day occurred between Nicolas Mahut and Andy Roddick, as Mahut upset Roddick in convincing fashion.
Mahut was strong throughout the day, claiming the first two sets 6-3.
Roddick took the third set 4-6, but Mahut was able to seal the deal in the fourth set, taking it 6-2.
The key here was Roddick's inability to convert break points, converting only three of 10. Mahut, on the other hand, converted on all seven of his opportunities, which went a long way in deciding the match.
Ultimately, Mahut wasn't perfect, but he was good when he had to be, and that was enough to beat Roddick on Monday.
Roger Federer vs. Tobias Kamike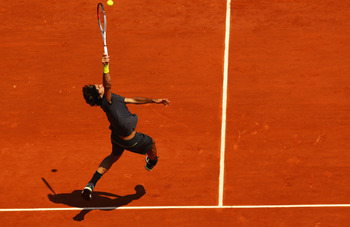 Clive Brunskill/Getty Images
Ultimately, Monday was Roger Federer's day in the sun. His record-tying win helps cement his legacy as one of the best players of all time, and he did it despite not playing nearly his best tennis.
Federer took all three sets, but he was hardly sharp. A whopping 47 unforced errors have to be a concern for Federer, but his success in approaching the net helped him overcome any other issues.
Tobias Kamike was simply unable to handle Federer's aggressiveness and strong serve.
In the grand scheme of tennis, this win is a milestone for Federer. His 233 Grand Slam match wins are impressive, but perhaps more impressive, Federer has a significantly better record than Jimmy Connors, with whom he is tied for the record.
Federer's record in Grand Slam matches is 233-35, while Connors' was 233-49.
Congratulations to Federer for his milestone, and we look forward to seeing if he can carry that momentum throughout the French Open.
Keep Reading