Eastern Conference Finals 2012: Bold Predictions for Tonight's Matchup
May 28, 2012

Mike Ehrmann/Getty Images
The Boston Celtics and Miami Heat will face off tonight in South Beach for Game 1 of the Eastern Conference finals. Recent history indicates that when these two teams meet, it's a toss-up.
In 2010, Boston knocked Miami out in the first round en route to the NBA Finals. In 2011, the Heat returned the favor, eliminating the Celtics in the conference semifinals on their way to the Finals. According to ESPN Stats and Information, the C's went 3-1 against their rivals this regular season, proving that the results can go either way went these two teams go to battle.
With that said, here are some bold predictions for tonight's 8:30 PM tip-off.
Prediction #1: The Celtics Will Take Advantage of Chris Bosh's Injury
Slam Magazine reports that the Miami power forward is still coping with an abdominal strain, which will keep him on the bench at least for the start of this series. Bosh has started to go through drills in practice, per Michael Wallace of ESPN.com. Yet, he's still ruled out indefinitely.
The injury does not bode well for the Heat, who will start defensive-minded Shane Battier in his place to guard Brandon Bass, who is averaging 15.2 points over the Celtics' last five games.
"He proved his worth in the series against Indiana, and now he'll need to repeat his work against David West against another bulkier opponent, Brandon Bass," said Ethan J. Skolnick of the Palm Beach Post.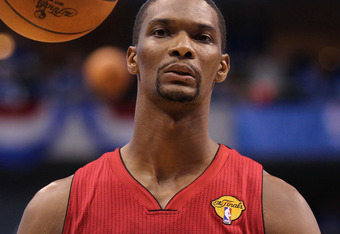 Mike Ehrmann/Getty Images
Battier is a proficient defender, yet the 10-year vet doesn't bring much to the table offensively. This season, the former Duke Blue Devil has averaged just 4.8 points per game. Bosh on the other hand, put up 18 points and 7.9 rebounds during the regular season.
The discrepancy in production between Battier and Bass gives a significant edge to the Celtics.
Prediction #2: Ray Allen's Ankle and Avery Bradley's Shoulder Surgery Leave the Celtics Struggling at Shooting Guard
Ray Allen has been very quiet this postseason, largely due painful bone spurs in his ankle. With starting guard Avery Bradley lost for the remainder of the year, Allen has to return to form. Yet his recent output makes that premise doubtful.
Over the last five games, Ray Allen has looked like a shell of his former self, averaging 6.6 points per game and shooting 33 percent from the field. However, he did manage to make two crucial three pointers against the 76ers in game seven on Saturday.
"He had back-to-back plays where he was wide open and passed up the shot," Celtics coach Doc Rivers said to ESPNBoston.com's Chris Forsberg. "And when we took him out, I went over to him and said, 'Hey, listen, we're not going to have that.' And he just said, 'My foot is killing me. I need a break. I'm good.' And I told him again, 'Ray, listen, you don't ever pass up shots.'"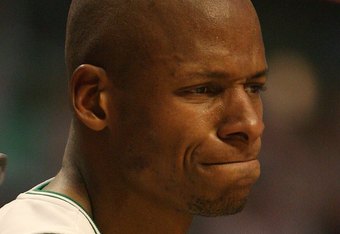 Jonathan Daniel/Getty Images
Allen is providing very little offensively or defensively, so Mickael Pietrus and Keyon Dooling will have to supply the Celtics with some sort of boost. After all, someone has to guard Dwyane Wade.
Prediction #3: LeBron James Will Score Over 30 points Tonight
There's no other way to slice it. LeBron James has been a scoring machine in these playoffs.
King James has put up 29 points per game this postseason, as well logging five assists and eight boards. Keep in mind, the Pacers' Danny Granger did an excellent job of harassing LeBron. However, it wasn't enough—so can Paul Pierce hold him under 30 points? Not likely.
Prediction #4: The Celtics Will Steal a Close Game One in Miami
The winner of Game 1 goes on to win the conference finals series 80 percent of the time, which makes tonight all the more pivotal.
The Celtics have been feeling confident going into this series, and knowing that Bosh isn't on the floor should fuel their fire.
"We know we are capable of going into their building and getting the win," forward Paul Pierce said to the media (via Gary Dzen of boston.com). "But they're a different team. They're in a playoff mind-set now...they are going to be a lot more difficult."
Boston has some players who are on a roll. Paul Pierce is good for 20 points on any given night, point guard Rajon Rondo has posted three triple-doubles this postseason, and Kevin Garnett has averaged 18.8 points and 10.8 rebounds over the last five contests.
It won't be a cakewalk for the Celtics. In fact, it will be a "bar fight," as Garnett would say. Despite a tremendous effort from LeBron James, veteran grit will lift the Celtics to 1-0 series lead.