UFC 146 Results: 5 Fights for Stipe Miocic to Take Next
Credit: fightwriting.com

Stipe Miocic is quickly becoming one of the UFC heavyweight division's standouts. With his granite chin, knockout power and solid ground game, he is a force to be reckoned with inside the cage.
Thanks to this skill set, the 29-year-old Croatian is unbeaten in his mixed martial arts career, and he holds notable wins over Joey Beltran, Phil de Fries and, most recently, Shane del Rosario.
His win over del Rosario at UFC 146 was particularly impressive. After being picked apart on the feet by his opponent in the first round, Miocic came out in the second and immediately secured a takedown. From there, Miocic unleashed some brutal ground and pound that left del Rosario bloody and beaten.
In a division that is growing deeper every day, Miocic finds himself with plenty of opponents for his next fight.
Here are five fights I would like to see Miocic consider for his next battle inside the UFC Octagon.
Matt Mitrione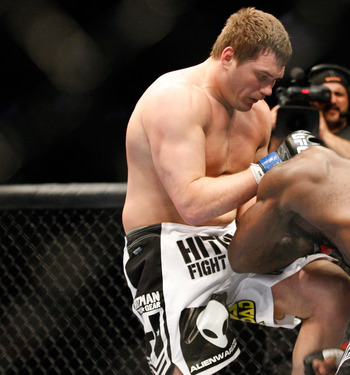 Richard Wolowicz/Getty Images
Before his loss to Cheick Kongo at UFC 137, Matt Mitrione was on a fast-track to UFC superstardom.
With his incredible speed, power and athleticism, Mitrione was proving to be a difficult out inside the Octagon, and many were wondering if he was the future of the division.
Unfortunately for Mitrione, Kongo employed a perfect gameplan to negate his strengths, and he lost a lackluster unanimous decision in that fight.
Now, Mitrione finds himself in a UFC on FOX 4 tangle with the unheralded Rob Broughton.
Should Mitrione dispatch of Broughton as expected, a matchup against Miocic would be a solid follow-up fight to see where each fighter currently stands in the division.
They are both well-rounded athletes with phenomenal cardio and stand-up, and this fight would likely turn into an entertaining and technical display of the evolution of the heavyweight fighter.
Gabriel Gonzaga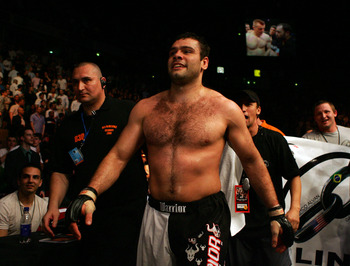 Gary M. Prior/Getty Images
This is possibly my favorite matchup on the list.
Gabriel "Napao" Gonzaga is always entertaining inside the Octagon, and he can end the fight from anywhere at any time.
What makes this fight even more interesting, however, is the storyline of revenge that the UFC could hype in the lead up to the fight.
In 2007 at UFC 70, Gabriel Gonzaga landed the "kick heard 'round the world" on Croatian legend Mirko "Cro Cop" Filipovic.
At the time, "Cro Cop" was one of the most hyped fighters in the heavyweight division, and Gonzaga ended the mystique with one flick of the hips.
As a man with pride in his Croatian roots, Miocic would find himself in a fight for himself and for his country against Gonzaga.
Count me in.
Pat Barry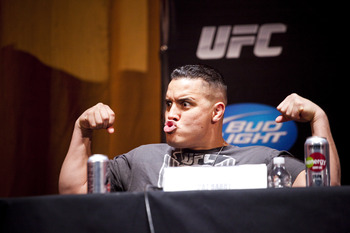 Michael Nagle/Getty Images
While the UFC does not typically match up fighters coming off a loss with fighters coming off an impressive win, I like this fight against Barry for Miocic.
Barry is one of the most entertaining and deadly fighters in the heavyweight division, and his fights are guaranteed fireworks, win or lose.
This fight would be interesting to see if Miocic could deal with Barry's power and technical striking abilities, and it would also show how far Barry's ground game has come should Miocic look to take the fight to the mat.
It's a win-win for the fighters and the fans, and that is exactly the type of fight the UFC looks to put together.
Shane Carwin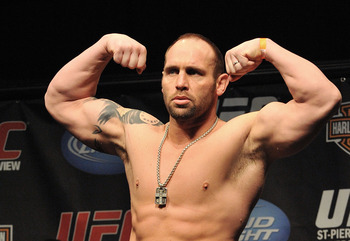 Jon Kopaloff/Getty Images
Where, oh where have you been Mr. Carwin?
Since his loss to current champion Junior dos Santos at UFC 131 in January 2011, Carwin has seen a variety of injuries prevent him from stepping inside the Octagon.
Any injury dealing with the back and spinal cord is no joke, so throwing Carwin to the top of the division upon his return might not be the most prudent decision for the UFC if they want him to grow back into the contender he was pre-injury.
A bout against Miocic is not without its dangers, but it would be a perfect fight to see if Carwin still has anything left to give the sport he loves.
For Miocic, a win over Carwin would rocket him up the division and establish him as a legitimate contender.
Again, this is a win-win for the fighters and the fans.
Antonio "Bigfoot" Silva
Credit: MMAjunkie.com
The UFC 146 card also saw the Octagon debut of this gargantuan man, Antonio "Bigfoot" Silva.
Unlike Miocic, however, Silva's bout did not quite go according to plan.
Against Velasquez, Silva was immediately taken down and obliterated with some absolutely vicious ground and pound.
Silva bled like few fighters before him, and the fight was stopped due to his inability to mount any sort of defense against the former champ.
The loss will undoubtedly send Silva down the rankings, and I think a matchup with Miocic is perfect for each fighter.
Being the "man who (also) defeated Fedor" still draws the audience in, and Silva would be a nice step up for Miocic.
Even better, this fight is very winnable for Miocic, as his technical and quick striking could be the ticket to a huge victory.
For a rising heavyweight looking to make a statement, this fight would be ideal.
Keep Reading