Roger Federer: What Fed-Ex Must Do to Win 2012 French Open
May 28, 2012

Clive Brunskill/Getty Images
By defeating Tobias Kamke in the first round of Monday's French Open at Roland Garros, Roger Federer now finds himself tied with Jimmy Connors for most Grand Slam match wins all time.
Federer out-dueled Germany's Kamke, 6-2, 7-5, 6-3 on his way to his 233 Grand Slam victory. Yet he's eyeing more than just an opening round win—Federer wants the 2012 French Open trophy.
The road ahead is a long one for the 16-time Grand Slam champion. To put it simply, there are a few obstacles Federer must overcome to be crowned the singles winner: age, the clay court, clay-court master Rafael Nadal and No. 1 in the world Novak Djokovic.
Federer will turn 31 in August, and history is not on his side. The last player in his 30s to win a Grand Slam tournament was 33-year-old Andre Agassi at the 2003 Australian Open. To make matters more grim, Federer hasn't won a Grand Slam title since the Australian Open in January of 2010, his longest dry spell since his first Grand Slam victory at Wimbledon in 2003.
One thing that should benefit Federer in his tourney run is the French Open's clay surface. That is, unless he's playing Rafael Nadal.
"Federer's record has established him as one of the great clay-court players of the Open era," said Fox Sports' Richard Evans in April. "Nadal may have a huge winning margin over him on this surface, but Federer has been the second best clay-courter in the world by some distance."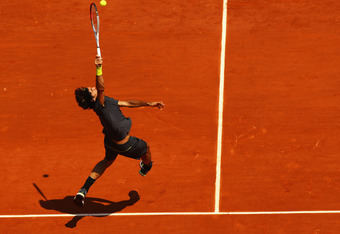 Clive Brunskill/Getty Images
It was Federer who ended Nadal's two longest winning streaks of 81 and 33 consecutive matches on clay. Yet, the task will be daunting with Nadal prepped to win his seventh French Open, which would be a new record. Since 2005, the Spaniard is an untouchable, 220-9 on clay.
"To me, he's the greatest clay-courter ever -- already. To me, what he's chasing is trying to chase down Roger, and get into the conversation of being the greatest of all time, and the greatest of this era," said ESPN analyst Patrick McEnroe. "And if it wasn't for a guy named [Novak] Djokovic, he might be knocking on the door of doing that."
Djokovic is another player who will pose a threat to Federer, as always. With Nadal and Djokovic ranked No. 1 and 2 respectively, they can only meet in the finals. That spells bad news for Federer, but it's not all doom and gloom: Djokovic has never competed beyond the semifinals at Roland Garros. That said, Djokovic still has an opportunity to accomplish something which hasn't been done since 1969: win four major championships consecutively.
Ultimately, Roger Federer cannot look too far ahead, or he will be bounced in Round 2. However, the keys to his 17th Grand Slam depend heavily on age, clay and the two highest ranked men in tennis.