NBA Draft 2012: 10 Sleepers Who Will Surprise as Pros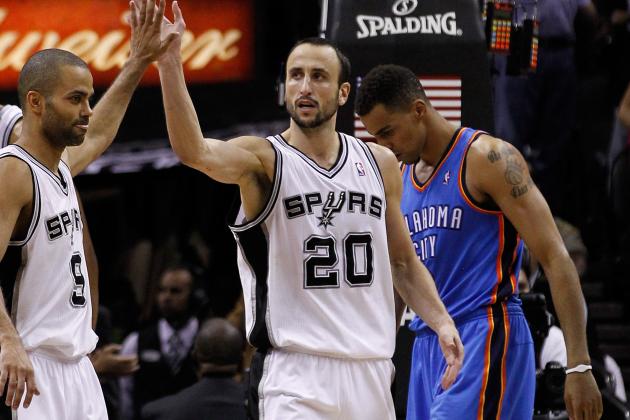 Tom Pennington/Getty Images
Yes that was the 57th overall pick of the 1999 NBA Draft leading the Spurs to a Game 1 victory.
Just when the NBA was nice enough to narrow its extensive playoff field down from 16 to four teams, look out, here comes the NBA draft.
The lottery to determine the order the top 14 teams pick in will be held on Wednesday, May 30, 2012.
The actual draft will be held less than a month later on June 28, 2012.
Every draft features its own list of "can't miss" types of prospects. This season names like Anthony Davis, Bradley Beal and Michael Kidd-Gilchrist are already being anointed future All-Stars before ever playing a minute of NBA basketball.
The Draft isn't all about "can't miss" guys though.
On Sunday Night May 27th the San Antonio Spurs beat the Oklahoma City Thunder in Game 1 of the Western Conference Finals. The Spurs were led by the 2008 Sixth Man of The Year award winner Manu Ginobili.
Ginobili shredded the Thunder for 26 points off the bench. He was also the 57th overall pick of the 1999 draft.
It's been almost 13 years but teams are still sleeping on this NBA draft "sleeper."
What players could end up shining from the back of this season's draft?
Begin Slideshow

»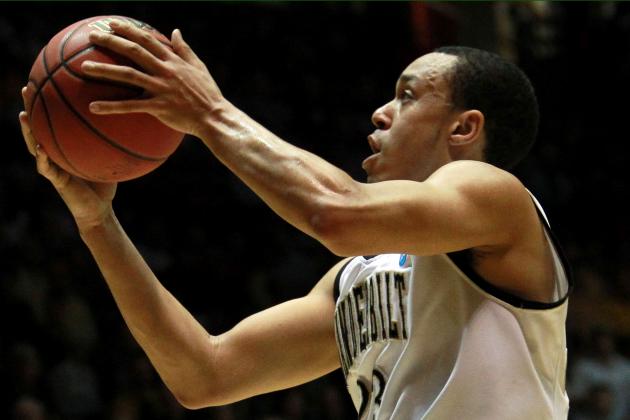 Ronald Martinez/Getty Images
John Jenkins could flourish in the NBA under the right circumstances.
John Jenkins 6'4" Junior Shooting Guard: Vanderbilt
John Jenkins isn't that tall, he isn't that spectacular an athlete, and he doesn't possess the type of blazing speed that will allow him to race ahead of defenders and break down defenses.
So how in the world is he going to make it in the NBA?
John Jenkins can shoot the basketball.
That's not always enough to insure one of a fruitful NBA career but it's a nice place to start. One major determining factor when it comes to players like Jenkins is where they end up playing.
If John Jenkins can land on a team that doesn't need him to be things he is not, such as a great all around player, or a starting guard then he can be one of those key role players. The type of guy that comes off the bench to play alongside other skilled players. Those players could draw double-teams or create defensive imbalances.
When that happens, the star players make smart decisions. They reverse the ball and find the open guy. If that guy is Jenkins he's perched beyond the three-point line waiting to drop in an open shot.
Is Jenkins Craig Hodges, Steve Kerr or the younger equivalent of an aging Dale Ellis? There are going to be some teams eager to find out.
Streeter Lecka/Getty Images
Can Quincy Miller harness the talent that made him a top high school recruit in the pros?
Quincy Miller 6'9" Freshman Small Forward: Baylor
Quincy Miller was as highly rated a high school recruit as many of the players slated to go near the top of this year's draft lottery.
Miller was an unstoppable scoring force in high school. He was rated in the top 10 and five stars by recruiting services.
He suffered a torn ACL in December of his senior year of high school. Yet Miller still managed to put together a fairly impressive freshman campaign at Baylor. He did suffer from the inconsistency one might expect from an 18-year-old who barely played basketball in his final year of high school.
Now he's in the NBA draft and while many of the other top prospects of last year's college basketball recruiting class are slated to go in the lottery, Miller is expected to drop into the middle or later parts of the first round.
Quincy Miller has gobs of potential. The key to unlocking that potential may lie in the team, and circumstances he walks into. Regardless of whatever NBA uniform he eventually ends up wearing. Miller needs to land on a team willing to wait out a few seasons of development. If he does then he may end up being every bit as good as some of the players who will likely be picked near the top of this June's draft.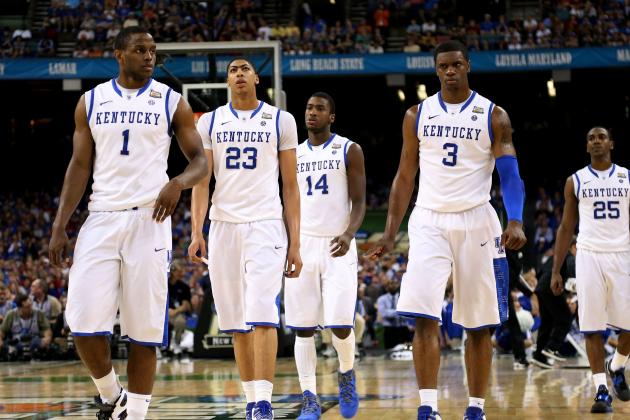 Ronald Martinez/Getty Images
When most of your college teammates are top picks it's easy to be overlooked.
Darius Miller 6'7" Senior Small Forward: Kentucky
The NBA has become so used to getting its best players after their freshman or sophomore seasons that when a senior appears on draft boards it's more of a "red flag" than a badge of honor.
Last year's national champs, the Kentucky Wildcats, will place quite a few players in the NBA next season. Darius Miller won't arrive with the hype of teammates like Anthony Davis, Michael Kidd-Gilchrist or Terrance Jones.
He's going to arrive though. Miller is a player who is already well aware of how to find his role when faced with teammates who have more natural talent. He's been on numerous Kentucky squads loaded with NBA lottery picks.
Miller won't arrive in the league pre-occupied with star-status or minutes. He's going to want to figure out where and how best to fit in. The odds seem stacked in his favor that he'll be able to do that, he's got plenty of experience already.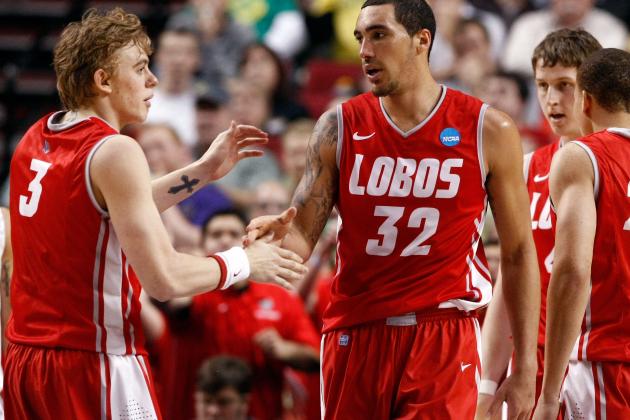 Jonathan Ferrey/Getty Images
Drew Gordon has NBA athleticism and already knows about battling adversity.
Drew Gordon 6'8" Senior Power Forward: New Mexico
Drew Gordon already knows a thing or two about dealing with adversity. Gordon was one of the players highlighted as part of a culture that lacked discipline at UCLA in Sports Illustrated this past March.
By the time the article hit the news stands Gordon was no longer at UCLA. He was playing for New Mexico. Gordon wasn't just playing for New Mexico. The bruising and hard working power forward averaged a double-double in his senior year. He helped lead the Lobos to the NCAA Tournament where they would lose to eventual Final Four entry, the Louisville Cardinals in the second round.
Now Gordon is poised to enter the NBA. He is being projected as second-round pick. Second-round picks aren't expected to become NBA stars. The ones that make it often make it based as much on their work ethic and willingness to adapt to a limited role as their natural talent.
If that's the case then Gordon already has a head start on the competition. He's already dealt with national media scrutiny. He's already experienced changes in scenery as a result of his transfer from UCLA to New Mexico. He's also succeeded in spite of those challenges.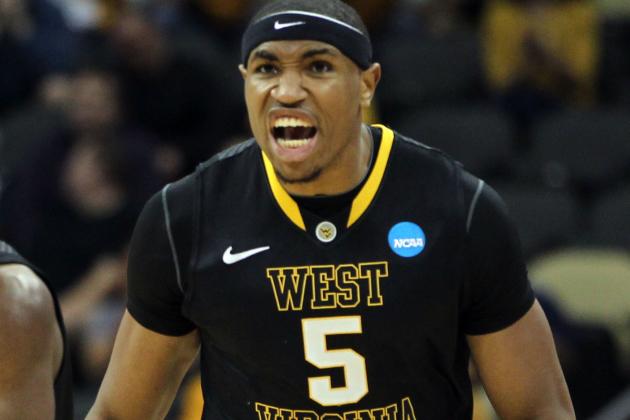 Gregory Shamus/Getty Images
Kevin Jones maturity and experience could put him ahead of the pack when the NBA tips-off this fall.
Kevin Jones 6'8" Senior Power Forward: West Virginia
Kevin Jones might not have been the type of player who dominated highlight reels while playing for West Virginia over the last four years, but that doesn't mean he didn't dominate.
Jones was an extremely hard-working, and tough power forward that got progressively better in each of his four seasons as a Mountaineer.
By the end of his senior season he was averaging a double-double and shooting over 50 percent from the floor.
At only 6'8" Jones is too small to be a starter in the NBA. He's not too small to be a valuable role player. Jones could be a DeJuan Blair type of player. The former Pitt Panther is of a similar build, he's actually a bit shorter and bit wider but both players have a Big East pedigree.
Jones is a very good offensive rebounder. Rebounding is all about work and drive and offensive rebounding is always valued by coaches. It's tough to find players who make the offensive glass a priority since that priority will often come at the expense of the more glamorous "points" statistic.
If Jones keeps his eye on the ball as it comes off the rim he could carve out a nice career for himself in the NBA.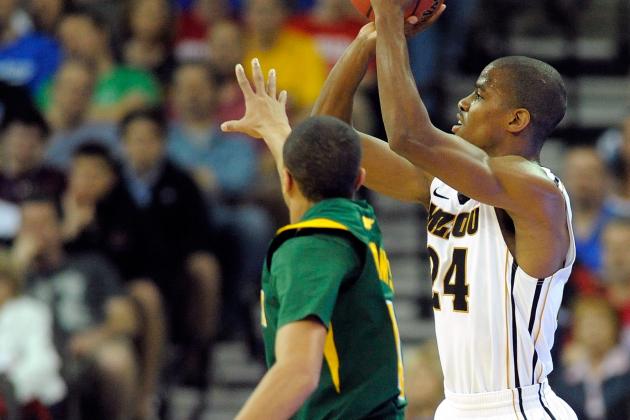 Eric Francis/Getty Images
Kim English may be one-dimensional but it's a valued dimension.
Kim English 6'5" Senior Shooting Guard: Missouri
More often than not playing in the NCAA tournament offers college players an excellent chance to improve their draft standing.
Not in Kim English's case.
The starting senior shooting guard was a key part of a Missouri basketball team that entered the 2012 NCAA tournament as a No. 2 seed picked by many to advance to the Final Four.
Instead the Missouri Tigers became part of a short list of No. 2 seeds to be upset by No. 15 seeds in the opening round.
Norfolk State shocked the Tigers and English who averaged 14.5 points per game on 52.1 percent shooting was only 1-for-7 from the floor for two points in the season ending loss.
The loss may end up haunting English well into the night of the draft. It doesn't have to alter his NBA career though.
English does one thing well. He shoots the ball. He's not a great defender and he's not great at creating his own shot. That doesn't always prevent great shooters from making it in the NBA. Especially when they're 6'5" with long arms.
A player like English needs only to land on a team where there are some great offensive players to succeed in a limited role as a sharpshooter.
Think of English as a smaller version of Steve Novak with slightly better lateral quickness. In other words put him on the opposite side of the best offensive player on the floor and when the double-team comes, reverse the ball and get it to the wide open guy named Kim English. His natural ability will take over from there.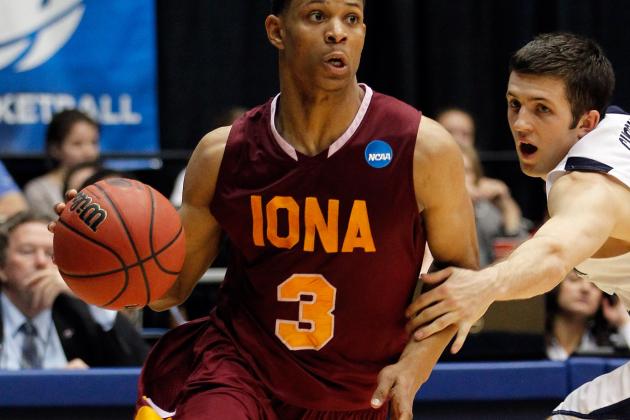 Gregory Shamus/Getty Images
Scott Machado of Iona may find himself with an NBA job this fall.
Scott Machado 6'2" Senior Point Guard: Iona
Playing point guard in the NBA doesn't just require quickness, ball-handling and leadership abilities. It's also highly advisable that the player have some mental toughness and maturity as well.
That's probably why a slightly undersized senior point guard who spent his youth playing basketball in Queens, New York is getting some serious looks from teams picking high in the draft's second round.
That point guard would be Iona's Scott Machado. Machado showed some impressive skills in his senior season at Iona.
He averaged 13.6 points per game while shooting 49.5 percent from the floor. Even more tempting for scouts were Machado's averages of 9.9 assists and only 3.3 turnovers per game. A three-to-one ratio that would impress at any level of basketball.
When Machado's 81.1 percent free throw accuracy is factored in the finished picture has all the looks of a potentially solid career as an NBA point guard.
Machado looks a lot like a guy who is aware of both his strengths and his weaknesses. He takes good shots, makes good passes and hits his free throws. Some NBA teams may pass him up in lieu of bigger name players from higher profile schools.
Machado may make them regret that decision down the road.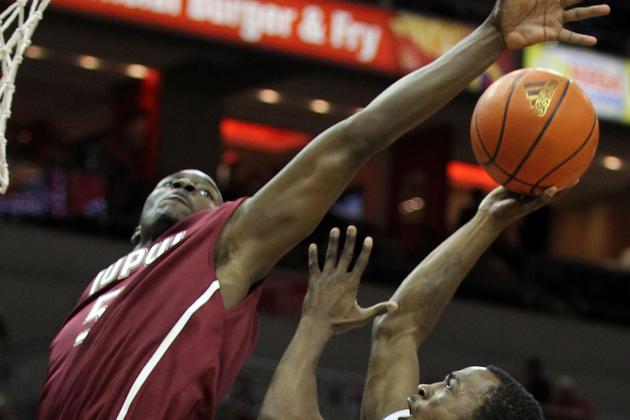 Andy Lyons/Getty Images
Young's long reach could add another dimension to his NBA game.
Alex Young 6'6" Senior Shooting Guard: IUPUI
The issue with Alex Young is not his body. He's built like an NBA shooting guard and has the athleticism to boot.
Can he play at that level? Young averaged over 20 points per game his senior season but shot just 42.4 percent from the floor. He was able to use his superior athleticism to get to the rim and finish.
Once he gets to the NBA that is going to be far more difficult. Jones is going to have to hit shots that aren't right around the rim.
For Young the key to NBA success lies on the other end of the floor.
Defense.
Young averaged 1.6 steals and 1.0 block per game as a senior. With his athletic ability he could become a stopper off the bench. One who also can finish on the break or convert at the free throw line as well.
Young might not be a future star in the NBA but he could be a valued defensive contributor off the bench and he might just throw down some jaw-dropping dunks along the way.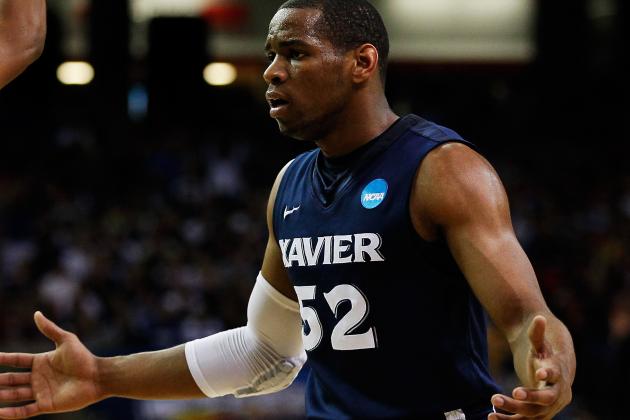 Kevin C. Cox/Getty Images
Tu Holloway could be a lesser version of Ty Lawson
Tu Holloway: 5'11" Senior Point Guard: Xavier
Holloway initially declared for the 2011 NBA draft following a very successful junior season manning the point guard position at Xavier. Then he reversed course and decided to return for his senior year.
That sounds like a nice story but in reality it might have been an ill-conceived decision. Holloway's senior year wasn't as good as his junior campaign and now he finds himself in a deeper draft which could impact his eventual placement in the selection process.
Just because his senior season wasn't as good as his junior one doesn't mean he can't play at the next level. NBA players have good seasons and not-as-good seasons sometimes. One doesn't always serve as a precursor to the next.
Halloway is still very fast, he's still got a great first step and a body built to withstand the punishment of the NBA game. He's also not a great shooter who can be turnover prone. Place Holloway on a team with a veteran point guard playing in front of him and let Holloway learn. He won't make an immediate positive impact but he's got enough talent to develop into a guy that will earn some minutes.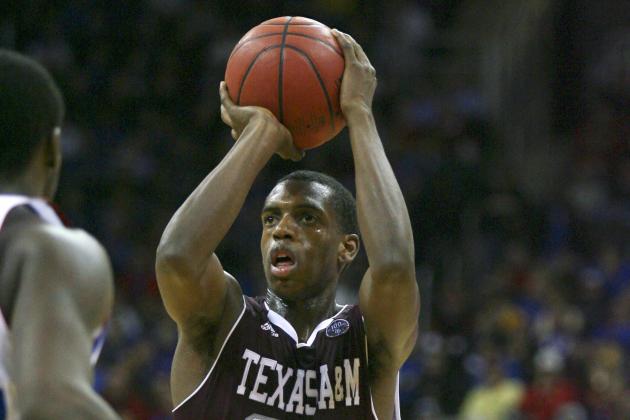 Ed Zurga/Getty Images
Middleton's picture perfect shooting form won't hurt him with NBA scouts.
Khris Middleton 6'7" Junior Small Forward: Texas A&M
Khris Middleton is a junior small forward who Chad Ford refers to as a "classic swingman."
If he's so "classic" then why is he not sitting atop numerous draft boards?
He's not a great shooter. That's a problem. Perhaps when Ford says "classic" he's referring to Middleton's build?
What will matter for Middleton is whether or not he can become a decent enough defensive presence in the NBA to offset him limited offensive capabilities.
That's the story for lots of players selected in the second round. It's also a great way to insure oneself of a long and fairly lucrative NBA career.
In a league that depends on stars coaches are always on the lookout for players willing to let others take on the more glamorous tasks of scoring and dunking in lieu of getting steals, rebounding or playing lock-down defense. Middleton's frame does suggest he could be that type of player, and that could keep in the league for a while.