Jason 'Mayhem' Miller: 5 Memorable Moments from His Career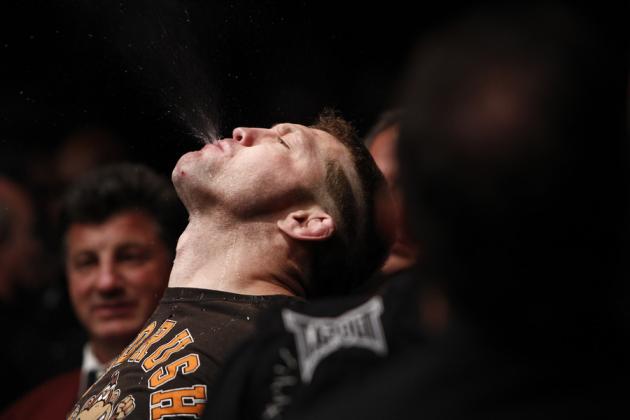 Jason Miller - Esther Lin/MMAFighting
Jason "Mayhem" Miller's second stint in the UFC was like a passing daydream.
The flamboyant MMA star was cut from the promotion shortly after losing his second consecutive bout to C.B. Dolloway at UFC 146 on Saturday night.
Cardio issues have plagued Miller since his UFC return. Despite his alluring personality, Miller has wilted under the spotlight in back-to-back outings.
His performances alone are grounds for dismissal, but UFC president Dana White stated that Miller was released for an undisclosed incident that happened backstage.
"Mayhem's done. He's gone," White told reporters at the post-fight press conference. "[The incident] was just some bulls--t that I don't want to talk about. We're on a crazy string here of dumb bulls--t."
"When you get embarrassed the way he did against Michael Bisping, then you show up in the pink whatever that thing was, I'm not into that stuff. It's not my thing. I guess I don't really care if guys do it because you see it at weigh-ins all the time. Just take this thing serious. If you want to be a clown do that stuff on your reality show."
Throughout his MMA career, Miller has never been one to shy away from the spotlight. He has provided fans with plenty of lasting memories.
Character is a quality that is rare in existence but deeply embraced by the combat world. Miller's outlandish style and entertaining personality even landed him a hosting job on MTV's Bully Beatdown.
As the curtains close on his UFC career, we take this time to remember the most memorable moments of Miller's career.
Begin Slideshow

»
The ongoing rivalry between Miller and Cesar Gracie Jiu-Jitsu is long-lived and well-documented.
In November 2009, Miller lost a unanimous decision to Jake Shields in a Strikeforce middleweight title bout.
There were plenty of words exchanged following the fight, but the boiling point came at a Strikeforce event held in Nashville, Tennessee on April 17, 2010.
Shields had just defeated Dan Henderson.
In the middle of his post-fight interview, Miller came into the cage uninvited and asked for a rematch, which prompted a massive scuffle with Shields' teammates during a live CBS broadcast.
Jason Miller - Esther Lin/Strikeforce
There are few fighters who can take a serious beating and smile back at their opponents.
Miller can be a jokester at times, but his toughness is second to none. Georges St-Pierre gave him the thrashing of a lifetime at UFC 52.
Still, the bloodied Miller wiped his face clean between rounds and continued to show a massive grin throughout the bout.
He was truly enjoying the moment.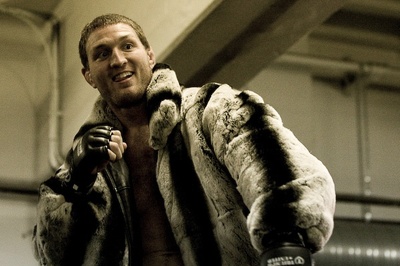 Jason Miller - Esther Lin/Sherdog.com
One of Miller's most outrageous moments came in an appearance on HDNet's The Voice in an interview with Michael Schiavello.
He was given a list of names and asked which celebrity he would choose to "bed," if given an opportunity.
The list included such stars as Sandra Bullock, Britney Spears, Lindsay Lohan, Lady Gaga and Justin Bieber.
Miller jokingly chose Bieber "just for the haircut."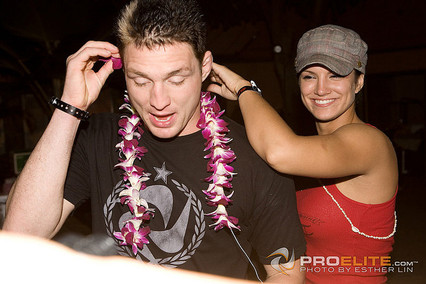 Jason Miller - Esther Lin/ProElite.com
During his Dream 16 bout against MMA legend Kazushi Sakuraba, Miller took the time to post up from top position and deliver a peace sign to the camera.
Some longtime fans saw the action as disrespectful to an aged legend like Sakuraba, but given Miller's abnormal track record, the vast majority chalked it up as another insane, yet memorable moment from the seemingly crazed star.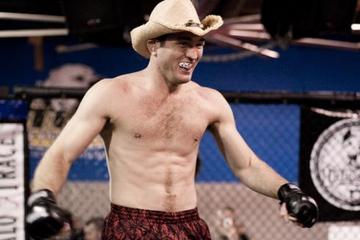 Jason Miller - Esther Lin/Strikeforce
Miller has always been known for flashy and entertaining fight entrances, but his entrance for his bout against Jake Shields on CBS made him a star.
There were the Strikeforce girls, Miller and plenty of booty shaking.
Despite losing, Miller's fanbase skyrocketed, as fans really bought into his unique personality.
For Miller, he was just doing what he's always done, but with the bout being aired on mainstream television, more eyes were introduced to the character longtime fans have known as "Mayhem."