Thunder vs. Spurs: Game 2 TV Schedule, Live Stream, Spread Info and More
May 28, 2012
Behind a 39-point fourth quarter in Game 1, the San Antonio Spurs were able to erase a second-half deficit and take a 1-0 series lead over the Oklahoma City Thunder.
In doing so, the Spurs extended their winning streak to 19 games. San Antonio hasn't suffered a defeat since April 11 and joined the 2001 L.A. Lakers as the only other team to carry a winning streak this long in the playoffs.
If the Thunder don't find a way to shoot the ball better and fix the defensive breakdowns that plagued them in the fourth quarter, the Spurs will make it an even 20 straight on Tuesday night.
Led by a spectacular 26-point effort from Manu Ginobili off the bench, the Spurs Big Three outplayed the Big Three of Oklahoma City in the first game of what promises to be an epic series.
Ginobili, Tony Parker and Tim Duncan combined for 60 points, 24 rebounds and 11 assists while shooting 48 percent from the floor.
The Thunder's trio of Kevin Durant, Russell Westbrook and James Harden had their struggles from the floor in Game 1, at one time combining to make only five of their first 21 shot attempts. On the night they finished with a combined 63 points, 21 rebounds and 10 assists, but did so by shooting only 39 percent from the floor.
Oklahoma City let one slip away in Game 1, but can it make the necessary adjustments for Game 2?
Here's everything you need to know about this Western Conference finals battle.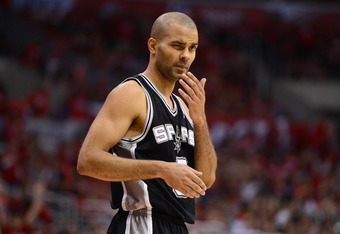 Harry How/Getty Images
When: Tuesday, May 29 at 9 p.m. ET
Where: AT&T Center in San Antonio, Texas
Watch: TNT
Live Stream: None
Betting Line: San Antonio (-4.5), via 5Dimes
Thunder Key Injuries (Per CBSSports.com)
No key injuries reported.
Spurs Key Injuries (Per CBSSports.com)
No key injuries reported.
What They're Saying
Spurs head coach Gregg Popovich wasn't happy with his team's effort through three quarters and offered up a great soundbite talking to his team during TNT's telecast (via ESPN's Kevin Arnovitz):
"Are we having fun yet?" Popovich asked the team as they trailed by nine. He raised his voice enough to be heard over "Sweet Caroline," but no more loudly than he needed to. "I need a little bit more dose of nasty. I'm seeing a little bit of unconfident, a little hesitation. It's not supposed to be easy. Every round gets tougher. … Penetrate hard, good passes, shoot with confidence. I want some nasty."
His words were understood loud and clear, as the Spurs scored 39 points in the fourth quarter, shot 75 percent and outscored the Thunder by 12 points en route to the Game 1 victory.
Most Important Player to Watch: Tony Parker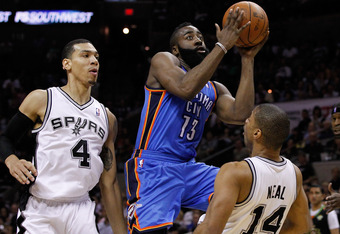 Tom Pennington/Getty Images
Parker not only turned in a solid line of 18 points, eight rebounds and six assists but he also did a solid job guarding Thunder guard Russell Westbrook.
Parker was aggressive, getting into Westbrook early and forcing him into many tough shots. As a result, Westbrook scored only 17 points and made just 7-of-21 shot attempts. Parker's defense in this series is just as important as his offense. If he can continue making things tough on Westbrook, the Spurs will have a greater chance of heading to the NBA Finals.
Key Matchup: James Harden vs. Manu Ginobili
There are so many matchups in this series worth keeping an eye on, but I want to focus on this one.
While Harden and Ginobili may not be necessarily matched up on each other most of the game, whichever player comes off the bench and has the better game will go a long way toward determining the winner.
Round 1 went to Ginobili and his 26-point effort.
Harden finished with 19, making it seem like he had a good game, but he didn't.
Ginobili made timely baskets and had moments where he took the game over.
On the other hand, Harden struggled from the floor again. He's made only 37 percent of his shots the past six games, including a 7-of-17 night Sunday. Harden also picked up a pair of crucial charging calls while the Thunder were in a four-minute scoring drought.
Game 2 could come down to whichever sixth man comes in and gives the most production.
Prediction: Thunder 102, Spurs 99