Andy Roddick: Timeline of A-Rod's Crumbling Image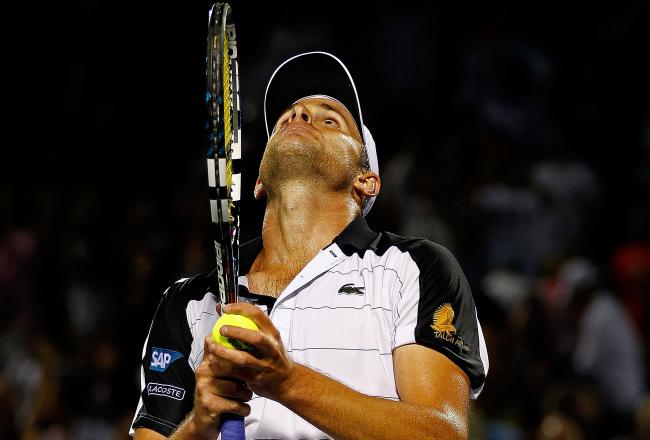 Mike Ehrmann/Getty Images
Andy Roddick has been the face of American tennis for nearly a decade. Ever since his run to win the 2003 US Open, he's usually been the country's best hope at grand slam events. But with his first-round exit at the French Open, his decline has become even more evident.
The 29-year-old former World No. 1 used to blow past opponents with a combination of huge serves and heavy forehands. His internal desire to win was also among the best on tour, allowing him to fight back to win matches where he trailed.
While both of those strengths were far less evident in his loss Nicolas Mahut on Sunday, the signs of his fading ability have been on display for quite some time. With that in mind, let's take a look back at the fall of Roddick.
2009 Wimbledon Final
Looking back on it now, Roddick's epic battle with Roger Federer on the grass courts of Wimbledon could be viewed as his last stand. He stood toe-to-toe with the 16-time major champion before dropping the fifth set, 16-14.
Roddick played some of the best tennis of his career, using his serve effectively despite going up against one of the best returners in the sport. He was never able to get over the hump to finish the deal, however, as Federer claimed another title.
Since that loss, Roddick hasn't advanced beyond the quarterfinals in any of the four majors. For a player with expectations as high as his have been for the past nine years, that's always going to get viewed as a disappointment by fans.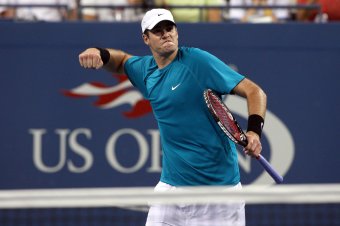 Jim McIsaac/Getty Images
2009 US Open
At the US Open later in the year, there was a changing of the guard in the third round. Roddick lost to fellow big-serving American John Isner, who simply outplayed him playing the same style of tennis that allowed "A-Rod" to reach the top of the sport.
The loss to Isner was a sign things were never going to be the same for Roddick. If he couldn't even power past his own countryman, who was far less accomplished at the time, it would be tough to do it against the game's elite players.
Making matters worse was the fact Roddick entered the tournament with so much momentum after the Wimbledon run, and he still wasn't able to parlay into success at the major that matches his game the best.
Will Roddick ever reach the top 10 again?
2010-11 Nagging Injuries
The next two years were marked by injuries and ailments that kept Roddick from playing like the top-tier player people had come to expect. Everything from a bout of mononucleosis to an oblique muscle injury stopped him from making any progress.
More importantly, the constant issues seemed to mark the end of Roddick's youthful exuberance. He was no longer playing with the same fire that made him stand out for so many years, and without it he just wasn't the same player.
He wasn't used to failing after so many years near the top. The lackluster results and run of health problems really appeared to take its toll on Roddick mentally, to the point where it doesn't seem like he ever fully recovered. And maybe never will.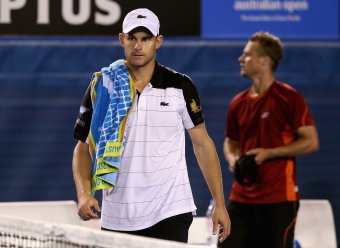 Quinn Rooney/Getty Images
2012 Australian Open
Ever season begins with new hope for every player on tour. For Roddick, it was a chance to prove he was still a threat to win another major. He got off to a good start in the Australian Open with a victory over Robin Haase, but the positive signs ended there.
He was forced to retire from a second-round match against Lleyton Hewitt with a hamstring injury. It was an unfortunate turn of events for Roddick, but also a sign of the times. Just when he started playing well again, another injury pops up.
At full strength, Roddick still has enough firepower to make some noise as he would show in the BNP Paribas Showdown against Federer, where he picked up a win. But his body hasn't allowed him to sustain that level of play at majors.
What's the deepest Roddick will go in a major from here on out?
2012 French Open
Even though Roddick has never had much success at the French Open, that doesn't make a first-round exit any more acceptable for the American. He never found a rhythm against Mahut, eventually losing in four sets to the Frenchman.
Surprisingly, it wasn't treated like a big deal. The combination of Roddick's decline, lack of success at Roland Garros and Mahut being a well-known player all contributed to the lack of reaction when he was spent packing almost immediately at the year's second major.
That more than anything else is a sign that Roddick no longer carries around the same image he once did. Whereas any exit in the opening round would have once been a shocker, the lowered expectations just make it a blip on the radar.
From here on out, Roddick will just be another face in the crowd hoping for a deep run at the biggest events. And, based on recent form, it's a long shot.
This article is
What is the duplicate article?
Why is this article offensive?
Where is this article plagiarized from?
Why is this article poorly edited?