Bruce Bochy: How Long Can the San Francisco Giants Wait to Fire Him?
May 28, 2012

Jason O. Watson/Getty Images
So the San Francisco Giants won today, beating the Miami Marlins 3-2 to split the four-game series in South Florida. 
Melky Cabrera continued his torrid hitting, going 4-for-4 and raising his average to .369. 
Matt Cain won his fifth game of the season with a fine effort. 
All is well in Giant Land, right? 
Wrong. 
The Giants' resident brainiac, Bruce Bochy, came very close to making today's win into a loss. 
In fact, it seems that rarely a day goes by that Bochy doesn't commit a blunder that either costs his team a win or comes close to causing disaster. 
Today was no exception.   
Cain was cruising along but ran into some trouble in the seventh inning. A Bryan Petersen single, another Angel Pagan error (OK, I'll give Angel some credit, he did make some fine plays in the game) and a walk to pinch-hitter Greg Dobbs on four pitches put the tying runs on base. 
Bochy had Sergio Romo ready in the pen.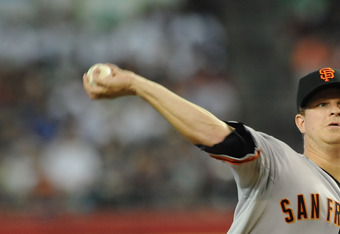 Norm Hall/Getty Images
Bochy had a decision to make. Have Cain face Reyes, who was 9-for-17 with five extra-base hits and five RBI against Cain, or bring in Romo?
Bochy made the decision to stay with a suddenly tiring Cain.
My question is, why? Nobody owns Cain like Reyes does. Mike Krukow would call it "ownage."
Of course the result was predictable. 
Reyes hit a first-pitch line shot to right for a base hit, scoring Petersen. 
Then Bochy took out Cain and brought in Romo. 
Fortunately, Romo was able to get out of the inning and avoid any more damage.  
Romo, Javier Lopez and Santiago Casilla got the final six outs, and the Giants held on for the 3-2 win. 
But how many times does Bochy have to get burned before he learns when to pull his starter? It cost Tim Lincecum in his last start and Madison Bumgarner the start before last. 
It happens again and again and again, usually resulting in a loss, like in the two instances I just mentioned. 
Now you can say that I'm saying all of this in hindsight, but this is not the case. Like many of you, I "manage" as the game goes on. And in all three of those instances, I had the starter coming out before the trouble started.
I would have gone with Romo to face Reyes. Now, if I can figure it out, why can't Bochy?
Granted, nothing is guaranteed. But I can see on TV when the starter is ready to come out. Bochy should certainly be able to see it from the dugout, don't you think? 
I've asked the question many times before: Why does Bochy have these guys warming up in the first place? Most managers are proactive, pulling their pitchers before disaster strikes. Bochy is reactive, pulling his pitcher after the runs have scored. 
Yes, the Giants won the game, and I'm happy about that, but it could have been a much more comfortable 3-1 win that was a lot less stressful. But Bochy creates his own stress with lousy managing. And his move could well have cost the Giants the game. 
It's also true that the Giants bullpen hasn't been as dependable this season. But the back end has— Romo, Lopez and Casilla have been nails. Yet Bochy consistently waits too long to go with them. 
The Giants are overall playing some pretty good ball right now. The starting pitching has been solid, with the exception of Lincecum's woes. The defense is still suspect, but it continues to improve. The hitting has picked up considerably; however, it still needs to get much better with runners in scoring position. 
This team has an opportunity to go on a run and challenge the still-hot Los Angeles Dodgers for the division lead. After all, it's still May. 
It would be nice to see general manager Brian Sabean make a bold move about the manager's seat sooner rather than later. I can't see this team going forward with Bochy at the helm. It's always two steps forward, one step back. That won't be good enough to catch the Dodgers this year.