2012 NBA Draft Lottery: Predicting Every Lottery Team's Selections If Odds Hold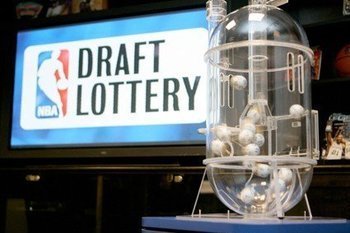 The best part about the NBA draft is the unpredictability. Who will be the first pick? Which teams will surprise everyone with their selection? There is no sure way to answer those questions.
Yet, even more unpredictable is the NBA Draft Lottery, which determines the order of the first 14 picks. Each team has certain odds of landing the top pick, and the way the chips fall in this instance may or may not set the tone for the draft itself.
The odds for this year's lottery have been out for a while, with the Charlotte Bobcats holding the greatest odds of landing the first overall pick. Should the team win it, they will most likely take Kentucky forward Anthony Davis.
That said, let's have a look at the current odds of the 2012 NBA Draft Lottery and try to predict who each team will choose with their respective pick.
No. 1: Charlotte Bobcats, Anthony Davis, F, Kentucky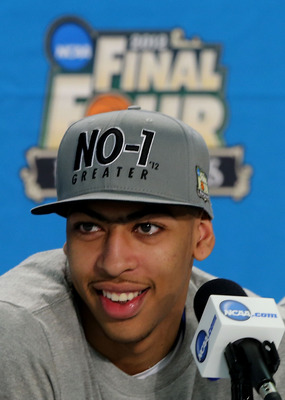 Jeff Gross/Getty Images
The Bobcats won just seven games last season, so if they are to receive the first overall pick, they need to take the best player available. In this year's draft class, that is Kentucky freshman Anthony Davis.
Simply put, Davis has it all. He has great height at 6'10" and averaged an astonishing 4.7 blocks per game last year as he helped the Wildcats win a national championship. He was a decent scorer and rebounder too, though his 220-pound frame is a bit small for one hoping to be an NBA power forward.
Still, this young man's upside and potential are just too good to pass up. The Bobcats need a player who can inject life into the franchise and with a little patience; Davis can be that guy.
No. 2: Washington Wizards, Thomas Robinson, F, Kansas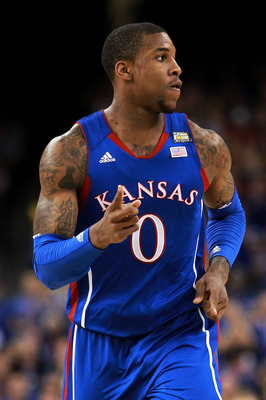 Ronald Martinez/Getty Images
Though Davis may be the blue ribbon of this year's draft class, Robinson is still a great second prize. That said, the Wizards could really use him to clean up the absolute mess they have at power forward.
Robinson already has an NBA body at 6'10" and 237 pounds and brings an explosive Amar'e Stoudemire-like presence to the table. Paired with John Wall and Jordan Crawford, he could very well be the missing piece to the puzzle in D.C.
No. 3: Cleveland Cavaliers, Andre Drummond, C, Connecticut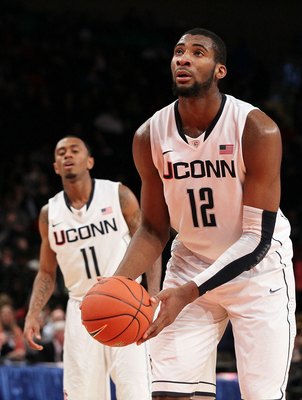 Jim McIsaac/Getty Images
Drummond is a risky pick no matter how you look at him, but the Cavaliers really need a center. The man has great size at 6'10" and 270 pounds and to be perfectly honest, his raw offensive game should be an afterthought for team owner Dan Gilbert.
The fact is that Drummond has the potential to be a great low-post presence in Cleveland and paired with Kyrie Irving, he could very well develop into a solid scoring center.
No. 4: New Orleans Hornets, Michael Kidd-Gilchrist, SF, Kentucky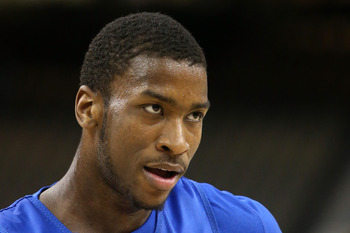 Ronald Martinez/Getty Images
On paper, Kidd-Gilchrist's freshman year at Kentucky appeared merely average. A highly touted prospect, he only averaged 11.8 points and 7.6 rebounds per game. On top of that, his 6'7", 232-pound frame isn't much to write home about.
Still, he is a phenomenal athlete and with a team like the Hornets looking to rebuild from the ground up, Kidd-Gilchrist could be a solid option at small forward. He probably won't get too many minutes to start his rookie season, but with time, he'll become one of the NBA's best.
No. 5: Sacramento Kings, Harrison Barnes, SF, North Carolina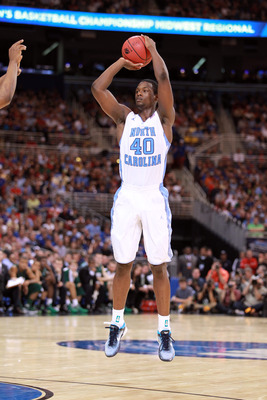 Andy Lyons/Getty Images
The sad truth about Barnes is that he is little more than a scorer. Still, particularly off the bench, this is an area in which the Kings need a lot of help.
Given how Barnes averaged 17.4 points for the Tar Heels last year, this could be a perfect fit if Jimmer Fredette continues to struggle.
No. 6: Portland Trail Blazers, Bradley Beal, SG, Florida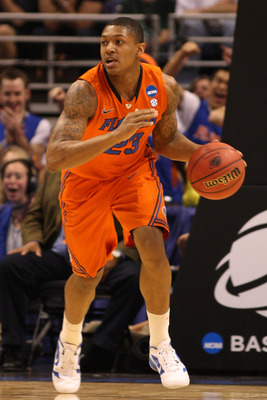 Christian Petersen/Getty Images
Beal is undersized for shooting guard at 6'3", but he's a great athlete. In his freshman season with the Gators, he averaged 14.6 points and 6.5 rebounds.
Given how the Blazers need some help in the bench scoring department, Beal and his shooter's touch will be welcome in the Rose City. Should Wesley Matthews struggle, he could find himself inserted into the starting lineup.
No. 7: Golden State Warriors, Austin Rivers, SG, Duke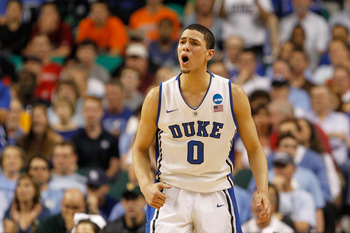 Streeter Lecka/Getty Images
The Warriors already have a talented shooting guard in Klay Thompson, who they selected in the first round of last year's draft. Still, particularly since the team has been prone to visits from the injury bug in years past, it would be a good idea for them to buy some insurance in the draft this year.
That means taking a talented shooting guard to come off the bench when Thompson needs a rest, and Austin Rivers is the perfect fit. He already has NBA genes in being the son of former NBA guard and current Boston Celtics coach Doc Rivers, and his freshman season at Duke was impressive. He averaged 15.4 points and made 36 percent of his three-pointers.
In a system that has been offense-first the past few years, the possibilities for Austin Rivers in Oakland are endless.
No. 8: Toronto Raptors, Perry Jones III, PF, Baylor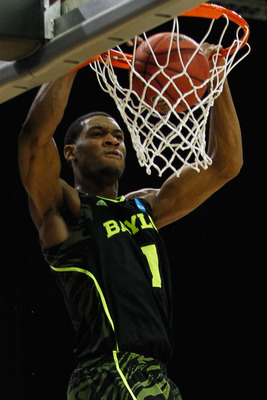 Streeter Lecka/Getty Images
The Raptors have Andrea Bargnani penciled in at power forward, but he is a scorer first and more suited to playing at the No. 3 spot. Enter Jones, whose explosive athleticism above the rim makes him a better option at the 4 than guys like Amir Johnson and Ed Davis. He has good size at 6'11" and 235 pounds and in watching him play, he has a bright future in the league.
The only red flag on Jones is that he has a tendency to become lazy on defense. He only averaged 7.7 rebounds last year, which is quite low for someone his size. Still, with coach Dwane Casey's defense-first approach, Jones has the potential to become one of the best forwards in the league.
No. 9: Detroit Pistons, Jared Sullinger, PF, Ohio State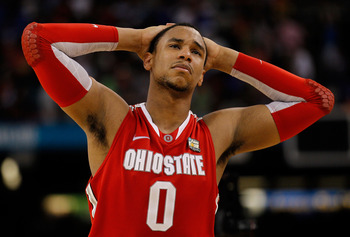 Chris Graythen/Getty Images
The power forward position requires strength and athleticism, and the Pistons just don't have that at the 4. Jason Maxiell has his positive points, but is just too small at 6'7" and 260 pounds.
Sullinger isn't much taller at 6'9", but he weighs 265 pounds and has an NBA-ready body. On top of that, in two years with the Buckeyes, he showed that he could be a veritable force at both power forward and sometimes at center. Last year, he averaged 17.6 points and 9.3 rebounds in leading his team to the Final Four.
More importantly, Sullinger gives the Pistons another big body to provide center Greg Monroe some support. With two big men under the basket, their defense will be stronger and they'll climb higher in the standings.
No. 10: New Orleans Hornets, John Henson, PF, North Carolina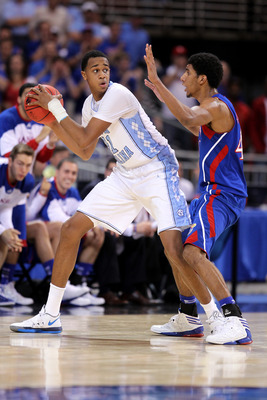 Andy Lyons/Getty Images
Henson is a bit skinny at 6'11" and 220 pounds, but the Hornets really need some help in the rebounding department. They could lose both Chris Kaman and Carl Landry to free agency this summer, so they'll use their second lottery pick to draft some insurance.
Enter Henson, whose Marcus Camby-like build could turn him into a future Defensive Player of the Year. With patience and coaching, his offensive game will evolve some more and he'll become more than just another big man in the middle.
No. 11: Portland Trail Blazers, Kendall Marshall, PG, North Carolina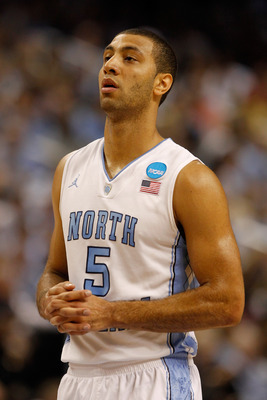 Streeter Lecka/Getty Images
Marshall's sophomore year at North Carolina ended on a sour note, when he fractured his wrist and missed both the Sweet 16 and the Elite Eight. On top of that, while his passing numbers were phenomenal, his scoring left something to be desired.
Still, the Blazers need a lot of help at the point and when it comes to leadership, there's no better option than Marshall. He'll come not just to play, but also to learn. That type of player is a coach's dream.
Given all of the talent he'll have surrounding him in Portland, this pick is as close to a sure thing as we can possibly get.
No. 12: Milwaukee Bucks, Tyler Zeller, PF/C, North Carolina
Andy Lyons/Getty Images
Nothing against Ekpe Udoh, but he doesn't have what it takes to be a starting center in the NBA. Thus, the Bucks will probably look to fill that hole in the draft and they'll take Zeller.
The man has great size at 7'0" and 250 pounds and had a great senior year in Chapel Hill, averaging 16.5 points and 9.3 rebounds. He brings a team-first approach to the table and a great willingness to learn and be coached. Throw in the fact that he made 52 percent of his field goals in college, and it's clear as to why he would be an attractive selection not only for Milwaukee, but for any team.
No. 13: Phoenix Suns, Jeremy Lamb, SG, Connecticut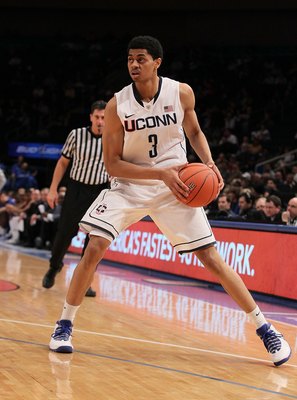 Jim McIsaac/Getty Images
The Suns have had a reputation for being a high-scoring team over the past decade, so it's only natural that they would use their pick on a high-scoring player like Lamb. He averaged 17.7 points for the Huskies last year and has championship experience, having won a national championship two years ago.
Adding to his appeal is the fact that he can dunk as well and with the right coaching, he'll help continue the high-scoring culture that has become so popular in Phoenix.
No. 14: Houston Rockets, Arnett Moultrie, PF, Mississippi State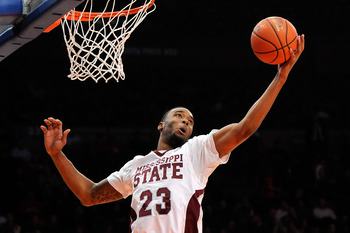 Patrick McDermott/Getty Images
Call it a hunch, but I think that the Rockets are going to do one of two things this offseason: either let Marcus Camby walk via free agency or trade Luis Scola. Should either happen, GM Daryl Morey would still make a great decision were he to draft Moultrie.
Moultrie already has an NBA body at 6'11" and 230 pounds and had a great junior season in which he averaged 15.8 points and 10.6 rebounds. More importantly, his size should allow him to play both power forward and center.
With his scoring ability, that can only be a good thing in the long run.
Keep Reading