Dallas Cowboys: 10 Players Whose Stock Is on the Rise in OTAs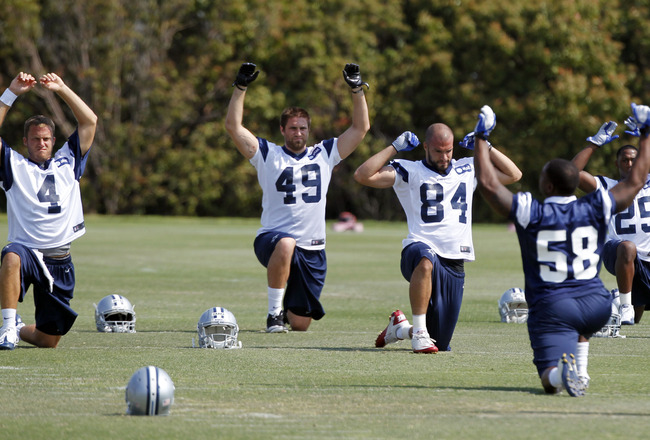 Layne Murdoch/Getty Images
The Dallas Cowboys recently held the season's first organized team activities that were open for the media and the world to see. Fans and pundits are anxious to get a good look at rookies, newly signed free agents and aging veterans.
The NFL is a breeding ground for hope trafficking, a term I heard from Dan LeBatard, where all fans see their negativity and pessimism die at the end of each Super Bowl. Once the offseason starts and the draft begins, fans wear their idealism like a badge of honor.
Same goes for the Cowboys and their eccentric brood of fans and the team owner, Jerry Jones.
While it is nice to see some football with OTAs, it may be a little tough to find the next great pass-rusher or cornerback. Still, that doesn't mean that we can't search, right?
So, as we wait for the preseason to start, let's take a look at a few players who did themselves a grand service by performing well in OTAs.
Tony Romo, QB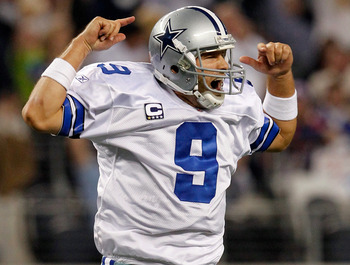 Tom Pennington/Getty Images
The only thing left for Mr. Romo to do in Dallas is to win a Super Bowl. His turnovers have been cut way down—only 10 interceptions in 2012—and he's statistically one of the best quarterbacks in the game.
But Romo looked fantastic throwing the ball. He was sharp, had some zip on his passes and showed a tremendous amount of poise. This may be a great thing for Romo because it will show just how serious he is about taking the next step to becoming a Super Bowl-winning quarterback.
Phillip Tanner, RB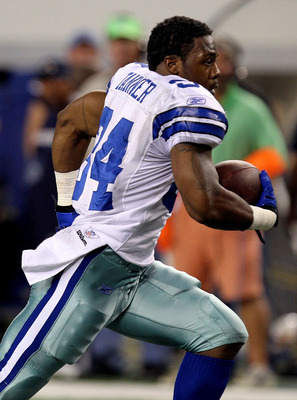 Ronald Martinez/Getty Images
The Cowboys' backfield was a carousel of players last season. Felix Jones started the season but went out with an injury, and rookie DeMarco Murray took his spot.
Tanner saw time as well as Chauncey Washington, two names that are not familiar to many. But Tanner showed flashes at times, but then he went down with an injured hamstring and was placed on injured reserve in December.
He did himself a huge favor by performing well in OTAs and showing that he still has burst and quickness. He should make the active roster or at least the practice squad.
Victor Butler, LB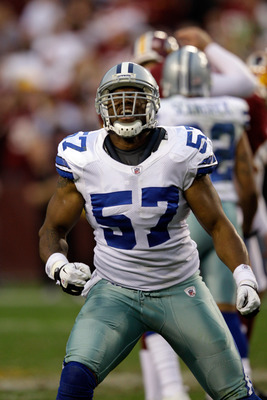 Rob Carr/Getty Images
Is this the year that Butler finally breaks out and turns into the player that the Cowboys have been waiting on?
Last season, Butler was expected to have a breakout year. He did well in OTAs and training camp, and many believed that he was ready to make the leap to starter.
But it never materialized and many are eying this season as his year to turn the corner. He looked good in OTAs and will hopefully take that play into training camp.
Bruce Carter, LB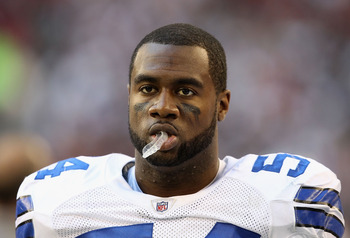 Christian Petersen/Getty Images
Carter has pretty lofty expectations to live up to. He was taken with the 40th overall pick in the 2011 draft and missed a large part of the season due to injury. Now he's healthy and the team expects him to be a starter in the middle with Sean Lee.
Carter worked with the first team and will compete with linebacker Dan Connor, who signed an $11 million deal in the offseason.
He has looked good, impressed the coaches with his health and strength and seems to be high on their list. Let's just see how he works out in training camp.
Sean Lee, LB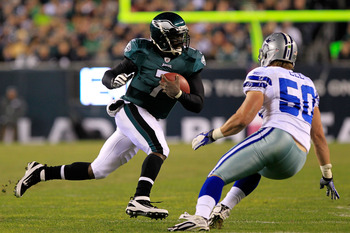 Chris Trotman/Getty Images
Lee is going to go down as one of the greatest linebackers in Cowboys history, barring injury. He has all the tools and seems close to turning the corner of greatness.
Lee has great hands and vision and will continue to give quarterbacks problems in the middle. He needs improvement on his tackling and how long he holds them, but that will come.
He looked great in OTAs and I expect nothing less of him moving forward.
Miles Austin, WR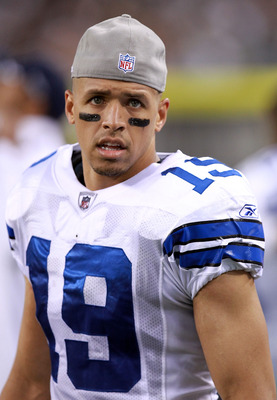 Ronald Martinez/Getty Images
Austin readily admitted that he wasn't in top shape last season, and that affected his play on the field. Now that the league isn't in a lockout and teams are free to hold OTAs, Austin should be ready to roll.
He had hamstring injuries last year, but with OTAs and other training programs, Austin shouldn't run into those issues this year.
I, along with many others, expect for him to return to form instead of being the broken-down player we saw last season.
Dez Bryant, WR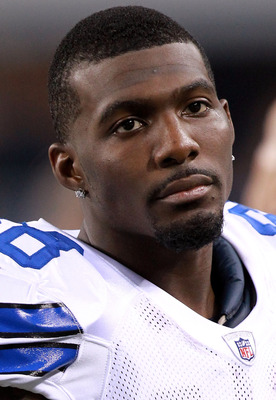 Ronald Martinez/Getty Images
Bryant has just a few seasons left to show what he's made of, in my opinion. He is supremely talented and makes plays on the field that make you go, "Wow."
He's strong and fast and brings another gear to the Cowboys' offense. Last season, he would take over games in the first half and disappear in the second. Bryant says that it was due to injuries.
He was injured in Week 1 and never fully recovered. Now that he has a full offseason of consistent workouts, he should be back to full force in 2012.
Let's at least hope so.
DeMarco Murray, RB
Tom Pennington/Getty Images
Murray tore his ankle up last season in Week 13 and never returned. He was having a fantastic year and seemed to get stronger as the season wore on.
Now that he's fully healed from that fractured ankle and can return to the field, many believe that he'll pick up where he left off.
Dallas has Murray and Felix Jones as running backs and should have one of the best backfields in the league. It was good to see Murray out on the field without limitations.
David Arkin, OL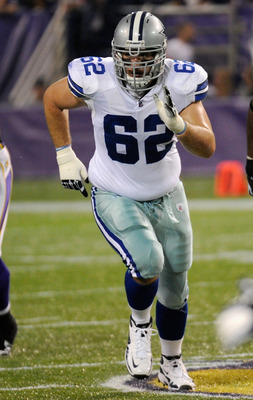 Hannah Foslien/Getty Images
Arkin is getting work with the first team and may eventually end up as a starter. He'll have to continue to show up and produce, but the simple notion of him getting work with the starters may be a sign of good things for him.
As long as he continues to improve and show that he's willing to put in the work to grow, don't be surprised to see more of him in 2012.
Bill Nagy, OL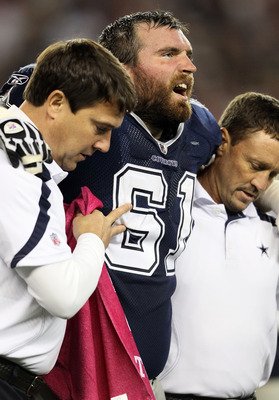 Elsa/Getty Images
Nagy is getting work at center because of the issues that current centers Phil Costa and Kevin Kowalski are having. He did have some problems getting the ball to Stephen McGee in OTAs, but it wasn't enough to totally discount him.
Dallas cannot have play at center cost them games, and if Nagy turns out to be better than what the team has, he will be the starter.
Keep Reading

Dallas Cowboys: Like this team?