WWE PPV Rewind: Royal Rumble 1996
May 31, 2012

The Royal Rumble will always be my favorite match and my second favorite WWE pay-per-view of the year. There hasn't been a single Royal Rumble match that I didn't enjoy.
If you've been a fan for as long as I have, won't you take a stroll with me down memory lane to Royal Rumble 1996? I watched it and took some notes, just for you.
Opening: The opening segment is Sunny taking a bubble bath. So gorgeous. She was the diva of her day.
Although we take it for granted today, I believe this was the first year that the winner of the Royal Rumble match received a guaranteed WWF/WWE Championship match at WrestleMania, which they drew a lot of attention to, obviously.
Vince McMahon and Mr. Perfect are on commentary. They were really good; they should have received more credit as commentators.
Ahmed Johnson vs. Jeff Jarrett: The opening match is a rematch from the previous In Your House PPV, Jeff Jarrett vs. Ahmed Johnson. What ever happened to Ahmed Johnson? He dominated most of this match, but looked like he legitimately hurt himself when Jarrett avoided his flip from the top rope. Jarrett eventually nails Johnson with a guitar shot from the top rope. Johnson remains undefeated, Jarrett gets heat and they can continue the feud if they want.
The DVD I own was produced after the WWF to WWE conversion, so they have to keep bleeping out the "F" in "WWF" unless they say "Federation." It's mildly amusing...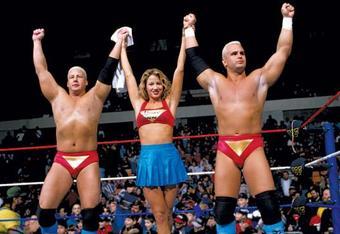 Big Daddy Cool is interviewed backstage about the Royal Rumble match. His mic skills at this point are horrible.
Tag Team Titles: The Smoking Gunns vs. The Bodydonnas: The Bodydonnas, managed by Sunny, are challenging the Smoking Gunns for the tag titles. I guess both teams would be considered "tag team specialists," but nothing like the era of the Hart Foundation, Demolition, Legion of Doom, The Rockers, the Orient Express and the Bushwhackers. I had to check Wikipedia to confirm that neither of the Bodydonnas were Fit Finlay. The Gunns receive some audible boos.
Sunny is down outside the ring, and when Billy Gunn goes to check on her (since being a face meant being a "good guy" at this point), you can hear someone in the audience yell "kick her ass!" The Smoking Gunns win cleanly with dual small packages.
I think Bart Gunn will always be remembered most as the Brawl-For-All champion who got creamed by Butterbean at WrestleMania. Billy Gunn will likely get inducted into the WWE Hall of Fame, given his 10 tag team title reigns. Do you think he'll get inducted with Road Dogg? With Bart Gunn? Neither? Both?
This match had the best line of the night. The commentators are talking about the Bodydonnas:
Vince: From behind, you can't tell them apart.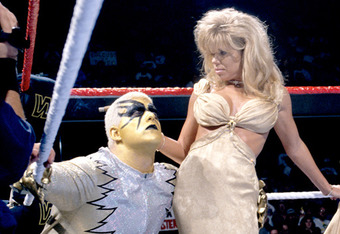 Mr. Perfect: I hadn't looked at them from behind.
After the match, we get one of the brief "Wrestlin' Warroom" segments mocking Ted Turner and WCW stars such as Hulk Hogan, Randy Savage and Mene Gene. The Monday Night Wars would be so much more intense just two years later.
Intercontinental Title, Razor Ramon vs. Goldust: Razor Ramon defends the Intercontinental Championship against Goldust next. They won't come out and say Goldust is gay, but that's the implication. When he starts showing signs of attraction towards Mr. Machismo, Razor gaybashes him.
This also serves as the debut of Terri Runnels' character, Marlena. I forgot about her. She is the embodiment of the word "sensual." This must be right before tobacco was inappropriate for family television, as she is unabashedly sporting a cigar. She's not smoking it really, just holding it in her hand, occasionally against her lips. I think Freud would have a thing or two to say about that.
These ring intros seem incredibly long.
Goldust feels Razor up, and "The Bad Guy" responds by slapping him on his rear. To put this action in cultural perspective, this was the same year that The Ambiguously Gay Duo premiered on SNL, and Will and Grace would appear on television two years later. I guess WWF was ahead of their times.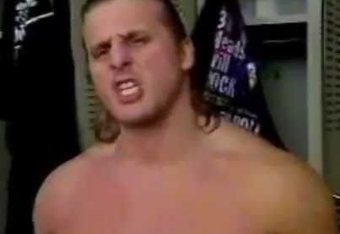 The match ends when Marlena distracts the referee and the 1-2-3 Kid makes a sneak attack, allowing Goldust to capture the IC Title some 15 years before his little brother would follow suit.
Royal Rumble match: After some backstage promos, we are reminded that Shawn Michaels is returning from injury, and he has yet to fully develop his mic skills. Owen Hart was a master on the mic (RIP). Jake Roberts is making a return (he is so out of shape) and would soon help create Austin 3:16.
Jerry Lawler has an awful promo, as does the Brooklyn Brawler. Vader is apparently somewhat new, taking WWF by storm with Jim Cornette.
I really don't know who is going to win at this point. HBK's promo makes me think it could be him. I can't remember the WM 12 main event, and I'm not looking it up.
Here are the wrestlers by entry number (with names as they are announced on the PPV), followed by what number they were eliminated, who eliminated them and if they made any significant contribution to the match:
1. Hunter Heast Helmsley, 19, Diesal: lasted a long time, fairly dominant
2. Henry O. Godwin, 6 [I missed his elimination]: hreatest contribution is his slop bucket
3. Bob Backlund, 1, Yokozuna: nothing significant
4. Jerry "The King" Lawler , 16, Shawn Michaels: hid under the ring for a long time
5. Bob Holly, 18, Steve Austin: nothing significant
6. King Mabel, 2, Yokozuna: nothing significant
7. Jake "The Snake" Roberts, 5, Vader: putting his python on Lawler
8. Dory Funk, 4, Savio Vega: nothing significant
9. Yokozuna ,12, Shawn Michaels: nothing significant
10. 1-2-3 Kid, 13, Shawn Michaels: nothing significant
11. Omari?, 3, Jake Roberts: nothing significant
12. Savio Vega, 10, Vader: nothing significant
13) Vader, 11, Shawn Michaels: nothing significant
14. Doug Gilbert, 7, Vader: nothing significant
15. Squat Team Member, 8, Vader: nothing significant
16. Other Squat Team Member (literally how they were announced), 9, Vader/Yokozuna: nothing significant
17. "The King of Hearts," Owen Hart, 21, Shawn Michaels: nothing significant
18. Shawn Michaels: WINNER
19. Hakushi, 14, Owen Hart: nothing significant
20. Tatanka, 17, Diesal: nothing significant
21. Aldo Montoya, 15, Tatanka : nothing significant
22. Diesal, 29, Shawn Michaels: dominant towards the end
23. Kama "The Supreme Fighting Machine," 28, Diesal: nothing significant
24. "The Ringmaster," Steve Austin, 23, Phatu: He's still "The Ringmaster!"
25. Barry Horrowitz, 20, Owen Hart: nothing significant
26. Phatu, 24, Isaac Yankem: nothing significant
27. Isaac Yankem, DDS, 25, Shawn Michaels: nothing significant
28. Marty Jennetty, 22, British Bulldog: nothing significant
29. "The British Bulldog," 27, Shawn Michaels: nothing significant
30. Duke "The Dumpster" Drosey, 26, Kama/Diesal: nothing significant
Overall, a great Royal Rumble match, and it wasn't until almost the end that I remembered who won, which made it all that much better! 
WWF Championship, Bret Hart vs. The Undertaker: The last match of the night is Bret Hart vs. the Undertaker for the WWF Championship. In my opinion, this match wasn't anything special to speak of. The Undertaker had that weird mask thing, and the match ended in a DQ after Diesel interfered.
Post-PPV, there were some horrible promos by Shawn Michaels, Diesel and Gorilla Monsoon, a decent promo by the Undertaker and a solid promo by Vader.
The mid-90's was a very strange time in the world of professional wrestling, trying to remain relevant while slowly preparing for the Attitude Era and the Monday Night Wars.
For any fan of professional wrestling, especially those interested in its history, I highly recommend this DVD (with the exception of the main event).