2012 MLB Draft: Identifying Every MLB Team's Biggest First-Round Need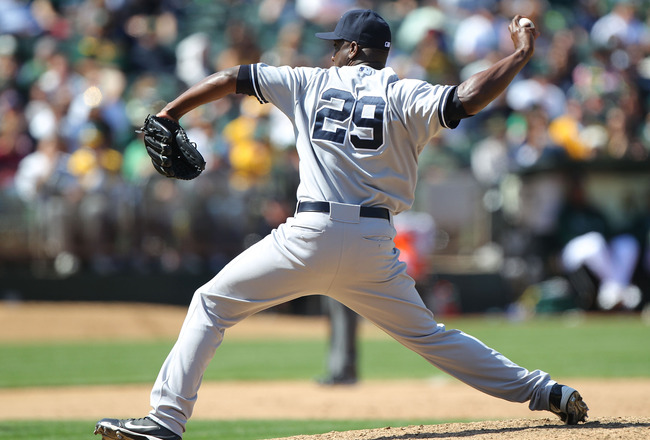 Jed Jacobsohn/Getty Images
The MLB draft is a bit different from the drafts held in the other major sports in that the teams don't often pick a player at a position of need. Rather, because of the length of time that many players need in the minor leagues, teams will pick the best player available.
Players can change positions, and it has happened often in the past. Bryce Harper was a catcher in college, and now he is an outfielder. College starters can become relievers, and pitchers who were relievers can become starters.
In identifying the biggest need that each team has in the first round, it is important to try to look three or four years down the road. With that being the case, many of these teams will not pick a player in this position of need and instead will go with that top guy that is on the board when their pick comes up.
Arizona Diamondbacks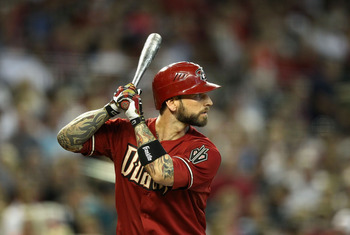 Christian Petersen/Getty Images
The Arizona Diamondbacks are loaded with pitching prospects, and they have a number of young and talented outfielders on their roster.
If the Diamondbacks are going to look down the road when they make the 26th-overall pick in the 2012 MLB draft, they could consider going after a player who could play in the middle infield.
Atlanta Braves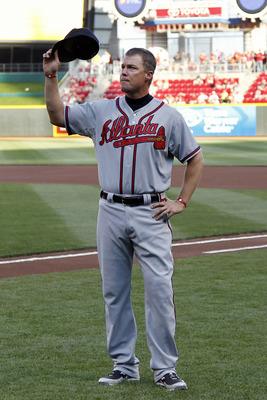 Joe Robbins/Getty Images
Replacing Chipper Jones is not going to be easy for the Atlanta Braves. They do have Juan Francisco, but they may consider drafting someone who could eventually overtake him.
There are a few third basemen who should go in the first round this year, including Corey Seager, the younger brother of Seattle Mariners third baseman Kyle Seager, and the Braves may be one of the teams drafting a third baseman.
Baltimore Orioles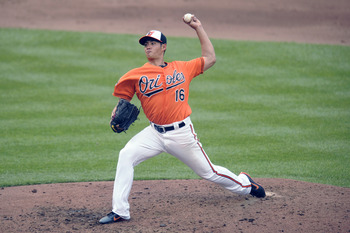 Mitchell Layton/Getty Images
The Baltimore Orioles have been one of the most pleasant surprises of the 2012 baseball season, and they could have a very bright future ahead of them.
If they are going to stay on the right track, the Orioles should look into drafting a college pitcher who could reach the major leagues in a fairly short time span. With the No. 4 overall pick, the Orioles should have a lot of players to choose from.
Boston Red Sox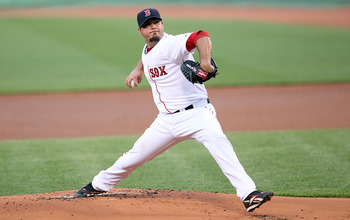 Gail Oskin/Getty Images
The Boston Red Sox have some potential young stars who have already seen action at Fenway Park in Ryan Lavarnway and Will Middlebrooks, and they are looking to pick another one up in the 2012 MLB draft.
Pitching has been a concern for the Red Sox this year, and it looks like it may be an issue for them in the future as well. A polished pitcher with a high floor would be a good target for them.
Chicago Cubs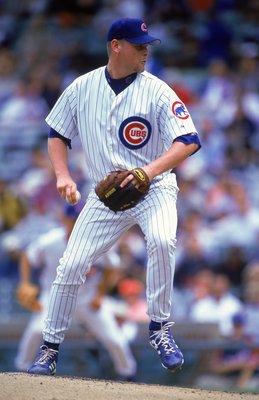 Jonathan Daniel/Getty Images
The sixth-overall pick in the 2012 MLB draft will mark the first pick of the Theo Epstein era in Chicago. It will be interesting to see whom the team picks.
A high-upside arm would be a great pick for the Cubs. It would potentially give them a player who can be an ace of their staff for years to come.
Chicago White Sox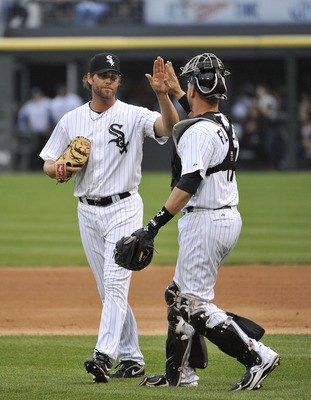 Brian Kersey/Getty Images
The Chicago White Sox were hoping that Tyler Flowers would be the catcher who would eventually take over for A.J. Pierzynski. It is not looking like he will be a possible starter for the White Sox.
Stryker Trahan is a high school catcher from Louisiana who could be a good fit for the White Sox. He could be a bit of a reach with the 13th pick, but he does have a lot of potential.
Cincinnati Reds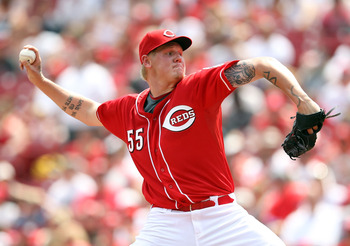 Andy Lyons/Getty Images
The Cincinnati Reds have a very young rotation, with four of their starters being under 27 years old, but that does not mean they should not look to draft a pitcher.
This actually would enable the Reds to take a pitcher out of high school and give him more than enough time to develop.
Cleveland Indians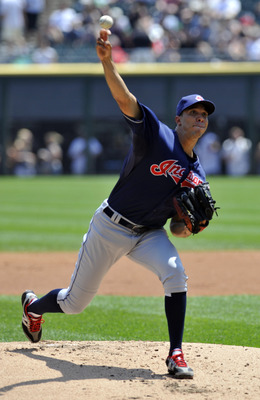 David Banks/Getty Images
After trading for Ubaldo Jimenez last season, the Cleveland Indians are without any really top-flight pitching prospects.
The 2012 MLB draft will present the Indians with an opportunity to restock their rotation in the low minors with guys who could eventually help in the majors.
Colorado Rockies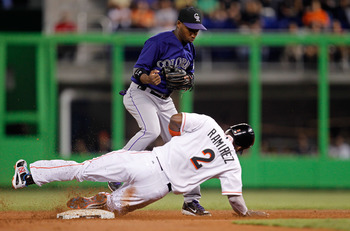 Sarah Glenn/Getty Images
There are a number of outfielders in the Colorado Rockies' minor league system, and the team also has a number of starters in the minors who could eventually make an impact in the big leagues.
One of the things that the Rockies are lacking is a solid middle infield prospect. The Rockies could go after someone who could eventually play second base for them, but the more likely scenario is that they draft a pitcher.
Detroit Tigers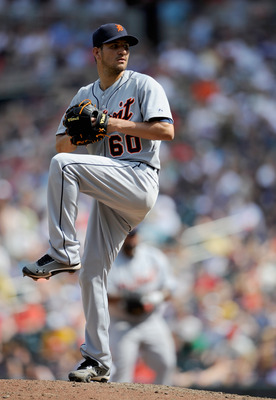 Hannah Foslien/Getty Images
As a result of signing Prince Fielder, the Detroit Tigers do not have a pick in the first round of the 2012 MLB draft. Their first pick is the 91st-overall pick in the draft.
At this point in the draft, the Tigers will just pick the best player left.
Houston Astros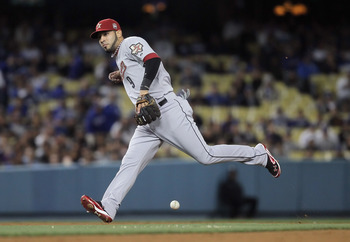 Jeff Gross/Getty Images
The Houston Astros have put a lot of thought into whom they will select with the No. 1 overall pick in the 2012 MLB draft.
Houston will certainly pick the best player available, but there is no true consensus on which player that is. The choices come down to outfielder Byron Buxton from Appling County High School in Georgia and pitcher Mark Appel from Stanford.
Kansas City Royals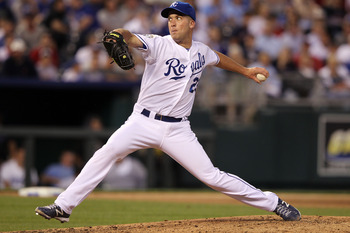 Jamie Squire/Getty Images
There have been few teams over the past few years that have done a better job of developing prospects than the Kansas City Royals.
The Royals have a chance to pick up another player who can make big contributions at the major-league level when they use the fifth-overall pick in this year's MLB draft. Kansas City should look to target a pitcher.
Los Angeles Angels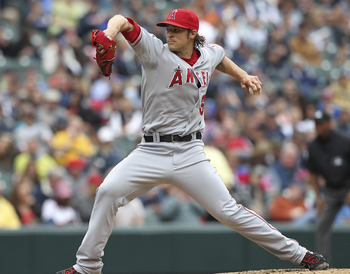 Otto Greule Jr/Getty Images
Following their signings of Albert Pujols and C.J. Wilson, the Los Angeles Angels gave up their first-round pick, as well as their second-rounder.
Los Angeles finally gets to choose a player with the 114th pick. It should pick the best player available at that point and will likely go with a pitcher.
Los Angeles Dodgers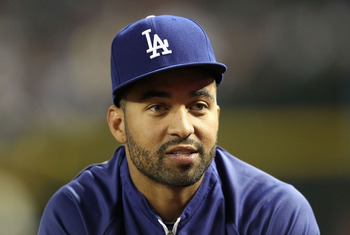 Christian Petersen/Getty Images
There is one spot in the Los Angeles Dodgers outfield that will be locked up for the next eight years, but the other two spots could be up for grabs for a while.
The Dodgers could either go after a player who is already an outfielder, or they may choose one that plays one of the corner infield spots but who also has the potential to move to the outfield if necessary.
Miami Marlins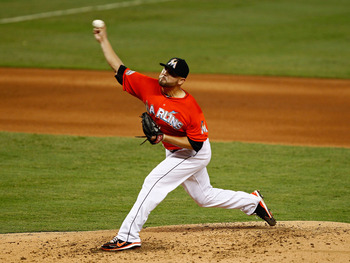 Mike Ehrmann/Getty Images
The Miami Marlins selected a young pitcher, Jose Fernandez, with their first draft pick last year, and he has turned out really well for the team.
Following this success, the Marlins could choose to go after another young pitcher in this year's draft, and many will be available when they make the draft's ninth selection.
Milwaukee Brewers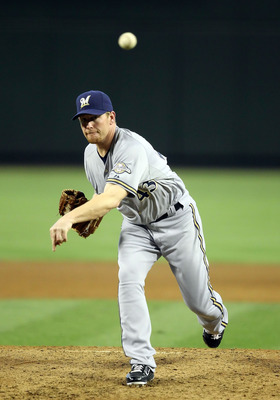 Christian Petersen/Getty Images
There are few farm systems in the major leagues that are worse than the Milwaukee Brewers' farm system. They are looking to add a number of high-upside prospects.
The Brewers own both the 27th and 28th picks in this year's MLB draft, so they can definitely afford to go after two high-upside pitchers.
Minnesota Twins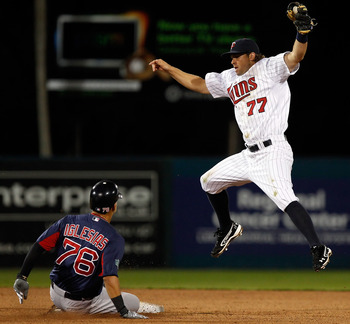 J. Meric/Getty Images
The Minnesota Twins have gone after a number of talented but risky players, such as Aaron Hicks, in the past, and they have not seen the development they would have liked.
Minnesota may go after more of a sure thing in this year's draft and select a shortstop. Carlos Correa from the Puerto Rico Baseball Academy would be a great fit for the Twins.
New York Mets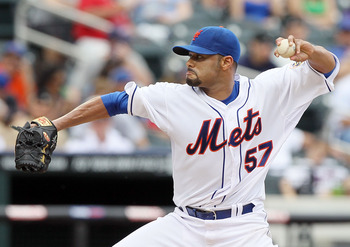 Jim McIsaac/Getty Images
The New York Mets' selection of outfielder Brandon Nimmo in the 2011 MLB draft shows that the team is not afraid to take risks.
Starting pitching is a potential area of need for the Mets, and they could go after a talented high school pitcher with a lot of upside.
New York Yankees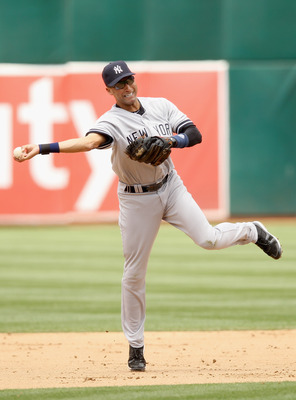 Ezra Shaw/Getty Images
Derek Jeter is not going to be around forever, and the New York Yankees are eventually going to need to find a replacement for him.
The Yankees could look to draft a player who has the ability to play shortstop during this year's draft in the hopes that he can become Jeter's heir apparent.
Oakland Athletics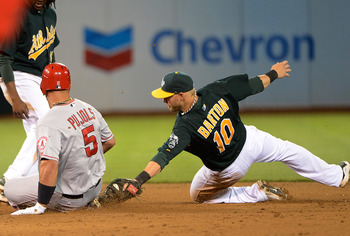 Thearon W. Henderson/Getty Images
The Oakland Athletics have tried out a number of players at first base this year, and they have not been able to find one who can really hold down the position.
This does not seem like a problem that will be solved anytime soon. Oakland should go after a big bat who could play one of the corner infield spots.
Philadelphia Phillies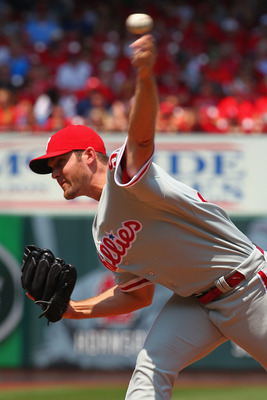 Dilip Vishwanat/Getty Images
The Philadelphia Phillies are another team in this year's draft that does not have a first-round pick. This is a result of their signing of Jonathan Papelbon.
Once the Phillies finally get to select with the 40th-overall pick in the 2012 MLB draft, they should go after a starting pitcher. This pitcher could eventually crack their rotation when Roy Halladay is on his way out.
Pittsburgh Pirates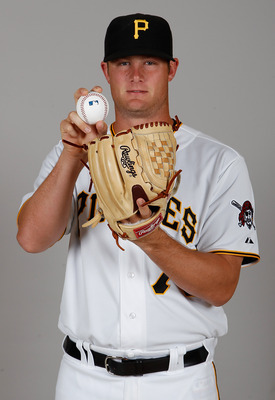 J. Meric/Getty Images
During the past few drafts, the Pittsburgh Pirates have loaded up on pitching prospects with Gerrit Cole and Stetson Allie, in addition to others.
There is no reason why the Pirates should change their approach this year. Pittsburgh eventually could build a very solid rotation through the draft.
San Diego Padres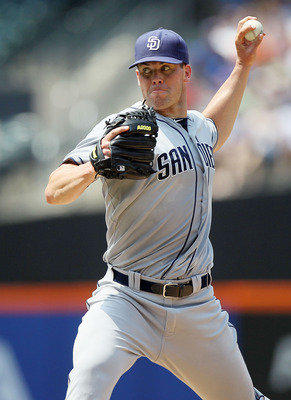 Jim McIsaac/Getty Images
PETCO Park is a pitcher's paradise, and the San Diego Padres should try to construct a team that plays to that strength.
When the Padres make their selection with the No. 7 overall pick, they should choose a pitcher.
San Francisco Giants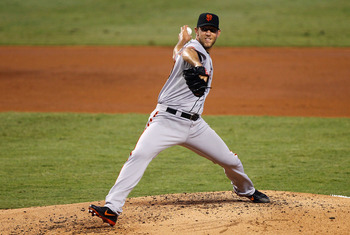 Sarah Glenn/Getty Images
The San Francisco Giants have been successful over the past few years because of their homegrown pitching.
After trading away Zack Wheeler last year, the Giants don't have any elite pitching prospects in the minors. They should look to pick one up when their turn comes up in the draft.
Seattle Mariners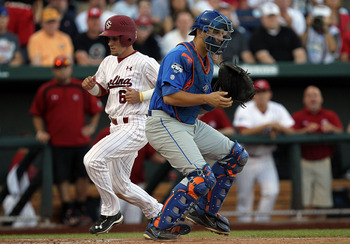 Ronald Martinez/Getty Images
The Seattle Mariners have an outstanding trio of players in the minors who could soon reach the majors, as well as a few other very talented prospects who could be in the bigs soon.
As a result of this, the Mariners should try to go after a polished player who could be on the fast track to the majors. They should look at University of Florida catcher Mike Zunino.
St. Louis Cardinals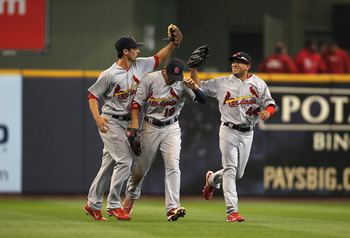 Mike McGinnis/Getty Images
The St. Louis Cardinals will have two picks in the top 23 of this year's MLB draft since they received the Los Angeles Angels' pick after they signed Albert Pujols.
Teams with two picks in the first round will usually take one risky high-upside player if they have the chance. The Cardinals could do this with either a pitcher or an outfielder this year.
Tampa Bay Rays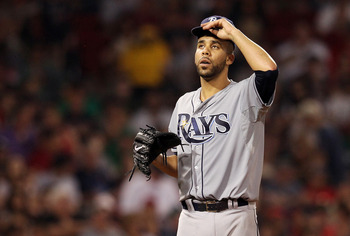 Gail Oskin/Getty Images
The Tampa Bay Rays have some issues with their middle infield that they need to solve, but there is a different direction that they should go with their first pick in the 2012 draft.
The Rays have done an absolutely tremendous job developing pitchers, and they should take another starter this year.
Texas Rangers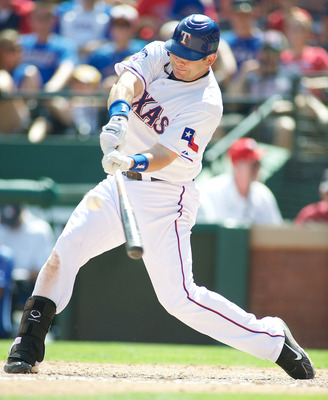 Cooper Neill/Getty Images
With one of the best farm systems in the majors, the Texas Rangers really have the luxury of not needing a player at any specific position.
If the Rangers were to draft based on their positional needs, they might consider targeting a first baseman.
Toronto Blue Jays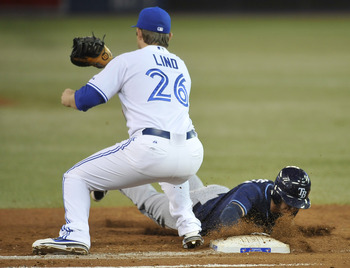 Brad White/Getty Images
The Toronto Blue Jays have a farm system that is stacked with young arms, but they do not have as many promising positional prospects.
Toronto may still consider drafting a pitching prospect since it is uncertain which players will pan out. However, if the Jays go based on major-league need, they may pick a first baseman.
Washington Nationals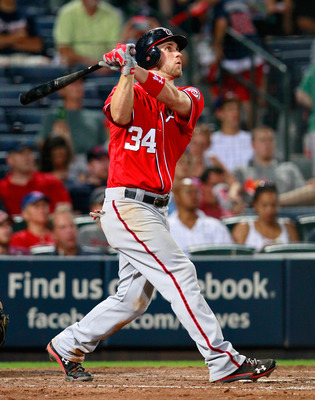 Kevin C. Cox/Getty Images
It is safe to say that the last three drafts have been incredibly successful for the Washington Nationals, as they have landed Stephen Strasburg, Drew Storen, Bryce Harper and Anthony Rendon.
The Nationals will not have as much of a sure thing this year as they have had in the past. They should focus on drafting an outfielder with the 16th pick in this year's draft.
Keep Reading