UFC 146: 5 Opponents to Get Lavar Johnson Back on Track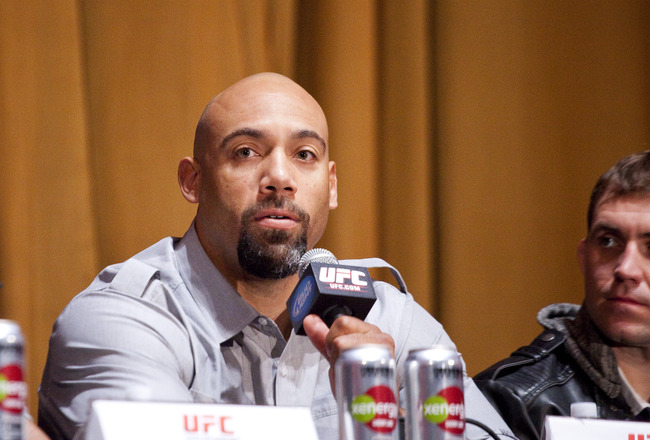 Lavar Johnson's disheartening loss to Stefan Struve kept the fighter from working his way into the division's upper echelon.
Michael Nagle/Getty Images
Lavar Johnson was on pace to have a 2010 Chris Leben-like resurgence. He knocked out Joey Beltran in his UFC debut. He followed this up with a first-round TKO of Pat Barry. Then, he got called in to take on Stefan Struve after Mark Hunt withdrew from UFC 146 with a knee injury.
He was in position to put together a three-fight win streak, something that almost no fighters in the UFC's heavyweight division have right now.
He was in position to claim a spot on top-10 heavyweight lists.
He was in position to make his back-to-back losses to Shane del Rosario and Shawn Jordan in Strikeforce a distant memory.
Then he got caught by an awkward Stefan Struve armbar only a minute into the fight. This is an undeniably harsh change for somebody that had rocketing stock, and could have had one of the best single years for a fighter, ever.
Now that Lavar Johnson has been slapped back into reality, the question then turns to who should he try and make a comeback against? There are a few good options available for him at this time.
Dave Herman

Herman, who also suffered a loss at UFC 146, could make for a serious brawl with Johnson.

Dave Herman has many things in common with Lavar Johnson.
Both have been beaten by Stefan Struve.
Both failed to capitalize on big opportunities at UFC 146.
Both are around the same spot in the heavyweight division's rankings.
More importantly, Johnson and Herman are both brawlers, plain and simple.
They bring it hard and swing for the fences. This has gotten both bonuses, including a Fight of the Night award for Herman at UFC 131, and two knockout of the nights in the most recent UFC on Fox events for Johnson.
This ultimately combines for a solid main card fight for any given pay-per-view, Fox or FX card.
Matt Mitrione

Mitrione is another brawler that could make for fireworks with Lavar Johnson.

This dude still exists, actually.
Matt Mitrione, for those who may have forgotten, is a former NFL defensive tackle who ended up making a big splash in The Ultimate Fighter season 10, where he repeatedly irked coach Rashad Evans into giving him the nickname "Meathead".
He actually made his professional MMA debut in the season's finale, beating down Marcus "Big Baby" Jones. He then became a somewhat mainstream fighter when he mauled Kimbo Slice at UFC 113 and rattled off three more wins against Joey Beltran, Tim Hague and Christian Morecraft, bringing his MMA (and UFC) record to 5-0.
Then, when given a true test, he got out-struck by veteran kickboxer Cheick Kongo and promptly disappeared off the face of the planet.
He is currently scheduled to face Rob Broughton (1-2 in the UFC) in something of a tomato can fight at UFC on Fox 4, designed to bring the formerly fast-rising phenom back onto the MMA scene. After this, though, a bout between Mitrione and Johnson would make a lot of sense.
Mitrione is still a bit of a prospect, but with five victories in the UFC, he has enough of a resume that Johnson would get a lot from beating him.
This is a bit difficult due to the scheduling, since UFC on Fox 4 is set for early August. Still, this bout is a possibility and would be fairly intriguing.
Sergei Kharitonov

Sergei Kharitonov is at a crossroads in his career, and needs a legit UFC opponent to stay relevant.

The veteran Russian is one of the few Strikeforce heavyweights that is still yet to make his way to the UFC. Kharitonov made his Strikeforce debut amidst the Heavyweight Grand Prix, beating Andrei Arlovski by first-round knockout, then losing to Josh Barnett in the semifinals.
The long-time Pride fighter has notable wins over the likes of Fabricio Werdum and Alistair Overeem, but has also been beaten by Jeff Monson, Alexander Emelianenko and Antonio Rodrigo Nogueira.
Where he is right now is anybody's guess.
Lavar Johnson, though, would be a great way to figure that out.
Kharitonov is a solid striker with a decent ground game. From 2008 to present, however, he only has five fights. Johnson would be a solid test for Kharitonov and Johnson would have a lot to gain by beating the long-time great.
Brendan Schaub

Brendan Schaub desperately needs a win. So does Lavar Johnson.

Brendan Schaub, like Matt Mitrione, ran through the UFC heavyweight division after TUF10. Though Schaub lost to Roy Nelson in the finale, he rattled off four wins over Chase Gormley, Chris Tuchscherer, Gabriel Gonzaga and Mirko Cro Cop.
Also like Matt Mitrione, the hype train has derailed for the former phenom. Schaub is currently in a tailspin caused by back-to-back first-round knockout losses to Antonio Rodrigo Nogueira and Ben Rothwell.
Schaub and Johnson both came quite close to being top 10 fighters and need to get back on the winning track. Both currently have nobody on their docket, making this a fight that could very well happen.
The two are both heavy-handed and would certainly be a knockout of the night candidate.
Gabriel Gonzaga

Beating Gabriel Gonzaga would do a lot to help Lavar Johnson's career.

Gabriel Gonzaga was originally scheduled to fight Shane del Rosario at UFC 146. Then the Alistair Overeem suspension hit, and he was rescheduled to face Roy Nelson. Then he threw out his back and was taken off the card.
Ouch.
Gonzaga will always hold a place in UFC history for his amazing headkick knockout of Mirko Cro Cop at UFC 70. Even though his UFC record sits at 4-5 since then, he is still famous enough, and beatable enough, to be the perfect opponent for Lavar Johnson.
Though Gonzaga's greatest moment was that KO, he is first and foremost a Brazilian jiu-jitsu specialist. Like all other BJJ specialists, he has an excellent ground game, weak takedowns and bad stand-up.
For somebody like Johnson, that makes for a likely knockout and would let him quickly shed the "easily submitted" label he carries after his fight with Struve.
Keep Reading