Deron Williams: Lakers Should Forget About Landing Star PG
May 27, 2012

Chris Chambers/Getty Images
The Los Angeles Lakers are no strangers to the rumor mill, especially after a postseason that came up well short of a title.
Recent whispers suggest point guard Deron Williams might be interested in somehow finding his way to the franchise that's become synonymous with contending (via Sports Illustrated's Sam Amick):
For the Lakers, Williams could be a possibility if Howard is not. A source close to the three-time All-Star said he would be interested in joining the Lakers, though it would have to be via a sign-and-trade deal. (Lakers point guard Ramon Sessions, who was acquired from Cleveland at the trade deadline, has a $4.5 million player option for next season.) The source said Williams' preference, however, is for the Nets to improve the roster sufficiently enough that he can feel good about staying put rather than fear a repeat of this season, when they finished 22-44.
Of course, the first reason this will never happen is that—at best—it's just an idea rolling around Williams' head. For any deal to work out, the Brooklyn Nets and Los Angeles Lakers would have to be on board too.
The chances of both front offices arriving at a deal that makes any kind of sense are slim to none.
The Lakers' most obvious assets are center Andrew Bynum and power forward Pau Gasol. Unless there's a move with Dwight Howard involved, don't bet on Bynum going anywhere. Gasol would move over to center in the short-term, but—at 31—he's not a long-term option and the Lakers would be ill-advised to mortgage their future in the paint.
Meanwhile, the Nets will either stand pat in the middle by re-signing center Brook Lopez or otherwise use Lopez in a deal to acquire Dwight Howard.
The last thing Brooklyn needs at this point is to find itself down a star point guard while adding another prominent, young big man to the mix.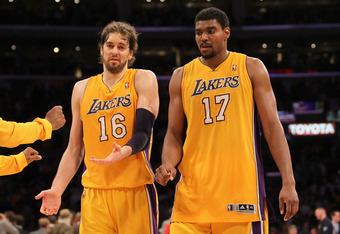 Stephen Dunn/Getty Images
Even if the Lakers built a package around Bynum that included point guard Ramon Sessions and another piece or two, it's hard to imagine Brooklyn taking on the unpredictable Bynum in exchange for a legitimate franchise player.
From Williams' standpoint, such a deal wouldn't make all that much sense either.
Short of the trade market, general manager Mitch Kupchak won't have many opportunities in the near future to significantly upgrade the roster. And, given the costs associated with acquiring Williams in a sign-and-trade deal, Los Angeles' trade assets would presumably be rather depleted.
What's more, there's the very real possibility that Williams and Kobe Bryant would face the same kind of on-court chemistry issues that have thus far doomed Carmelo Anthony and Amar'e Stoudemire in New York.
Sure, we know Bryant can play off the ball, but we also know he's at his best when he doesn't have to.
Would Williams really enjoy sitting around and watching Kobe isolate for the better part of key fourth-quarter stretches?
Maybe, but few would bet on it.
Before all is said and done, there will almost certainly be major changes to the Lakers' roster before this club takes another shot at the playoffs. Just don't expect those changes to involve Deron Williams.