New York Giants' Success Is Heavily Dependent on a Healthy Hakeem Nicks
May 27, 2012

Jamie Squire/Getty Images
New York Giants wide receiver Hakeem Nicks is a physical player with the potential to be one of the best wideouts in the league were he not so injury-prone.  
The 24-year-old receiver has caught over 200 balls for 3,034 yards and 24 touchdowns since he entered the NFL in 2009. Giants fans have been wondering what those numbers would look like if his talents were not constantly hampered by injury.
Although his injuries have proven to slow down his production at times, his presence on the field come game day is invaluable to the Giants offense.
Nicks, when healthy, can draw a double-team nearly every single play. Even while playing injured, Nicks is the type of receiver that usually draws the attention of more than one defender.
At 6' tall and 210 lbs, Nicks is not a physically imposing receiver. However, his frame should be large enough to withstand many of the nicks—no pun intended—accrued during an average NFL game or practice.
Nicks' most recent injury came last Thursday, May 24, when he fractured the fifth metatarsal in his foot on the second day of OTAs. The injury required a screw to be surgically placed into the broken bone on Friday, May 25, and has him sidelined for a 12-week recovery period.
An optimistic report from ESPN's Adam Schefter tweeted that the timetable for this type of injury is closer to 4-6 weeks as opposed to the original 12-week report. 
Before getting too excited, Giants fans, remember that this is hardly Nicks' first time on the Giants' injury report.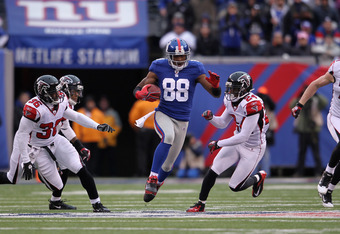 Nick Laham/Getty Images
Dating back to late 2010 when he had compartment syndrome in his lower right leg causing him to miss back-to-back games late in the season, Nicks has been unable to shake the injury bug.
In Week 1 of the 2011 season versus the Washington Redskins, Nicks exploded for 122 yards on seven catches despite a shaky, two-interception performance from quarterback Eli Manning.
The Giants ended up losing that game, 28-14, and Nicks left the game with an apparent leg injury. After a negative MRI, the injury was classified as a "bone bruise/hyper-extended knee."
His performance suffered in the weeks following his injury. In the next two games, Nicks caught only seven passes for 63 yards and one touchdown.
In Week 4, finally healthy and off the injury report, Nicks hit his stride. Against the Arizona Cardinals, Nicks showcased his dominance by catching 10 balls for 162 yards including the game-winning touchdown over rookie cornerback Patrick Peterson.
While healthy in Weeks 4-6, Nicks caught two touchdown passes and averaged over 107 yards per game going into the Week 7 bye.
The success was short-lived as Nicks suffered a strained hamstring during a 20-17 win over the Dolphins in Week 8. Nicks' injury forced him to miss the Week 9 Super Bowl preview versus the New England Patriots.
Listed as questionable in Week 10, Nicks was limited to two catches for 41 yards, although one went for a touchdown. Still recovering from the hamstring injury the following week, Nicks was only able to generate 69 yards on three catches in a loss to the Eagles.
Ironically, Nicks had one of his best games when he was most banged up. After suffering both a concussion and bruised ribs in an embarrassing Week 12 loss to the Saints, Nicks caught seven passes for 88 yards and two touchdowns in Week 13 against the Packers. 
Nicks, who "tweaked" his ankle while fighting through hamstring issues during the game, delivered his first and only two-touchdown performance of the regular season against Green Bay.
To add to the irony, Nicks then had one of his worst games of the season the following week versus Washington; a game in which he was not even listed on the injury report. Nicks had five catches for 73 yards and a serious case of the dropsies in the loss.
Nicks had his most unproductive game of the year against the Jets in Week 16 when cornerback Darrelle Revis smothered him, allowing only one catch for 20 yards. Nicks claimed to have re-aggravated his hamstring during that game.
Luckily for Giants fans, Nicks had a speedy recovery and went on to have an impressive season finale, which spilled into the playoffs and eventually the Super Bowl.
In his final five games (playoffs included), Nicks averaged 104 yards and a touchdown per game as the Giants rallied to become world champs for the second time in five seasons.
Nicks' only subpar performance in the playoffs came in the NFC championship game versus the 49ers—a game in which he—go figure—fell on his AC joint, causing shoulder soreness.
In his three years in the NFL, Nicks has not proven to be a durable player that can stay off the injury report. In the past, he has let his injuries get in the way of his production.
However, Nicks has proven that he's tough and will play through pain. In complete disregard of his multiple injuries, Nicks only missed one game in 2011. His reliability on the field provided Manning and the New York Giants passing attack with the consistency it needed even when he was not 100 percent healthy.
The current 12-week timetable on Nicks' foot may be cutting it close to the Week 1 matchup against the division rival Dallas Cowboys, but it would be wise to keep him off the field to avoid re-aggravation.
By drawing two defenders, Nicks opens up the field to the rest of his teammates. Don't expect to see rookie wide receiver Rueben Randle garnering such respect if he gets the starting nod.
This is a player whom head coach Tom Coughlin and the rest of the Giants want injury-free come Week 1, and they'd like to keep it that way for as long as possible. If that's the case, expect Larry Fitzgerald/Calvin Johnson-esque season totals from Nicks in 2012.