Liverpool FC: Why Reds Were Right to Fire Kenny Dalglish
May 28, 2012

Clive Brunskill/Getty Images
After emerging from domestic cup play with one championship and one runner-up title, Kenny Dalglish may have felt confident about his future with Liverpool FC. However, a dismal eighth-place finish in the Barclays Premier League opened the door for management at Fenway Sports Group to look elsewhere for a new manager.
After losses to the likes of West Brom, Wigan and Sunderland over the final weeks of the EPL season, Dalglish found that his margin for error was quite slim. On May 16th, Liverpool fired Dalglish in a move that many Reds' supporters had been clamoring for.
Although appearances in both the Carling and FA Cup finals were welcome sights for the supporters at Anfield, Liverpool's inconsistent play under Dalglish ultimately sent him packing.
After a season full of highs and lows, the Reds failed to secure a winning streak longer than three matches, and ultimately fell out of contention for a Champions League berth.
Another reason why Dalglish may have been sacked: The poor performance of newly acquired striker Andy Carroll.
After paying a British record £35 million transfer fee for the former Newcastle striker, Carroll failed to live up to expectations that had been set by the last Liverpool striker to wear No. 9, Fernando Torres.
In his first full season at Anfield, Carroll scored a meager four goals in the EPL, and totaled just 10 in all competitions.
Compare Carroll's four goals with the 24 that Torres scored in his first full year at Anfield and you will see why supporters questioned Dalglish's tactics. Dalglish clearly failed to maximize Carroll's potential, which appeared sky-high when he was acquired in January of 2011.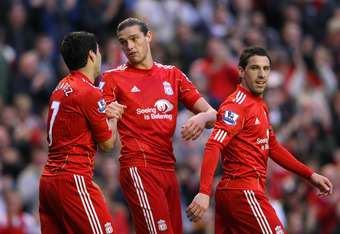 Alex Livesey/Getty Images
Now the concern isn't about when Carroll will produce, it's that he may never produce in his time with Liverpool. Keeping Dalglish around would have ensured more anxiety about Carroll's once-bright future, and it could have been a detriment to Carroll's legacy.
However, there may be hope yet for the Liverpool faithful. By firing Dalglish, the Reds have given themselves an opportunity to take a page out of league-rival Chelsea's handbook. After sacking manager André Villas-Boas halfway through the EPL season, the Blues promoted assistant Roberto Di Matteo, who led his squad to a UEFA Champions League title and a domestic title in the FA Cup, a game in which they defeated the Reds, 2-1.
By sacking Dalglish, the Reds will now allow themselves to find a manager who can mesh with budding superstars like Andy Carroll and the often-controversial Luis Suarez.
The pressure on Tom Werner, chairman of Liverpool F.C., just ramped up a good deal. With Dalglish out, eyes will shift to the decision-makers at Fenway Sports Group and their quest for a new manager. 
Who, then, should take the reins for Liverpool? The hot name as of late has been Wigan manager Roberto Martinez, but as Harry Harris of ESPN reports, Martinez may want guarantees over his level of control with the club.
According to Harris:
Wigan boss Martinez flew to Miami to hold talks with Liverpool's owners FSG this week as the Reds upped the ante in their search for a successor to the sacked Kenny Dalglish.

Latics chairman Dave Whelan has recently warned Martinez that he may not have full control of the club's transfer dealings, believing FSG wish to adopt a more European-style recruitment structure.
Although some supporters have been calling for the addition of Villas-Boas, Martinez is a candidate who makes sense for the Reds.
After tying and defeating Dalglish's former squad in two meetings in Premier League play this season, Martinez may have caught the eye of management at FSG.
Just 38 years old, Martinez is a rising star in managerial circles, a fresh face who could connect with the young core of Carroll and Suarez, but also with established veterans like newly anointed English captain, Steven Gerrard. 
If Martinez is indeed chosen, he will have to learn from the mistakes made by Dalglish. One of Dalglish's problems was his blind support of his players, most notably, Luis Suarez. After Suarez was accused and convicted of using racist language against Manchester United left-back Patrice Evra, Dalglish stood tall behind his team's leading scorer and star player.
While many admire Dalglish's loyalty, there are certain occasions which require more prudent judgment. If Martinez becomes the head man at Liverpool, expect a more stringent manager whose new tactics and philosophy will invigorate Liverpool's offense for years to come.