Stanley Cup Finals 2012: Conn Smythe Chances for a New Jersey Devils Cup
May 28, 2012

Jim McIsaac/Getty Images
The New Jersey Devils are in the Stanley Cup finals. After nine seasons, their first playoff-miss since '96 and a veritable revolving door of coaches, the Devils are back and are just four wins away from the promised land.
Of course, those four wins may never come. Heck, no wins may ever come. The Kings are a frighteningly dominant team, and if the first three rounds are any indication, the Devils will be lucky to last six games.
However, this is not about predicting the play. This is talking about the hardware.
The Conn Smythe Trophy is awarded to the player judged by sports writers to be most valuable to his team in a playoff year—a vote taken after a team has won the Cup.
Obviously, no one can say who will win the Smythe. It will largely depend on the performances of these two clubs in the finals, and any player may raise or lower his stock dramatically depending on his play.
However, this is a trophy based on the playoffs as a whole, not just the finals (as is the case in other sports). Players who gallantly led their team are not forgotten, and  the result is that we can at least get an idea of who is in the running this year.
The below predictions are based on two assumptions:
1) The New Jersey Devils win the Stanley Cup.
2) No player's play differs dramatically from his play up to this point.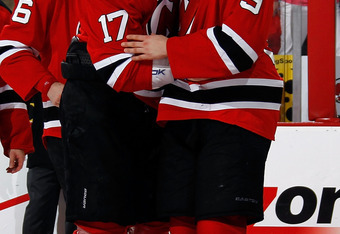 Bruce Bennett/Getty Images
This does not mean I am predicting the Devils to win, just that these odds are for a universe where the Devils do in fact come out victorious.
Furthermore, this assumes no one unlikely becomes a hero or a goat. Jonathan Quick may cost his team four straight, or Rob Scuderi could come up with four game-winners, but there's no reason to expect either of those to happen.
So, should the Devils find themselves winning the series, here's whose name you might hear called out:
Martin Brodeur 25%
Martin Brodeur is one of the best goalies of all time. He has three Stanley Cups, four Vezinas, five Jennings trophies, 650 wins and 119 shutouts. He won the Calder as well. And yet, he does not have a Conn Smythe.
All of that should be irrelevant, but odds are it won't be. Here's what should be relevant: he's 12-6 with a 2.04 GAA and a .923 save percentage. He has a shutout, and four assists as well—a single-postseason record for goalies. Most importantly, he has been what the Devils needed him to be. He's been flashy enough to give them confidence, but calm and reliable enough to keep the team steady. If he keeps playing like he has and the Devils win, don't be surprised if Marty finally gets the recognition.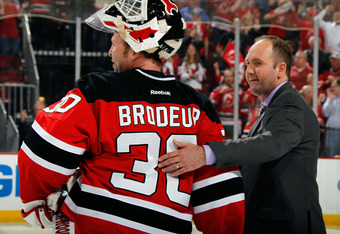 Bruce Bennett/Getty Images
Ilya Kovalchuk 20%
Kovalchuk has been playing great hockey all postseason. He leads the league with 18 points, 11 assists and five power-play goals. Though two Flyers still lead the league in goals with eight, Kovy is one of three Devils who, along with Dustin Brown, are tied for third with seven.
Some are quick to criticize Kovy as a defensive liability, but they would be the ones that haven't seen him play recently. He is a different player than he used to be and much more dynamic, and is starting to find his old scoring touch as well. If he continues scoring in the finals, it would be hard to deny a trophy to the guy who foiled Jonathan Quick time and time again.
Jonathan Quick 15%
Jonathan Quick has been nothing short of fantastic this postseason. He was superb this regular season as well, but that went largely overshadowed because of a national (or at least coastal) infatuation with Henrik Lundqvist.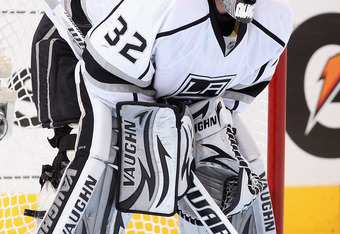 Christian Petersen/Getty Images
Nevertheless, Quick has been the bets player of the playoffs, without a doubt. Meaning no disrespect to Dustin Brown—I think he's one of the more dynamic players in the league and extremely talented—Jonathan Quick is the reason the Kings are still going. His unreal .946 save percentage and 1.54 GAA are both better than Tim Thomas' numbers last year.
Quick winning would be an extra large thorn in the side of Devils fans, who've already had to sit by once as a losing goalie one the Conn Smythe. This team is very different than 2003's, but if enough Devils play well enough to garner attention while Quick keeps playing stupendously, he stands a good chance to sneak away with it.
Zach Parise 15%
Zach Parise is the best player on the Devils. It's almost cliche for a Devils fan to say, but it's true. Kovy might have a better shot, but few people in the league work as hard every shift and know how to play the game as well. Parise is a superb two-way forward with 40-plus-goal potential on the offensive end.
While he hasn't been outstanding so far, the Devils' captain has still had a very strong postseason showing. He's sixth in the league in points, 20th in hits and fifth in takeaways. Even when his production isn't tops, he's got as many intangibles as anyone in the game. If he can start scoring a bit more, he could very well place himself clearly above his teammates by series' end.
Adam Henrique 10%
It's hard to believe Adam Henrique is a rookie. And it's even harder to believe that before this season, he was little more than a somewhat-promising prospect.
And yet that's the case.
Henrique came up early in the season after an injury to Jacob Josefson—paired with an already injured Travis Zajac—left the Devils in dire need of a center. He fit in well, quickly establishing himself as a capable player, and eventually earning a spot on the top line between Kovy and Parise and earning himself a Calder nomination.
Henrique has been equally impressive this postseason, with 11 points, good for 10th in the league. He had just three goals, but two have been series-clinching overtime goals, so it's hard to complain there. His plus-nine rating leads Devils forwards and puts him at fifth in the league.
Henrique hasn't been as flashy as some of his teammates, but one or two more key goals—especially a Cup-winner—would mean that he has to be taken seriously as a possibility.
Travis Zajac 10%
Zajac has been huge for the Devils this season. Seven goals and five assists mark him at eighth in the league in points. He's taken more faceoffs than anyone in the playoffs besides Brad Richards, and sports a 56.5 win-percentage, compared to his team's average of 47.5 (which is still the worst in the league).
Zajac has come up with goals in important situations, including once in overtime and another game-winner. However, his scoring is often overlooked because of his talented teammates. If Zajac is able to get hot against the Kings, and if his faceoff ability comes in particularly handy—the Kings are the second worst team in the playoffs in the faceoff circle—he might be able to bring home the trophy, but it doesn't look too likely.
Bryce Salvador 5%
Bryce Salvador has been as surprising as any other player this postseason. In the regular season, Salvador seemed to embrace his role of stay-at-home defenseman, averaging more than 20 minutes through all 82 games while putting up a total of nine points—all assists. His most impressive stat was his plus-18, which was by far the highest on the team.
Well, he ditched the bad and kept the good for this playoffs. In 18 games, he's surpassed his season points total: He already has three goals and eight assists to his name. He is tied with Henrique for fourth on the team in points and leads with a plus-10 rating. He also has the Devils' only shorthanded goal (an empty-netter). He's also added 37 assists and 23 blocked shots.
It's difficult for a defenseman to win the Conn Smythe; only eight have ever managed the feat. Sadly, Salvador probably does not belong in the company of Larry Robinson, Scott Niedermayer, Nicklas Lidstrom, Scott Stevens, Serge Savard, Al MacInnis, Brian Leetch and Bobby Orr.
However, his role on the team cannot be understated, and should he put up a few more surprise performances, he will have to at least be acknowledged.
After all, when Kovy or Parise is scoring points, it's to be expected. But when Bryce Salvador hits double digits, something special might be going on.