Cain Velasquez: Power Ranking His UFC Fights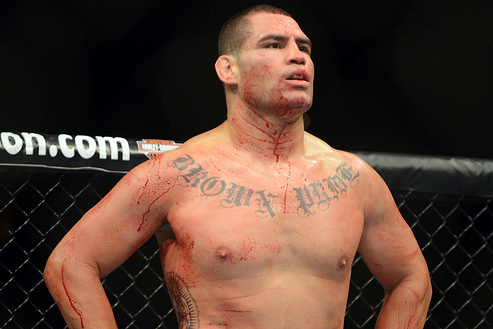 May 26, 2012; Las Vegas, NV, USA; Cain Velasquez during his fight against Antonio Silva (not pictured) at the MGM Grand Garden event center. Mandatory Credit: Ron Chenoy-US PRESSWIRE
In case you missed it, Cain Velasquez performed remarkably at UFC 146.
The former UFC Heavyweight Champion took Antonio Silva down in the early moments of their fight and from there it was an utter mugging.
Silva was unable to contend with Velasquez' ground-and-pound, and the result was one of the bloodiest beatings we've ever seen in the cage.
It was a nearly flawless performance from the Mexican-American, who needed a big win to bounce back from his recent loss to Junior dos Santos, but was it the best of his career?
Keep reading to find out, as we rank each of Velasquez' UFC fights...
Begin Slideshow

»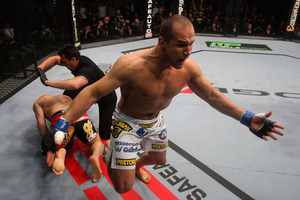 Photo by Donald Miralle via Zuffa LLC/Getty Images
Junior dos Santos is the only man to defeat Velasquez, so it's no surprise that this fight clocks in as the former champ's worst performance.
Cain was in a tough spot for this one, coming off a long layoff and surgery and facing a hungry and dangerous Dos Santos.
The then-champion may have come into this fight with too much confidence in his striking, coming off two knockout wins, and decided to test his hands against the best boxer the heavyweight division has ever seen.
That decision proved an unfortunate one, as Velasquez was knocked out a little over a minute into the first round.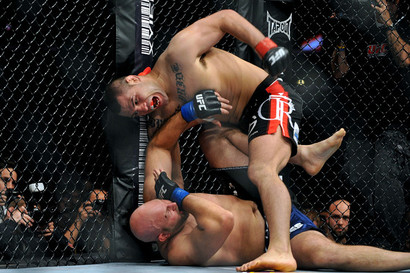 Photo courtesy of Zimbio.com
This fight comes in at No. 8, not because it was a particularly poor performance from Cain, but because he so regularly performs well.
Velasquez seemed a little hesitant to cut loose in this fight, with the eventual stoppage seeming more a result of Rothwell's unwillingness to fight back, rather than Cain's pressure.
Good showing, but given what an obviously superior fighter Cain was, it would have been nice to see a more emphatic finish.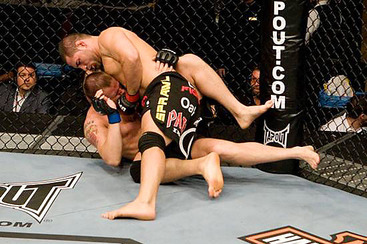 Photo courtesy of Zuffa, LLC
Sometimes, it's hard to be impressed by a victory, purely because of who it's against.
Velasquez was able to dominate Jake O'Brien with ease, but O'Brien was never more than an undersized, one-dimensional heavyweight.
This fight scared O'Brien down to the light heavyweight division, where he would lose to Jon Jones and be dispatched from the UFC.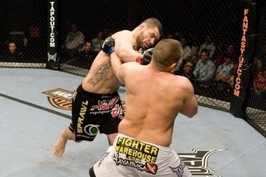 Photo courtesy of Cainvelasquez-fans.com
His second-round TKO victory over Denis Stojnic was the bout that boosted Velasquez into the upper echelon of the heavyweight division.
He was awarded Knockout of the Night for his efforts and given his first main-card, pay-per-view fight against a top-10 heavyweight in Cheick Kongo.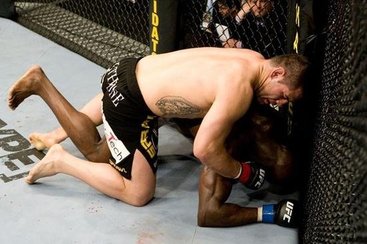 Photo courtesy of MMAbouts.wikia.com
This was a bitter-sweet showing from Velasquez.
On one hand, he proved himself against a top-10 heavyweight for the first time in his career and showed he could bounce back from adversity, having been rocked twice on the feet by Kongo.
On the other hand, his striking skills were a little bit exposed, and this garnered him a lot of criticism for having "pillow fists."
Photo courtesy of arttart.tv
Few fights are as important as a competitor's UFC debut.
In most cases, you've made it to the big leagues, but you're at the bottom of the heap, and it's your job to show the fans that you belong there.
In Velasquez' UFC debut, he showed that he belonged.
He fought fast and aggressive, completely overwhelming Brad Morris, dominating him on the feet and the ground and eventually earning a TKO stoppage.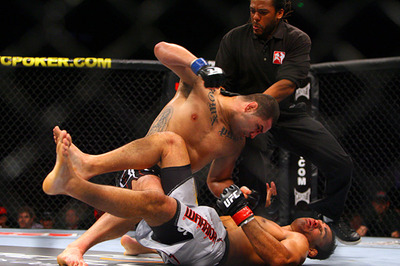 Daniel Herbertson/Sherdog.com
This was a HUGE win for Cain.
Getting a win over a legend like Nogueira was key to get him into the title picture, and he was able to earn the victory in devastating fashion.
Coming into this fight, fans were doubting the power in Cain's hands, calling him "pillow-fisted." Proving his haters wrong, Velasquez put his kickboxing on display and knocked Nogueira out with a vicious combination.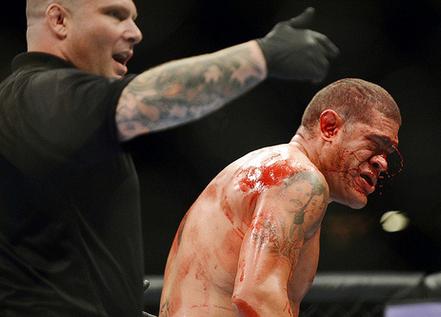 May 26, 2012; Las Vegas, NV, USA; Blood drips down the forehead of Antonio Silva during his fight against Cain Velasquez during UFC 146 at the MGM Grand Garden event center. Mandatory Credit: Ron Chenoy-US PRESSWIRE
As mentioned in the opening slide, Velasquez was brilliant against Antonio Silva.
This easily would have been the best performance of his career, if it weren't for...
Photo courtesy of sescoops.com
Hard to rank any fight over the one that won Velasquez the title.
Many were favoring the behemoth Brocker Lesnar to defeat the much-smaller Velasquez at UFC 121, but the Mexican-American proved his doubters wrong.
After a shaky start, Velasquez was able to get back to his feet, land a takedown of his own, and then batter Lesnar on the feet.
Once he had Lesnar hurt, Velasquez was relentless in his pursuit, stocking the then-champion and landing blows until the fight was stopped.
This was the fight that earned Cain the title of "Baddest Man on the Planet."
Andrew Barr is a Featured Columnist for Bleacher Report and a stand-up comedian. Check him out on Twitter @AndrewBarr8.