NBA Playoffs 2012: Postseason Grades for Every Philadelphia 76ers Player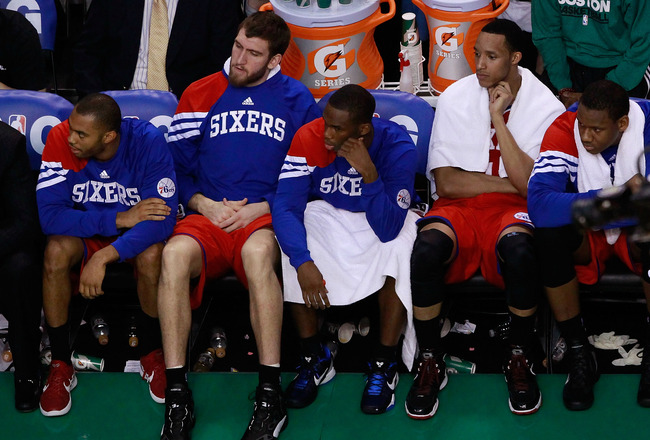 Jared Wickerham/Getty Images
The Philadelphia 76ers' season came to an end on the floor of Boston's TD Garden on Saturday night, but Sixers fans have little to complain about this postseason.
A slew of injuries to the Chicago Bulls and Boston Celtics facilitated this more-than-unlikely run for Philly, but this team also had some fight in them, as they showed in Game 7 against Boston.
In all likelihood, this Sixers team will look radically different next season. Andre Iguodala and Elton Brand could be amnestied or traded, Lou Williams and Spencer Hawes are likely to walk as free agents, and the team's got the No. 15 pick in what's considered a deep draft.
Before we look ahead to what should be an eventful offseason in Philadelphia, let's take a final look back on the Sixers' 2012 postseason run with grades for every player.
Jrue Holiday: A-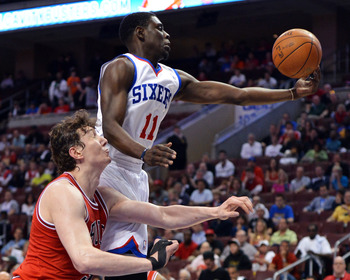 Drew Hallowell/Getty Images
Many Sixers fans expected Jrue Holiday to take a major leap towards stardom in his third NBA season. In the regular season, that never quite came to fruition. (My fantasy basketball team weeps.)
But in the playoffs, Holiday showed signs that he's becoming the key cog for the Sixers' future.
Holiday led the team in points (15.8), assists (5.2) and steals (1.5) per game in the playoffs, and averaged nearly five rebounds per game, too. Of the eight starting point guards in the second round of the playoffs, Holiday's assist/turnover ratio (2.58) trailed only Rajon Rondo (3.29) and Russell Westbrook (2.86).
Holiday had some brutal shooting nights (7-of-23 in Game 4 against the Bulls, 5-of-17 in Game 7 against the Celtics), but like Boston's Ray Allen, Holiday never hesitated to keep on shooting, knowing his shot would eventually start falling.
Once Holiday's postseason shooting percentage (41.3) heads into the mid-to-upper 40's, he'll become a dominant force in future playoff series.
Evan Turner: C+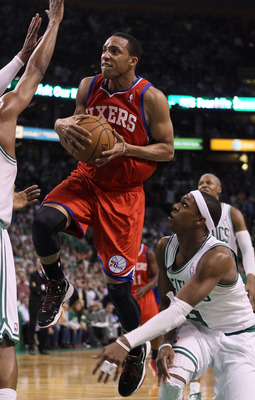 Elsa/Getty Images
I've been one of Turner's biggest fluffers for years, but there's no denying it: As the playoffs wore on, Turner progressively got worse.
Fun fact: He finished as the team's only player with less than a point per shot in the postseason.
Say what you will about plus/minus, but in Game 7 against Boston, Turner had a game-low -23. In the Celtics' series, he often appeared out of control, stuck between letting his instincts take over and overthinking every possession.
On the bright side, he led the team in rebounding—no small task for a shooting guard—and displayed some much-needed aggressiveness in his willingness to drive into the paint. He'll need to start converting more of those opportunities or drawing more fouls, but it's a start.
Turner played a key role in the Sixers' series win over the Bulls, but couldn't take advantage of a hobbled Celtics backcourt in the conference semifinals. For that, he earns a decidedly average playoff grade.
Andre Iguodala: A-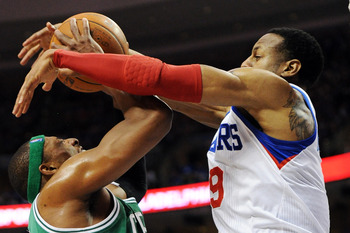 Drew Hallowell/Getty Images
How Andre Iguodala wasn't named to this year's All-NBA Defensive Team, I'll never know.
Iggy's defense against Paul Pierce in the second round single-handedly kept the Sixers alive at times. Pierce averaged nearly twice as many points with Iguodala on the bench than on the court in the series, according to NBA.com's advanced stats tool.
Iguodala also stepped up on the offensive end in the playoffs, especially in the clutch. He knocked down the series-clinching free throws against Chicago in Game 6, and followed that up with a huge late-game run in Game 4 against Boston that helped the Sixers even the series at 2-2.
He gets dinged slightly for the ghastly 58.9 free throw shooting percentage, as he missed two critical free throws at the end of the third quarter in Game 7 against Boston that could have given the Sixers the lead.
Still, his trade value's likely never been higher, which should compel the Sixers to finally ship him away this summer.
Elton Brand: B-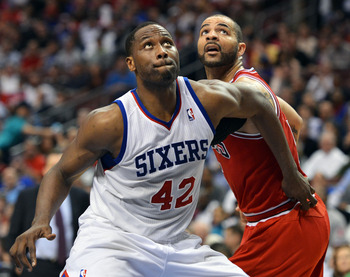 Drew Hallowell/Getty Images
It's almost unfair to ding the Old Chevy for his abysmal postseason averages (8.6 points, 4.8 rebounds per game). Anyone who watched a single Sixers playoff game saw the massive bandage on Brand's left shoulder.
While it's clear Brand wasn't fully healthy, there's less excuse for how Kevin Garnett torched him in the first four games of the conference semifinals. Brand averaged a whopping 16 minutes per game in those first four games, averaging less than five points a game on just over 40 percent shooting. (He did regain his shooting touch in the final three games, to his credit.)
On the positive side, Brand's physical presence on defense was a sight for sore eyes, with Sixers fans being forced to watch Spencer Hawes flail around next to him throughout the playoffs. And his absence in the Celtics gave way to the Lavoy Allen revelation, which the Sixers should appreciate.
Still, getting an average of five points and 15 minutes out of your $80 million man isn't any way to advance to the Eastern Conference finals. Brand's performance didn't answer any questions about whether the Sixers will amnesty him this summer.
Spencer Hawes: D-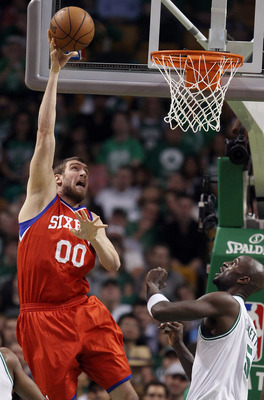 Elsa/Getty Images
I'll try to keep this civil.
Hawes was the Sixers' biggest eyesore in the series against the Celtics. SB Nation started compiling a list of players who could guard Kevin Garnett better than Hawes, and it's honestly a surprise more names aren't there.
Hawes routinely left Garnett open for his bread-and-butter mid-range jumpers, which, not surprisingly, he drained more often than not. K.G. averaged five more points per 36 minutes with Hawes playing than when Hawes was on the bench, according to NBA.com's advanced stats tool, and Hawes stood no chance offensively with K.G. on the court.
My heart says to give Hawes an F- based on his performance in the Celtics series, but Hawes did uncork back-to-back 20-point games against the crippled Bulls in the first round to give the Sixers a commanding 3-1 lead. Without that, who's to say the Sixers even make it to the second round?
Still, if the Sixers front office even considers bringing Hawes back for anything other than a minimum contract (that's even a stretch) based on those two games, this postseason run should be ruled a unmitigated disaster.
Lou Williams: C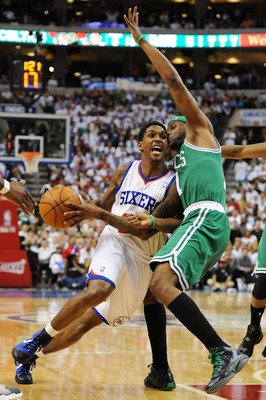 Drew Hallowell/Getty Images
Williams led the Sixers in scoring during the regular season (14.9 points per game) despite coming off the bench, but could never find that same shooting magic in the playoffs.
Lou-Will shot an abysmal 35.2 percent from the field during the Sixers' 13-game playoff run, yet attempted nearly 11 shots per game. Even worse: He shot 16.7 percent from downtown in the playoffs, but averaged nearly four shots per game from deep.
NBA.com's advanced stats tool shows that the Celtics allowed 102.8 points per 100 possessions with Williams on the court, compared to 83.1 with him on the bench, so he clearly managed to generate some offense for the Sixers (a commodity in the Celtics series). But Williams has never been known as a defensive player, and he certainly didn't change anyone's mind in these playoffs.
The Philadelphia Inquirer reported earlier this year that Williams would opt out of his contract this summer to become a free agent. With $40 million already locked up by reserve Thaddeus Young, Philly shouldn't be splurging on a one-dimensional bench player, meaning Williams has likely played his last game as a 76er.
Thaddeus Young: C-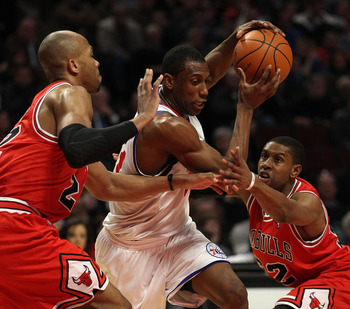 Jonathan Daniel/Getty Images
Like his "Night Shift" mate Lou Williams, Thad never got it going on offense in the playoffs, save for Game 3 against Boston (22 points in a game Philly lost by 16). He hit a couple wicked hook shots off the glass in Game 7 against Boston, but shot only 42.9 percent for the playoffs overall.
In the Chicago series, Young was routinely abused by the Bulls' Taj Gibson, especially on the offensive glass. The Bulls averaged 13.9 offensive boards per 48 minutes with Young on the court, but only 9.5 with him on the bench, according to NBA.com's advanced stats tool.
The story didn't get much better in the conference semifinals. The Celtics averaged a +7 per 48 minutes with Young on the court, compared to a -1.3 per 48 minutes with him on the bench. He couldn't often take advantage of the Celtics' bigs, with K.G. anchoring the post, but did hold his own in terms of rebounding, compared to the Bulls series.
Young may be a tweener forward, but he shot nearly 51 percent for the regular season. With the Sixers locking him up this year to a five-year, $40 million deal, they'll need more offensive production from Young if they're serious about contending for an NBA championship.
Jodie Meeks: D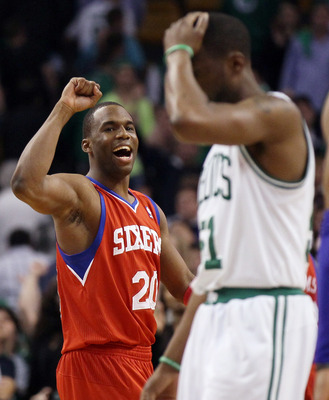 Elsa/Getty Images
Hard to remember now, but going into the playoffs, Jodie Meeks was actually the Sixers' starting shooting guard.
After an ineffective stint in the first half of Game 1 against the Chicago Bulls, Meeks got yanked for Evan Turner, who started in his place the second half. Turner wouldn't relinquish that starting spot the rest of the playoffs.
Meeks' shot couldn't have abandoned him at a worse time. He shot 34.6 percent for the playoffs, averaging just under three points in about eight minutes a game. Meeks also stood little chance against Rip Hamilton in the first round, getting crunched time and time again on screens from Chicago's bigs.
With free agency awaiting this summer, Meeks did nothing in the playoffs to convince the Sixers to sign him to a pricey, long-term deal. What's the point of having a shooting specialist on the court if he can't reliably knock down a shot?
Nikola Vucevic: F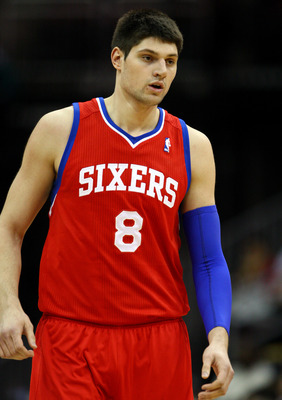 Chris Chambers/Getty Images
It's no secret that Sixers coach Doug Collins pleaded with Nikola Vucevic all season to give the team a physical presence in the post. At roughly 7' tall and 250 pounds, it's no wonder why.
What is curious, though: Despite the Sixers badly needing a post presence to combat Chicago's bigs and Kevin Garnett of the Celtics, Collins steadfastly refused to play Vucevic. He played three minutes in the Celtics' Game 3 blowout of the Sixers, and never made it on the court besides that game.
Is this likely a case of Collins being overly hard on one of his prized young players, like he was with Turner the year before? Yes. Vucevic gave the Sixers some solid minutes in the regular season when Hawes went down with an injury in the middle of the season.
Still, it's cause for concern that Collins never pulled Hawes for Vucevic, after Hawes allowed K.G. to hit his 10,000th straight mid-range jumper. For Collins' complete lack of faith in Big Nik, he earns the team's sole F.
Lavoy Allen: A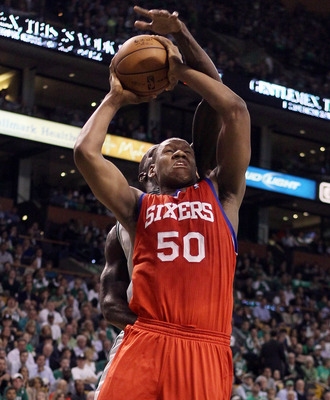 Elsa/Getty Images
This past summer, ESPN ranked Lavoy Allen as the 500th best player in the NBA. After his playoff performance this year, there's a reason why Henry Abbott of ESPN's TrueHoop promised Allen that he'd be "much higher next year."
Plain and simple: Without Allen's defensive performance against Kevin Garnett, the Celtics would have closed the Sixers out in five games. Allen gave the Sixers a much-needed silver bullet against Garnett, who looked like he was 26 years old, not 36, in the first three games of the series.
K.G. shot 45 percent from the field with Allen on the court, and 53 percent with Allen on the bench, according to NBA.com's advanced stats tool. Believe it or not, Allen actually led the Sixers in playoff PER (trailed closely by Holiday), according to ESPN's John Hollinger.
As Hollinger said in PER Diem last week, the Sixers "whiffed" by only offering Allen a one-year deal with no team option after making him the 50th selection in the 2011 draft. It's a mistake that'll likely cost the Sixers a few million this summer, but given Allen's playoff performance, they're virtually obligated to retain him.
Tony Battie: N/A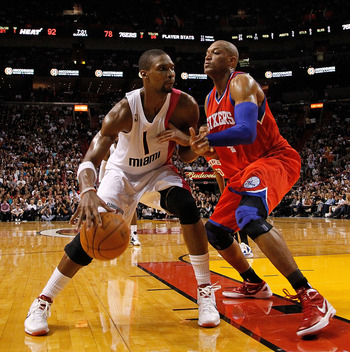 Mike Ehrmann/Getty Images
Tony Battie didn't see the court in the postseason. He fell out of Collins' rotation in the final month of the regular season, and with a 37.3 percent average from the field, didn't give Collins much reason to play him in the playoffs.
That didn't stop him from making an appearance on the "Players Who Could Guard Kevin Garnett Better Than Spencer Hawes" list, of course.
His contract expires this summer, and the Sixers won't bring back the 36-year-old Battie for anything more than a veteran's minimum contract.
Craig Brackins: N/A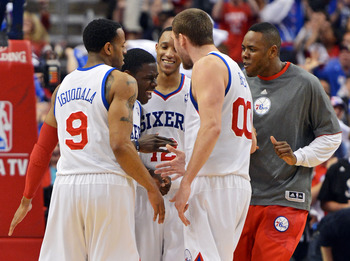 Drew Hallowell/Getty Images
Brackins, like Battie, never made it off the bench in the postseason. He only played a grand total of 88 minutes during the regular season, so it's not much of a surprise he couldn't carve a niche in the rotation.
At 6'10", Brackins has the size the Sixers desperately needed this postseason, but his shooting percentage (27.3) in the regular season inspires little confidence.
The Sixers do have a relatively cheap team option on Brackins (only $1.5 million, according to HoopsHype), and should exercise that this summer. Big men don't often come cheap, and it'll give the Sixers another year or two to determine whether Brackins can become a legitimate part of their future plans.
Sam Young: N/A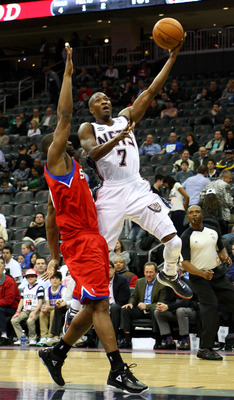 Chris Chambers/Getty Images
Young came to the Sixers in a mid-season trade, so it's no surprise that he only earned four minutes of playoff action. He missed two quick shots against the Bulls and got the hook for the rest of that series, and like Vucevic, only played three minutes in the Celtics' Game 3 blowout of the Sixers.
Unlike Vucevic, the Sixers didn't sink a considerable investment into Young, only sending Memphis the rights to Ricky Sanchez. That's why Vucevic earns an F, while Young gets the much kinder N/A.
Young's set to become an unrestricted free agent this summer. If possible, the Sixers should try to retain him to a cheap, short-term contract to see what he can provide long-term.
Xavier Silas: N/A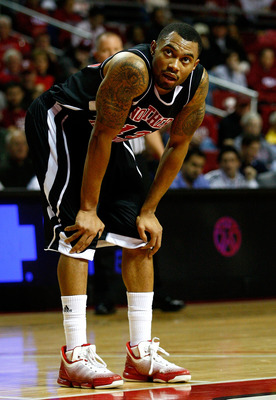 Chris Chambers/Getty Images
Silas only played in the final two games in the regular season for the Sixers, getting signed in the final week of April. Like Young, it's no surprise Silas never found a consistent role in Collins' playoff rotation.
Silas played a grand total of four minutes in the playoffs, all against the Celtics (two minutes in Game 3, two minutes in Game 5). Doesn't give much to go off of, in terms of grading his performance.
He'll also become an unrestricted free agent at the end of the season. Since the Sixers won't have to break the bank to retain him, they should see how their offseason unfolds before making a decision on Silas' future with the team.
Keep Reading

Philadelphia 76ers: Like this team?