10 Softest Players in the NBA Right Now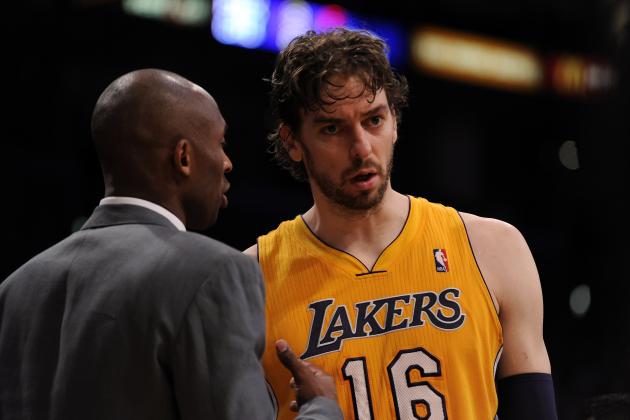 Harry How/Getty Images

The NBA has certainly changed in the last few decades. While the fact that fights no longer break out on the court is generally a good thing, the art of playing physical has all but vanished.
In the playoff series between the Indiana Pacers and the Miami Heat, Larry Bird called his team "soft" after the Heat played a more aggressive game and seemed to dominate the Pacers physically. Being called out because you lost is a part of sports, but being called out for being soft is one of the biggest insults you can receive.
This list is a group of players that have earned the reputation of being called soft. One distinction that needs to be made is that just because someone flops does not make them soft. Players such as Manu Ginobili, Blake Griffin and LeBron James may flop to get calls, but they take a beating on the court and should not be considered soft.
Begin Slideshow

»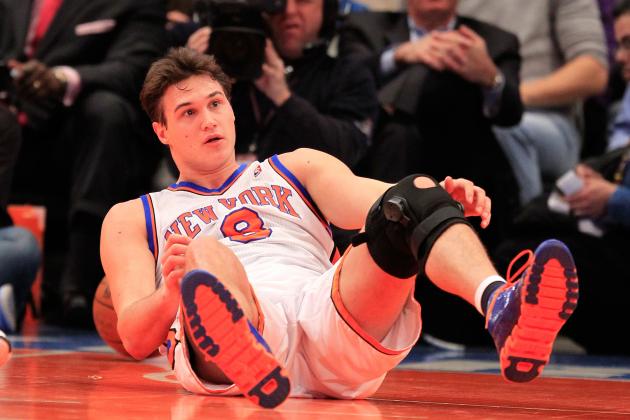 Chris Trotman/Getty Images

Gallinari is one of those players that can do a lot of good things on the basketball court, but nothing great. One thing he is especially good at is complaining and flopping. He shies away from contact, while claiming that he was fouled.
When people talk of the Denver Nuggets, they often wonder if a team without a superstar can make it far in the playoffs. Gallinari could be that star for them, but he is too mentally soft to be able to make the jump up to superstardom.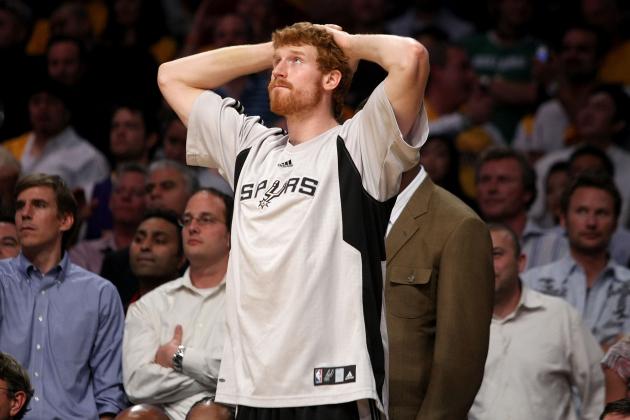 Stephen Dunn/Getty Images

Matt Bonner is one of the best three-point shooters in the NBA right now. The fact that he does this while being 6'10" is a problem, however. His one-dimensional game angers people who would hope that someone tall enough to play center could pull down more than three rebounds a game.
While Bonner is in the Spurs lineup to fit one role, he could greatly improve his image and gain more playing time if he learned how to use his body to its full potential. He has the body to absorb contact and finish at the rim, but his mindset makes him stay behind the three-point arc all game and wait for the ball, instead of attacking down low like most big men.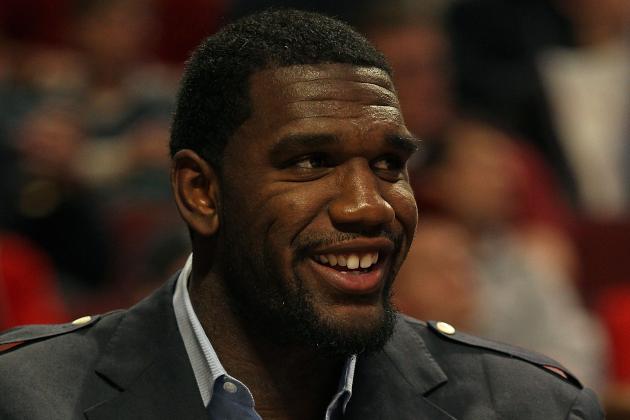 Jonathan Daniel/Getty Images

There's a reason that the picture above is of Greg Oden watching a basketball game rather than playing in one. Oden has played 82 games in his five-year NBA career. The first overall pick should not have played one full season worth of games in the last five years, and his body is obviously to blame.
While someone that tall always runs the risk of being injured, Oden's body just seems to be incredibly soft. I truly hope that he can find a team that can get his body and mind up to NBA standards, because he has been a solid player when he has played. The facts are that he just hasn't played enough games in his NBA career to be considered anything but soft.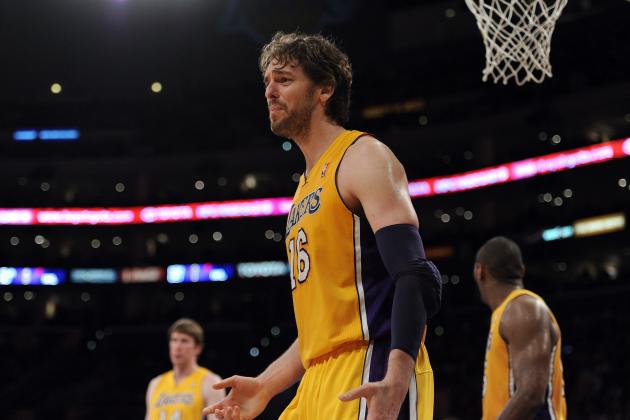 Harry How/Getty Images

I actually think Pau Gasol gets some undeserved flack for being soft around the league. I mostly blame the system in Los Angeles for some of his subpar play, and I expect him to be back to his all-star level of play if he can find the right team.
Even though I like Pau Gasol's game, he still comes in at No. 7 on the list of softest NBA players. Never one for contact, Pau is a player who is more mentally soft than physically soft. He often backs his player down in the post with his big body, only to force up a wild shot or commit a turnover.
He plays best when he is down low, which is the mark of a tough player, but his mental game is what keeps him from succeeding consistently. The fact that his play worsens during the playoffs is just further proof that it is his mental game that needs to be worked on.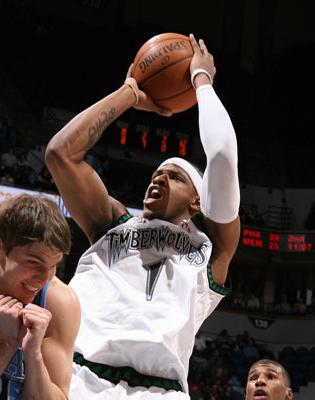 The above photo is famous for showing Korver playing truly terrible defense. I understand not wanting to pick up a foul, but at least put a hand up and don't just cower.
Korver has actually improved his defense quite a bit, but every time he drives the ball on offense and ends up in the paint, it's a strange sight to see. Korver mainly gets on this list by his reputation, but he is slowly playing his way out of the discussion for softest player. Plays like this certainly help, where he dives on the floor and throws a great pass to Gibson for the dunk.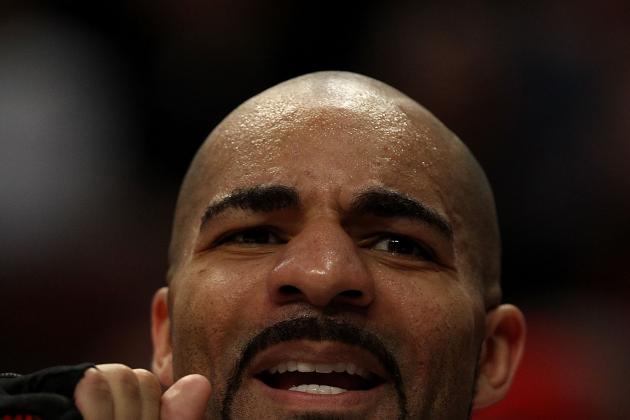 Jonathan Daniel/Getty Images

Boozer certainly plays with a lot of emotion, as he can be seen screaming for most of the Bulls games, and his dunks are often big two-handed slams. His defense however, is where he truly becomes soft.
He has become so inept at post defense, that Taj Gibson played most of the fourth quarter minutes this year in important games, because of the vast improvement he brings on defense.
The fact that Boozer got a vote for NBA All-Defensive team was one of the more hilarious things that happened all season, and shows that coaches don't really take too much time to fill the ballots out.
Even though Chicago is one of the best defensive team in the league, they have two players on this list. While Korver seems to be getting tougher every year and evolving, Boozer is headed up this list, as his play keeps getting softer and his fourth quarter minutes keep evaporating.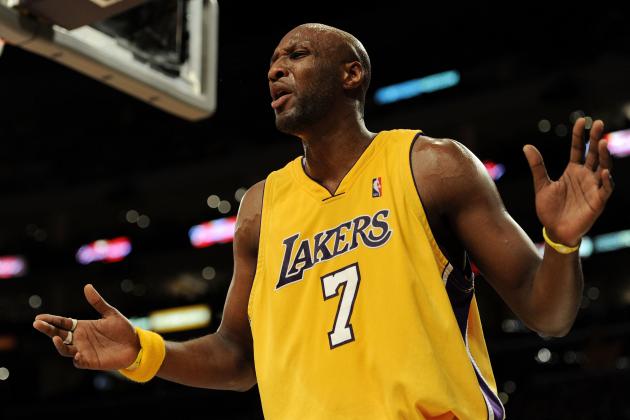 Harry How/Getty Images

Lamar Odom represents one of the most versatile players in the league but, as he showed this year, is soft mentally.
Odom came into the year already out of shape after dealing with a switch in cities and some family problems, and his year went downhill from there.
The former Sixth Man of the Year Award winner is obviously a great player, but sometimes his mind gets in the way of just going out on the court and proving himself. If he can become a stronger player emotionally and mentally, he should be able to make this past season a small blemish on a solid career.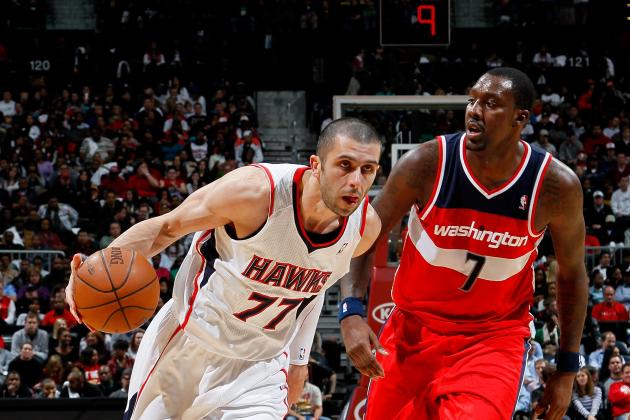 Kevin C. Cox/Getty Images

Michael Lee, Wizards Insider for the Washington Post Sports wrote that, "according to league sources, Blatche's weight had ballooned above 280 pounds, creating the need for him to get in better shape."
That statement pretty much sums up Blatche's entire year with the Wizards. No longer the promising power forward, Blatche turned into a team cancer who was booed on regular occasion in Washington.
Whether the Wizards decide to amnesty Blatche, he needs to work on both his body and his emotional composure. If people started to boo Kobe Bryant, there is no doubt in my mind that he would demand the ball and humiliate whoever was guarding him. Blatche isn't hardwired like that however, and he let the boos affect him and his level of play.
One positive is that Blatche has taken full responsibility for his awful play, and has promised that he will return a new player. Most players do not get the reputation of being soft after only one season, but Blatche had such an atrocious season for Washington, in which he played so soft that he jumped onto the list.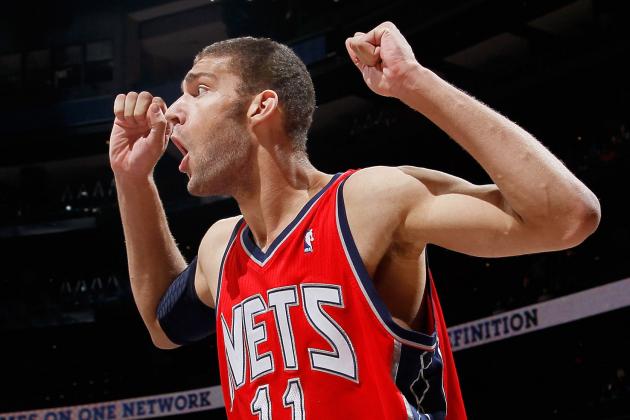 Kevin C. Cox/Getty Images

Brook Lopez is 7' tall, but is often out-rebounded by much smaller players who play more aggressive and physical than Lopez does.
Being a Brooklyn Nets fan, I have watched Lopez become one of the more refined offensive big men in the league. I have also seen his rebounding numbers dip from 8.6 to 6.0 rebounds per game, which is unacceptable for a center. In comparison, Rajon Rondo is almost a full foot shorter than Lopez, and is averaging 6.7 rebounds during these playoffs.
Lopez averages 17.4 points for his career, which is great production coming from the center spot. The one glaring problem with his game right now, however, is that his physicality is lacking, and he is often out-muscled for position. If the Nets want to rise from the cellar of the Eastern Conference, Lopez is going to have to play much tougher than he currently is.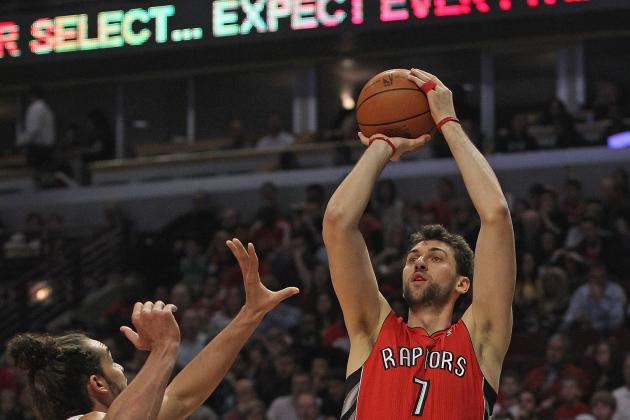 Jonathan Daniel/Getty Images

When your nickname is "The Magician," it should come to no surprise that you are not too fond of contact. Bargnani is another seven-footer like Lopez who can't seem to get any rebounds despite his size. He averages 4.9 rebounds per game for his career, and that isn't the kind of production you want out of a seven-footer.
While he has a nice touch from the outside and great body control for his size, Bargnani always seems afraid to attack the basket and get points the dirty way. The other man in that picture is Joakim Noah, the exact opposite of Bargnani. Noah scraps for every rebound, and has never shied away from being physical to get points or a rebound. His tenacious style is something Bargnani lacks, and if he wants to continue to be the focal point of the Raptors offense, he must learn to play a more physical style.